Future iPhone to allow capacitive touch with gloves on?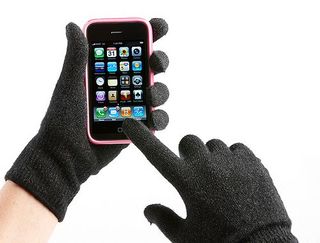 Hitachi Displays out of Japan have been working on a new type of capacitive display technology that Apple could use in the next-generation iPhone 5 coming in 2011 that allows for interacting with the screen without direct skin contact, such as when using the device with gloves. From Patently Apple:
This is a really neat idea. I can't tell you the number of times during the winter months when I'd appreciate such a technology as this (as opposed to spending $20+ on a pair of special "iPhone gloves", pictured above). This would also be great for using a non-iPhone specific stylus if you're still into using technology dating back to the late 90's.
How about you, would you be happy seeing this integrated into future iPhone or iPad displays, or would you not notice the added value? Let us know what you think in the comments!
Andrew Wray is a Salt Lake City, Utah based writer who focuses on news, how-tos, and jailbreak. Andrew also enjoys running, spending time with his daughter, and jamming out on his guitar. He works in a management position for Unisys Technical Services, a subsidiary of Unisys Corporation.
I welcome back our pocket dialing lords!
You know you can get some thread and just weave it in the finger and thumb of just about any set of gloves yourself?

I'd be happy with an iPhone that makes calls...

I'm happy with the way it is now. Gloves are less of a problem than pressing random buttons in your pocket. I like that practically only your fingers will work on it, which is all I Want to put on it. If you want to use gloves, get a pair of iphone gloves, they're only 20 bucks on Dot Gloves.

Move to Texas, we don't use gloves.

I'd love to be able to shut off the touch screen so there are no accidental tocuhes.

North Face makes a glove you can use with any touch screen device. Some sort of special material in the finger tips. Got some at the North Face store in Chicago and they are great.

This would suck. Im not a pocket dialing fan. And James put the Jesus phone down and pick a carrier that actually works in your area. So ridiculous people owning a friggin phone that doesn't make calls. But alas that's more of AT&Ts problem than anything is battling with the phone that shouldnt be with them in the first place.

Many useless comments, as usual, but some good points in there. For example, someone mentioned the potential for accidental presses hrough other clothes, like pants pockets.
I don't have an iphone, but an iPad. Still, we might be exchanging one set of problems for another. Also,1) I live in Florida so we don't use gloves as much and 2) when I DO use gloves, I am guessing they be too thick for this technology. We shall see.

Old news. MTF.com had this up days ago!

@Stephen, your a troll
I like the screen just the way it is. I have enough problems muting the phone with my face, let's not add to the problem.

Just follow my lead, wear only one glove and everyone will be good.

I read in the spec's on these screens that they only have multi touch for up to 3 positions at once. I don't see Apple accepting that limitation just so you can use gloves or a stylus.

Just make sure that you molest the children with the gloved hand, so there are no fingerprints.

@Rob your probably, most definitely fat with no live and don't have a girlfriend/boyfriend, am I right? :-)

I usually use my nose when wearing gloves in the wintren and want to accept a call... Do not need new display...:-)

@Adas I'll have to remember that nose trick!
LOL @ Rob & Stephan. Get a room. ;-)
@Gary I agree. If it limits the overall effectiveness of the touch screen, Apple will leave the tech be. Maybe Microsoft will buy it?

There should be an on and off switch, so that you can use gloves.. that way you wont make any accidental phone calls

Will it work with long nails?
My GF won't buy iPhone b/c long nails don't work with it.

Hello There. I discovered your weblog the use of msn. This is a very smartly written article. I'll be sure to bookmark it and return to learn more of your helpful info. Thanks for the post. I will certainly comeback.

I used to be recommended this web site through my cousin. I am not certain whether or not this put up is written through him as no one else recognize such distinct approximately my difficulty. You are amazing! Thank you!

hi!,I love your writing so a lot! proportion we keep in touch extra approximately your article on AOL? I need a specialist on this area to solve my problem. May be that's you! Looking forward to peer you.
Thank you for signing up to iMore. You will receive a verification email shortly.
There was a problem. Please refresh the page and try again.