Next Generation iPhone Auto-Focus, Compass, & More... Caught on Camera?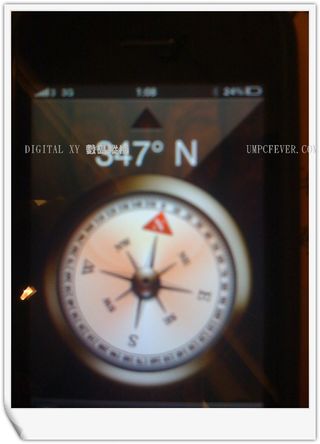 (opens in new tab)
www.umpcfever.com [Google translation link] has posted what just might be the first pictures taken of the next generation iPhone... taking pictures. Highlights include the new auto-focus, both how it looks in action and the results of photos taken with it compared to the original iPhone 2G. The new digital compass, and a CPU log are also featured, along with some other new features we've already seen from 3.0 running on current iPhone 3G hardware.
Are these for real? We'd guess all of this was merely surfaced in iPhone 3.0 on iPhone 3G... except the iPhone 3G doesn't have a digital compass and it's camera doesn't auto-focus. So, either it's a combo-ruse, or we have just seen the first images of the next generation iPhone in the wild.
A few more pics below, hit up the source article for all of them...
[gallery link="file" columns="2"]
Rene Ritchie is one of the most respected Apple analysts in the business, reaching a combined audience of over 40 million readers a month. His YouTube channel, Vector, has over 90 thousand subscribers and 14 million views and his podcasts, including Debug, have been downloaded over 20 million times. He also regularly co-hosts MacBreak Weekly for the TWiT network and co-hosted CES Live! and Talk Mobile. Based in Montreal, Rene is a former director of product marketing, web developer, and graphic designer. He's authored several books and appeared on numerous television and radio segments to discuss Apple and the technology industry. When not working, he likes to cook, grapple, and spend time with his friends and family.
Interesting, you can see the % on the battery indicator as well.

Just like mine :) http://yfrog.com/5e7z3j
it's a hidden 3.0 feature. Little bit of tweaking to unlock it.

I think looking at the CPU Activity pic -- I feel like apple is getting closer to this " iTablet " thing.

Two questions.
In the first camera pic - does anyone know what the box in the lower left hand , what is that ? Does it have anything to do with the orange thing in the picture ?
Also the blue square.
About the compass ... Is that a seperate app or is it in google maps ?
If it's seperate only , that's a waste.

@omarijames...
i believe the box in the lower left corner is a thumbnail shot of the most recent picture taken on the camera roll.
and the blue square in the pic is used for the auto-focus according to other sources that have reported on this new iPhone in the wild.

The idea of the auto focus is you move the blue box with your finger to choose what you want the camera to focus on.

i think these photos are certainly legitimate though. i'll be so excited to get my hands on the new one with these video recording capabilities and auto-focus features. the only other feature i'm dying for is radio capabilities on the iPhone.
i'd love if Apple implemented a new model on the iPhone lineup w/ a QWERTY keyboard.
:-)

So how does this focus work in real life?
Moving parts?

@icebike, I would have thought it would work just like any other phone with a auto focus camera. Maybe it does and it simply adds the bonus of being able to move the box with your finger.

The last picture of the speedometer is that a picture? Or what? It looks really clear if it is a pic if not is it some sort of speedometer app.

@Matt Hall:
It was a photo. Yes auto-focus is quite clear.

@ Matt Hall "Just like mine http://yfrog.com/5e7z3j
it's a hidden 3.0 feature. Little bit of tweaking to unlock it."
How??

wow can't wait to check this out

Ok so why didn't this person take a pic of the back of the phone so we can see a light up apple logo?

@Spidesol -
From the google translation it sounds like the phone case/hardware the person saw wasn't the final production version (though apparently it had the compass/new cam/af). I suppose that makes it a bit more sketchy, but I'd guess this is legit from the photos.

@Spidesol: the author said his friend wouldn't let him take pictures of the body because it was a confidential engineering prototype, plus the body "will definitely be different to the final retail version".
@Matt Hall: How did you enable the hidden features in 3.0? Some say the author could have done exactly that to produce these photos.

If you look at all of the pictures you can tell there are at least two different phones there. One clearly has a black bezel while the other has the chrome bezel. Another difference is in the headset speaker. One has a chrome ring around it while the other simply looks like the current iPhone speaker.
Like mentioned above the poster clearly states he has a prototype... but how many...

One current iPhone 3G running 3.0 and one iPhone next gen with compass and auto-focus?

Ok - after a closer look the ring around the speaker in a few pictures may be a reflection... can't really tell. But the chrome bezel and black bezel seem to be pretty obvious.

@Jeremy: I noticed that too, and in fact one of the "prototypes" has a funny circle around the top speaker.

@Rene, looks like it. The only picture with the compass has the black bezel. All shots with the chrome look to have the basic 3.0 features.

Ah, you beat me to it, Jeremy.

Ok, I give up... there are some shots with a chrome bezel with auto focus... Hmm...

Looks legit, but you never know these days. It's probably leaked by Johnny Ive - to strangle the Pre's media attention lol.

Is the % of battery remaining part of the 3.0 OS? I hadn't seen that before.

The % battery indicator can be added by modding a plist file or even easier by jailbreaking, which you would have to do anyway to edit the plist file, downloading the newest ver of sbsettings (2.99) and enabling it in the more section.

Also did you notice the date next to the time? You can enable that with the new sbsettings as well.

@Jeremy Sikora:

In response to "how does the auto focus work" replied:

I would have thought it would work just like any other phone with a auto focus camera.

First, there are very few phones with auto focus lenses. (Basically, a couple of Erickson and Samsung models and the Nokia N78 and maybe a couple others). And the ones out there are not all that great and the focus mechanism fails often.

Many phones claiming autofocus REALLY are fixed focus (always focused) from 3 inches to infinity.

There are only two methods for autofocus in cameras as small as cell phones.

The first, the kind used by Samsung/Nokia takes a tiny little motor to move the lens in and out. It has a relatively short life, and is really sensitive to being dropped. Its Slow to focus, and power hungry. There are a lot of complaints about this technology.

The second method has no moving parts, and uses something called a Liquid lens, which is robust, and not so sensitive to drop. You can read about them here: http://optics.org/cws/article/industry/31500

One of the suppliers of Liquid Lens packages is right down the road from Apple in Sunnyvale. http://www.maxim-ic.com/view

press

release.cfm/release_id/1521

I was hoping Apple wouldn't go with the old cranky motor driven lens with moving parts.

For all the talk of auto focus, why is it all of the pictures in the linked article are so c

r

a

p

p*y?

Drat, underscores in the second url hozed again...
TinyUrl: http://tinyurl.com/ntcsdb

The last pic of speedometer is in kph. So is that mean pic wasn't taking in US?? if so were? Europe and iphone??

BBYM we use Km in Canada.

@BBYM, the photos were taken in HK.

Really curious about the speedometer... is that from an 08 Nissan Versa? or 08 Toyota Yaris? (or similar)... perhaps a sentra... I'm clueless.

Is it me being stupid. But what is the point of a digital compass?

This is my first post.
The speedometer is most likely a picture taken on the newer iPhone camera showing how awesome it is now to take night rme shots.
Sorry if that was already posted but I thought I read all the comments.
The digital compass will be cool for gettng a true "points north" and the example apple used was in maps you could take a picture of a building and an image could be overlayed telling info about that building because of gps and compass.

@tech kidd thats a 3.0 feature that shows the last picture you took and you can click to go straight to that picture in the camera roll

@ryanzoom: GPS cannot tell which direction you are facing. Compasses can.

This is wack, that is not a oled screen. I dont give a fuck about a compass. Palm pre looking better by the day.

the chrome thing around the speaker is kindof ugly but otherwise these pics make me very excited. However, these are probably fake. I am on 3.0 and if you go to the messages app and press the new message button the keyboard just has a big space button, whereas in the above picture it has space @ and a period button. anyone else on 3.0 check it out for yourself.

Does the icon in the LRH corner look like a movie camera? Some sort of electronic or software compass might assist with turn-by-turn driving and walking directions. Is is possible the matte finish is a rubber texture finish? I suspect the new camera might sports faster CCD with low lux capability vs. adding a flash which we all know drains batteries in a flash, pun intended.

14: That's legit. Look at how its displayed. It in landscape with other keyboards enabled and while they are on the "To" field. Activate all of your keyboards. I just did it. I'm in the U.S. There is a "space" "@" then a "." its legit. I'm on iPhone OS 3.0 beta 3 and it still has that. Look cloasely. Don't just jump to conclusions.
As for the activation of the battery percentage, what string would you add to the N82AP.plist in order to activate this? I am on an iPhone 3G. I found out how to get the new camera application to ahow the videos slider and much more about 2 weeks ago. I can tell you these pictures are the real deal. When you modify the N82AP to display this screen, the shutter is closed and will not open. This is due to us not having the correct camera. I have been in the process of activating the working video features on a regular old iPhone 3G. I have to modify the actual camera application so that is going to take some time as I also have to mess with the frameworks.
As for MMS on the iPhone 2G I have almost finished with this. Stay tuned. Limited Edition iPhone everyone. Me and Mike are gonna keep you all up-to-date with everything iPhone and iPod touch!

Hmm... It is on the network 3. This might mean it is changing network or becoming network free... I hope it doesn't change it's network to 3 because in the UK 3 has awful coverage!

the list on the lower part of the cpu screenshot seem to be runnig processes. there are MoblieSMS, Mobile;Musicplayer,Springboard,Preferences, and so on..
the last ones are to blurred to make them legible.

So just for fun i downloaded that speedometer photo and dug through the metadata...
Lat: 22,22.38N
Long: 114,6.91E
Timestamp: 5/30/09, 1:51:15 AM
Taking that to WalframAlpha proves it was taken in HK, also device says Apple iPhone, but nothing else.
I was wondering if apple will incorporate compass data along with GPS data on photos? This could be leading to maybe a new version of iphoto that would plot your photos, google streetview style or something like that

I don't see the chrome edge around the outside of this iPhone like the iPhone 3g and 1st gem iPhone

Well I thank the guy for the photos, however, I believe it would be pretty easy to find out who it was. With the lat/longitude on the pics, they know what factory it came from. In addition, with the odometer on there, it narrows down the cars. Just take a look at employee cars and there's a good chance you know who leaked it. it could be an employee's friend's car. However, I'm sure apple will yell at the factory management that allowed the leak.

The speedometer is taken with an iphone, as seen in its metadata. But doesn't specify which one. And as the pic is reduced, I don't know if now the iphone can do it or if it was something done later

@FreeLunch: Yes, Apple will be very disappointed with these boobs for creating the free press for them. All Apple had to do was sacrifice a premature confirmation of a few things people had been predicting for months anyway.

Looks like the rumor that the screen is still LCD may be true. I see a light grey black level that would not be eveident with OLED screens. If the screen is still LCD I will for sure be skipping this model upgrade.

i like that, camera + video slider, from left to right

The photo showing the CPU log seems to have a strange light semicircle around the speaker at the top of the phone. This ain't on the 3G model currently...

Wow, interesting. Lets see

http://maps.google.com/maps?f=q&source=s_q&hl=en&geocode=&q=22.373,+114....
the link to where the photo was taken via the lat/long provided. hilarious!

I think it is stupid you can get most of that stuff with jailbreaking your iPhone. And they didnt even change the look of the new iPhone called 3G S

You have made this old man love reading on the internet again. I was searching your topic on yahoo and you actually gave me something I was looking for. Adios for now, but I will come back later to read the rest of your post!

i phone cp has the latest capability of handling a huge amount of data and it can generate images that can even better than a digital camera.

Just letting you know your blog won't let me comment on any of your older articles

If you agree COlts are going to lose become a fan of FB page Colts Will Lose Super Bowl 2010!

Shridhan Automation is a Manufactures, Exporters & Suppliers a wide variety of Level switches, Level switches for liquids and Level Transmitters for liquids in India.

Yo every one, i just developed site that talks about how Ray Allen on the Boston Celtics stinks at basketball.
Basketball fans must check it out!!! Just Click Here or you can just go to the link on the bottom.http://ra34.synthasite.com/#HCBcommentbox

Howdy, hows everybody on this amazing first-rate online community doing right now? Lucky I can be a element of the community forum and I look ahead to a number of awesome experiences here!

Lenovo ThinkPad, IdeaPad and essential laptops. Notebooks, netbooks, tablet PCs and mobile workstations for business, school, home and home office.Compaq offerings include Presario notebook and laptop PCs, desktops, and computer accessories.

http://spyware2010.43host.com/

Howdy very nice website!! Man .. Beautiful .. Superb .. I'll bookmark your web site and take the feeds also¡KI'm glad to seek out a lot of helpful info right here within the publish, we need develop more strategies on this regard, thank you for sharing. . . . . .

I cant wait till the Iphone 5 phone comes out in October

Hello! kdgaabg interesting kdgaabg site! I'm really like it! Very, very kdgaabg good!

Hello! akdcdck interesting akdcdck site! I'm really like it! Very, very akdcdck good!
Get the best of iMore in in your inbox, every day!
Thank you for signing up to iMore. You will receive a verification email shortly.
There was a problem. Please refresh the page and try again.