iControlPad Turns Your iPhone Into A PSP Look-A-Like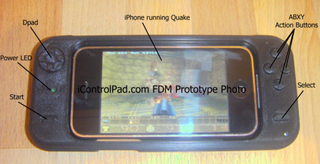 We had mentioned the prototype of iControlPad more than a couple months ago, but it has popped up again looking a little bit more finalized and a lot BIGGER. Back in May, I had compared the original model to a PSP, but I think this edition looks more like the Sega Game Gear from years back. This thing is huge!
It promises to be glossier in the final production model and hopefully it'll look a little bit nicer. Shouldn't it look flush with the iPhone? At least steal some of the iPhone's design cues! I will reserve my excitement and temper my expectations until I see the final product. Because even though it is kind of ugly, it might take iPhone gaming to another level.
Get the best of iMore in in your inbox, every day!
At that size, can we hope they'll cram an extra battery pack inside? :)

This is a really awesome idea and think it has the potential to be huge. The iPhone is already one of the best creations ever with the never ending list of cool things you can do with it. Now you can turn it into a awesome game playing hand-held device. What more could you really ask for.

If they can clean this up a bit, they could have a winner on their hands...

@steveballer, it's a prototype, what do you expect?

Can an add on QWERTY keyboard be far behind?

will this require a jailbroken phone? I'm guessing yes.

Meh. Just makes the iPhone bigger.
Thank you for signing up to iMore. You will receive a verification email shortly.
There was a problem. Please refresh the page and try again.