UPDATED: Images of iPhone 4G/iPhone HD turn out to be a knock-off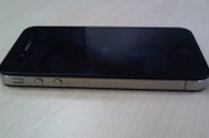 UDPATE: Engadget initially updated their story on the iPhone G4 (not iPhone 4G!) to include the information below, then removed the update, their editor-in-chief stating on Twitter that a "major update is coming". So, we'll file this under "developing" for now...
ORIGINAL: Those pictures we linked to last night of an iPhone 4G/iPhone HD turn out to be what most of our readers claimed it to be in the comments - just a knock-off.
According to Applesfera, the phone in the pictures never came from Apple or Cupertino at all, but is simply a cheap Chinese clone. One of their readers posted a picture (above) of the same identical phone that they recently purchased in Japan.
So whether you were excited or not so excited, move along as there is nothing to see here.
Thought so. I couldn't determine if I liked it or not so now I don't have to decide.

"Images of iPhone 4G/iPhone HD turn out to be a knock-off"
well duh Mr Wizard

I knew it was a fake , didn't fit the apple minmalist design concept, too much buttons and a removable battery ! Pleeeeeeaaaasse! Hell has not frozen over yet

lmao. Is that thing even capacitive? ;)

The removable battery is what gave it away in a heartbeat. I don't have to explain to you guys why that's ridiculously out of the question with an Apple product nowadays. Cheers and I sure hope the new iPhone looks better than that anyway.

Also, I'm still praying the new iPhone looks like that fake pic that popped up an hour before WWDC last year. That phone looked awesome!! You guys remember what I'm talking about? I'm too lazy to google for a pic right now... need more coffee..

That was a beautiful knock off...
Too bad Apple has gotten complacent with the iPhone and its design.

Funny you are still stepping in engadgets toes they say 4g becAuse it means 4th gen. just like iPad= 1g and ipod touch = 1g, 2g, 3g. being Apple based site you should know this.

@Steve Woz:
He DOES know that.
He clarifies so that idiots do not make comments saying "it's not 4G because LTE isn't in America" or whatever else they would say.
He's not arguing with engadget or trying to prove a petty point, it's done in jest.
You people need to get a life.

I'm laughing at all the people on the other post saying "It's definitely real", "I really like it".

I believe the word we're looking for here is: "Crone" It's a Japanese crone.
:)

What a shocker. Pictures of an unreleased product are fake? Never, not on this site!
/sarcasm

The funniest thing about the photos is that it isn't even Apple's design style. C'mon people get with it.

So it is a knockoff, but does it run the iPhone OS? If it does what do we call it... can't call it a hackintosh... maybe an iphony?

This so-called Spanish image. Which proves the device is a fake. Is itself a fake.http://i43.tinypic.com/2h6r5s9.jpg
It's just recycled pixels from the Engadget article.
C.

Looks like engadget stepped on your toes right back. The phone is reall. Nice work trying to say engadget doesnt know what they are talking about. Ttheir latest story: http://www.engadget.com/photos/iphone-4g-proof/#2904451

if it runs the iphone os it is reAL

I'm starting to find my way in Photography. Since institution that offers photography study is very limited here (in Turkey), I bought books to study it myself. I would like to ask, is it helpful to invest in an online photography study?

I just bought the Apple iPhone 4G 32gb at the cheapest price, though i thought it was a scam and here am i with my iphone 4g, it is so awesome.
Here is my email address to know i bought it... nicholaharb@yahoo.com

any1 wnt to buy brand new unlocked iphone 4G...in 500 USD?
please contact atBubble_all@yahoo.com
Thank you for signing up to iMore. You will receive a verification email shortly.
There was a problem. Please refresh the page and try again.