Apple's blockbuster 2015: Year in review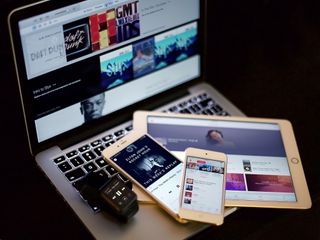 (Image credit: iMore)
When you start to think about everything Apple released this year, it seems almost unimaginable for a company that only a decade ago had but one platform and just a handful of products. They launched a new product category with the Apple Watch, relaunched one with the new Apple TV, expanded another with the iPad Pro, turned media into services with Photos and Apple Music, and revamped almost everything else.
Scaling like that would be hard for any company no matter how successful, but for one that prides itself on tight focus and small teams, it's even harder. It wasn't perfect and it didn't come without cost, for Apple, developers, and customers. Yet looking back now, it's also impossible not to be impressed but just how much Apple accomplished in 2015.
We'll start looking forward to 2016 soon enough but, for now, let's take a final look back Here's an overview, including the in-depth year in review podcast series Serenity Caldwell and I recorded, and links to all the major reviews and news.
Spring 2015
The March event returned this year and in a big way. The Apple Watch, previewed last year, got a second, more detailed introduction and a launch. The new MacBook with Retina display and Force Touch trackpad debuted, and Apple surprised and delighted us with new framework for medical research called ResearchKit. Photos for OS X, also previewed last year, launched in the spring as well.
Summer 2015
June was highlighted, as always, by Apple's World Wide Developers Conference. And WWDC 2015 was the biggest to date. Not only did we get the unveiling of iOS 9 and OS X El Capitan, but of watchOS 2, Swift 2.0, and an all-new streaming and radio service called Apple Music. Then, in July, we got surprised by an updated iPod touch to run all that Apple Music on.
Fall 2015
Fall brought Apple's annual September event. Because there wasn't going to be an October event this year, the result was the debut of a dizzying array of new products, including the Apple Watch Hermès, new gold and rose gold finishes for Apple Watch Sport, iPad mini 4 and iPad Pro with Smart Keyboard and Apple Pencil, iPhone 6s and iPhone 6s Plus, and an all-new Apple TV with its very own App Store.
Your 2015?
Those were the biggest products and announcements from Apple in 2015. Which were your favorites? Which were the hardware, software, services, and news that meant the most to you?
Get the best of iMore in in your inbox, every day!
Rene Ritchie is one of the most respected Apple analysts in the business, reaching a combined audience of over 40 million readers a month. His YouTube channel, Vector, has over 90 thousand subscribers and 14 million views and his podcasts, including Debug, have been downloaded over 20 million times. He also regularly co-hosts MacBreak Weekly for the TWiT network and co-hosted CES Live! and Talk Mobile. Based in Montreal, Rene is a former director of product marketing, web developer, and graphic designer. He's authored several books and appeared on numerous television and radio segments to discuss Apple and the technology industry. When not working, he likes to cook, grapple, and spend time with his friends and family.
My Favorite was open sourcing swift Sent from the iMore App

I honestly thought this year was somewhat of a letdown. Apple did make a lot of killer products, but they did a lot of stuff that was a little off putting all year. The iPad Pro with the lack of actual pro functionality, coupled with the $100 Pencil and $170 keyboard case with only 32 GB of storage for $800. Plus the fact there are very few actual pro level apps to take advantage of the hardware is quite dumbfounding to me. The new Magic accessories were also a joke as well. The prices go up and the functionality goes down. No more removable batteries for them, and to charge them you have to use a charging port on the bottom. Not a really great design choice there. Apple Watch dock falls in this category as well. $80 for a toilet seat lookalike that really provides no added function doesn't bode well with most consumers that actually care about their money. I know I'll get absolutely hammered for saying this, but 16 GB iPhones in 2015 is a sad joke. The fact that the 6s can record 4k and only has 16 GB on the base model is a ripoff. The base storage really should've been bumped to 32 in 2014 honestly. The MacBook is the biggest disappointment of 2015. 1\10 the processing power of an MBA or MBP with only 1 port and a severe lack of power. All we wanted was an MBA with a retina display but instead they gave us that. Now Apple did make some good stuff. The iPhone 6s and Apple Watch were both really great, along with the controversial Apple Music in my opinion. They did make a lot of great stuff and had a very profitable year, but they didn't really impress me all that much. Can't wait to see what 2016 brings though, the iPhone 7 could really be great! Posted via the iMore App for Android

I will agree with most of what you said. The watch dock, to me, is the biggest joke of them all. I would have to differ with you on the MacBook and the iPad Pro. As a disclaimer I don't own a MacBook but I have a friend who does and have used it somewhat. I think it is a very solid product that will be iterated on significantly. Most of the people who gripe about it are the ones that don't need it because of lack of power and ports. It is not a power user product, hence I won't buy one. I do like to hope that the power will come up soon as Intel improves their chipset but in the mean time I just can't see much more power going into something with no fan. As for the iPad Pro, which I do own, I think it is very solid and is just the beginning of the fork for where iOS will go for iPads. App developers are going to have to get on board as well. I have the pencil and as an amateur artist, love drawing with it. I don't have the keyboard because it is not a replacement for my MacBook Pro nor do I ever see it getting there. To me, both products are so somewhat bleeding edge and blurring the lines on what is a tablet and what is a laptop that it will be interesting to see where they go from here. For the iPad it's iOS (or hopefully iPad OS!). For the MacBook it's going to be hardware.

As some tech sites say, we could argue that Apple launched beta products or features this year: apple Watch, Music, News, Apple TV, Macbook (underpowered)... Only the iphone 6s, ipad mini 4 and may be the iPad Pro feels like finished products So busy but a little underwhelming ? I'd love to know your opinion on that René. Thanks Sent from the iMore App

Stay tuned, I have an article on that coming up!

OK my comment has gone, I didn't think it was that bad o.o oh well. Any how I bought an Ipad mini 2 at the beginning of the year, good tablet. Posted via the iMore App for Android

Rene deleted the critical comments.

Your comment was excellent, proper, and thoughtful. If it makes you feel better, there were other thoughtful comments that were removed.

Ta. Posted via the iMore App for Android

OK my thoughts on Apple in 2015 and I will try not call people fan boy..
I will preface this by saying I don't have a lot of the products or have used the services mentioned in the following and that is just my opinions and thoughts. With that in mind here goes and I have good and bad lists. Good :
IPad Pro. When I read about it and watched the key note on it I thought wow this is cool and will be an interesting product for artists and designers, my niece thought it was cool as she likes tech and is an aspiring artist. 3D touch. I like the idea of this and it seems to fit the way iPhones work very well. The ability to to press a bit harder and lunch something after previewing it brill. Good one Apple. The MacBook. It's a very cool looking thin and light laptop. Force touch. iPhone 6s and 6s plus. Again I will use the word cool, cool looking phones and with 3D touch brill , but yet .. On to the bad.
Bad :
iPhone 6s and 6s plus. Cool looking yet the home buttons.. too much wasted space. Now does 4k recording but fill up your 16 gb model ! Should of started at 32gb MacBook. From £1049 for only one USB C port ! Extra £s for an adapter !?! Apple what are you smoking? iPad Pro. ios 9 needs to be changed on this as too much wasted screen when not using split screen. To get the most out of it if you are an artist you need to buy expensive add ons £79 for the pencil ! Apple stop smoking that stuff not good for you! Apple music. OK I haven't used it and I might like it if I do, but not heard good things about it. Jim Dalrymple another apple fan boy er I mean passionate apple user has often mentioned how apple music needs fixing and has messed up his music collection. Anyway those are my thoughts on Apple in 2015, if you made this far thanks for reading :-) Posted via the iMore App for Android

So says an Android fanboy. But I agree with most of your points except for the the part about the home button and too much wasted space as you put it. Sorry but the bezels and the home button are very important for Touch ID in the case of the home button and both bezels are part of the identity of the iPhone. But since you're an Android guy it is fine for Android phones to have no use for things like a home button but not for the iPhone as the iPhone won become an Android clone if Apple ditched the home button and both bezels, thank goodness it's Jony Ive designing the iPhone and not you. Posted via the iMore App

Er thanks for your input.. Like I said just my opinions and thoughts on Apple in 2015. No need for the insults, yes I am an android fan but I do use and own apple stuff. I would like to try an iPhone but do wish they where cheaper or the carriers could let you try one out somehow.
Believe there is plenty wrong with android but yes I do prefer it.
What I do admire is some one who has tried out an iPhone or Android phone but is honest and says not for me but I can see why people like it. What I don't like is people who blindly follow apple or any other company. Nothing is perfect just use what you enjoy and understand people won't agree with your choice. Posted via the iMore App for Android

I can understand people not agreeing with my choice, life would boring if we all agreed on everything, I actually use a Nexus 6 also and I like it but I'll always prefer iPhone and iOS. What I don't like is people and anti Apple people especially complaining about how expensive it is and so on and just hating on Apple, Nexus apart the rest of Android just doesn't appeal to me. Posted via the iMore App

I found this to be a transition year.. really excited about the foundations being established with the Watch, the iPad Pro, and Swift being taken to open source!

Is there is a bug, my comment got deleted.
Thank you for signing up to iMore. You will receive a verification email shortly.
There was a problem. Please refresh the page and try again.