iPhone has a commanding lead in mobile Internet traffic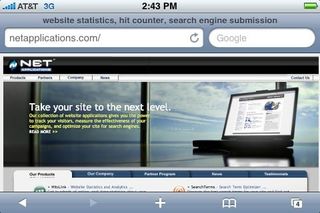 What a great start to 2009! Net Applications (a leader in tracking website applications) has just released their monthly survey (opens in new tab) for January 2009. The news? The iPhone accounts for 0.48% of all Internet traffic! This is amazing considering that the Mac has 9.93%. Compared to one month ago, the iPhone''s share of Internet traffic has grown by 9.09%.
This is quite an achievement for the iPhone since it is only available on one carrier in the use and limited to one model. What is particularly interesting about this is that Windows Mobile, Google's G1, Symbian and BlackBerry are rolled together into the "other" category that accounts for 0.45% of Internet traffic.
(via Apple 2.0)
(opens in new tab)
Software trainer, blogger and mobile technology enthusiast living in the suburban Midwest.
Poor reading of the sats unfortunately.
(1) iPhone is 0.48% (Jan 09) - Other is 0.45% (not 0.35%)
(2) Yes a rise of 9.09% from Dec 08, but then Other is a rise of 28.75%
Real story - iPhone set standard for web access via a mobile device. Other devices are are catching up and growing in popularity. Time for a significant upgrade - 2.3 (with all the base features commented on so frequently on this site [cut/copy, push notification]
Actually time for 3.0 with Turn by Turn, Flash, video, native MMS, native document editing.

@Jon
Thanks for the catch! Typos happen to the best of us...
1) Fixed
2) Good point, however you are comparing every mobile handset to the iPhone. The point illustrated here is that the iPhone is leading and will most certainly continue to innovate in this space while the others, as you put it are "catching up".

Actually, the iPhone isn't available on one carrier. It's available on many carriers, perhaps even dozens. In the US, I guess, you are forced to use AT&T. I'm in Poland, however, and we can get iPhones from either Orange or ERA.

Dating between humans can now be achieved so many different ways than before. People no longer have to go out and meet in person. They can now, fire up their mobile devices like the iphone, ipod itouch, ipad, blackberry, android, etc. and unite with their social circle. Right from their mobile device they can email, chat, build dates, etc. Mobile dating sites will have to start catering to this tech hungry group in due course.

Pretty good blog. I just following your articles and wanted to say that I have really enjoyed reading your blog posts. Anyway I'll be subscribing to your feed and I hope you post again soon. Thumbs up for your blog post!
Thank you for signing up to iMore. You will receive a verification email shortly.
There was a problem. Please refresh the page and try again.