iPhone DST alarm clock bug hits Europe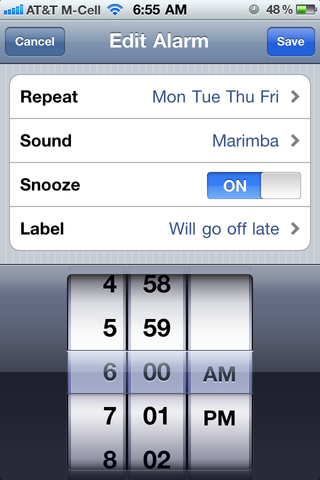 Remember that annoying DST bug that was affecting Australian iPhone users' alarm clocks? Well, now it's Europe's turn. The switch from Daylight Saving Time to Standard time happened last night and now many European iPhone users woke up late this morning.
Even though the iPhones are correctly changing the clock time, recurring alarms are not recognizing it. What's even stranger, is that not all alarms are affected. If the alarm is set for "every day" or "never", then the alarm will go off at the correct time.
What disappoints me is that Apple knew about this bug and promised a software update to fix it. Why hasn't it been released yet? Do they plan to fix it before the switch hits North America next week?
To our European readers, did you wake up late this morning because of this bug?
[Engadget]
Former app and photography editor at iMore, Leanna has since moved on to other endeavors. Mother, wife, mathamagician, even though she no longer writes for iMore you can still follow her on Twitter @llofte.
Affecting my US iphone 3Gs and we dont have DST for another week !!!! Location: MN

Thankfully not as I only use my phone as a backup alarm. Was quite embarrassing being sat on the train into work and my alarm going off though.

It hit my US iPhone 4 this morning. I was 40 minutes late for work. Not good.

I had no problems this morning, alarm went of at the correct time.
It's currently set to go off on Mon/Tue/Wed/Thur/Fri at 06:10 and I live in Europe.
Have 24-Home Time enabled, and Set Automatically as well.
International is set to English, except for the Region Format which is set to Netherlands with Gregorian Calendar.

Mine has been solid too, its a recurring 6.30am alarm, Monday to Friday. Brothers has been fine too, in fact I do not know anyone that has had the problem in the UK.

I'm in the UK and had this problem this morning. The clock updated automatically yesterday and although the alarm says it is due to go off at 7.55am weekdays, it actually went off this morning at 8.55am instead

Yeah quite annoying. I should have known better as I have friends in Australia who were affected by it. Luckily my own body alarm clock got me up in time. Lots of my friends here in England were not so lucky though. Very disappointed at the lack of response by Apple.

alarm clock was set to go off @ 708am and went off @ 608am. FAIL!! location: TX

It happened to my wife's 3G this morning (running 4.1), in Northern Ireland :(

I'm in Switzerland and I had this problem too.
The alarm went off one hour late this morning. I was a little late for work.
Really annoying. I know of 3 friends who had the same problem.
The alarm is configured recurring from Mon to Fri.
I use 12h time format.
I can also confirm that it doesn't seem to affect all phones. I know of another friend who didn't have any problem this morning.

Didn't have a problem this morning. But now that I'm reminded of this problem I'll be sure to set an extra alarm just in case for the U.S. change.

As of late, Apple's customer service is lacking. They have known about the alarm clock issue and have done nothing yet. When the whole antennagate issue started, Apple was VERY quick to release an update. i am sure many customers of Apple rely on the device to awake them. I work for an EMS agency, do you think my supervisor would find it acceptable if I told him my alarm clock didn't go off. I love the Iphone, but I have to say Apple is really slacking in terms of customer service.

Here in the US mine woke me up an hour early uhhhhhh!!!!!!!!!!

@santo I feel your pain lol

Yeah made me half an hour late this morning!!!!!!

Woke me up an hour early this morning in the US! So it's not just Europe

Again, another US fail on an iPhone 3G running iOS 4.1. In my sleep drowsed state I started to question if I'd missed the DST change...

Good to know, looks like I may be setting a second alarm clock this week.

My iPhone 4 didn't wake me but lucky I had a second alarm ready!

This morning both my iphone and my wife's went off one hour early, we live in the US..

Forgot to mention, we both have the alarm set up on " every day"...

I called ExpressLane support at Apple this morning. They recognized the issue. I've been asked to go in-store to pick up a replacement phone. Since it's an iOS issue I'm wondering if the US Apple Support hasn't been told how to respond to the issue yet. Whatever. I'll take the scratchless iPhone as a replacement.

@Ferrigno, I can only hope that you're Lou.

Luckily the refuse/rubbish collectors woke me. Two of my friends also got snagged. In the UK

I woke up 1 hour later....

Killed! Alarm set for 7am MON-FRI and went off at 8am! I've had to set it to 6am so that it goes off at 7am! How poor is this!? who do they have testing this!? ...more importantly I'd like to hear from the dev who screwed this module up!
London, UK

I forgott to mention that i leve in Europe, Greece...

US-MS. 5am Alarm went off at 4am. Two iPhone 4's.

My IP4 went off a hour eary too it sucks because I was afraid to go back to sleep thinking that is wouldn't work later. Location US-AL

It didn't happen to me don't use a alarm to get up never have
Not using my ip4

My alarm didn't go off and I was late for work! Without a doubt having an iPhone was the worst decision I ever made!
I have the iphone4

@boots - haha. i mean, its not a LIFE THREATNING problem, but is annoying. hope it gets fixed soon. my iphone is my only alarm "clock."

During the hole worktrip this morning I was thinking what did I do this morning because I am 1 hour late?? Now I know it is a bugg in my Iphone.

Has anyone been experiencing problems with their calendars? All my appointments are now showing an hour earlier on my iphone. I've re-synched with Outlook 2007 to no avail. I've manually deleted all appointments from my iPhone and re-synched, but again to no avail. The appointments keep showing an hour earlier on the iPhone. Help!!!

My weekday recurring alarm failed this morning & went off an hour late.
Not going to be impressed if I have to set it up for a different time from that of which I actually want/need. Not a life or death issue, but after spending quite a lot of money buying the phone unlocked from Apple on release day, I expect the simple things which I use daily to actually work correctly!

I noticed it on Saturday nite - how do I fixed it - it is really annoying?

Oh yeah I am I'm Georgia USA 

At least I now know why mine failed to go off this morning. Thought it had gone tits up!

I'm in France and it happened to me as well, the alarm went off one hour late :-(

Today, I decided that my 780 euro alarm worths its money ... ha ha

US-KS, my IP3GS woke me up one hour early this morning. We don't have DST until Nov.7th and then still the night will be one hour longer not shorter... so what is this all about????

Up an hour early here too. LA, US

The calendar offset is another issue and easily fixed. Do NOT manually change the times of the appointments. Just go to Settings -> Mail, Contacts, Calendars -> scroll right down to the bottom, there is a option called Time Zone Support. In my case I just turned it off. Some others needed to turn it on choose a timezone (depends on what you sync against)

Well this proves one thing. Leave the time alone. I hate daylight savings time. Just set it one way, or the other, and that's it. May be apple will have a fix by the time they come out with iPhone 10.

My alarm is set for everyday. Had a problem with it this morning. Thankfully was not late for work. What a pain in the ass though!

Mine went off an hour late. The clock changed fine and it says 5:40 on the alarm but the alarm goes off at 6:40. Luckily I have a week off!

Thankfully I have a good internal body clock and woke 15 minutes before the alarm was due - today, in fact, literally as I type, even after I deleted and re-added the alarm, it's gone off an hour late...again.

Not only did this happen to me but now the alarm will only go off it it is set to EVERYDAY not every weekday when I need it so I will have remember to disable it for the weekend if I want a lie in?!!!!

No problem Catherine, just set it an hour earlier than you want to get up.

Been an hour early for 2 days here. Seattle, WA.

Greece happened too. i was late to work for the last two days, but i am always late to work so, to be honest, it didn't make much difference... The best solution is to sleep together with a girl that has another type of phone and wake up by her alarm clock...

not just iphones,my ipod touch is doing it too!!!

This happened to me. I'm in the US.
I have a recurrning alarm set to 7am and 715am. Went off at 6am and 615am past two days.
Deleted and recreated and that fixed it.

I have learn several just right stuff here. Definitely price bookmarking for revisiting. I wonder how so much effort you place to make the sort of great informative web site.

Just wish to say your article is as astounding. The clarity to your submit is just great and i could assume you're knowledgeable on this subject. Fine together with your permission allow me to grasp your feed to stay updated with coming near near post. Thank you 1,000,000 and please continue the enjoyable work.
Get the best of iMore in in your inbox, every day!
Thank you for signing up to iMore. You will receive a verification email shortly.
There was a problem. Please refresh the page and try again.