iPhone Live! podcast tonight! (And we'll be announcing the Verizon iPhone winner live!)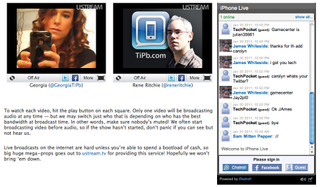 iPhone Live! podcast is tonight people and we want you to show up and chat with us! 6pm PT, 9pm ET, 2am GMT so you better be there!
We'll be announcing the Verizon iPhone winner, talking Verizon iPhone launch, checking out the new HP competition, and checking out all the week's news and apps.
http://live.tipb.com/live/
If you have any questions or stuff you want us to make sure we cover tweet them to @TiPb, email them to podcast@tipb.com, or leave them in the comments below!
Bring it!
Senior Editor at iMore and a practicing therapist specializing in stress and anxiety. She speaks everywhere from conferences to corporations, co-host of Vector and Isometric podcasts, follow her on Twitter @Georgia_Dow and check out her series at anxiety-videos.com.
Me neither. We'll see you there georgia.

wait, who won the iphone?!

My heart is broken. I lost sleep because of this giveaway lol. Oh well. I will try and figure something out. Somehow =/

Wow it was gorgeous.........When you r coming in Pompano Beach???????
I want to win a iphone...It will change my style ...

I'm wondering how I might be advised whenever a brand new post has been made.
Get the best of iMore in in your inbox, every day!
Thank you for signing up to iMore. You will receive a verification email shortly.
There was a problem. Please refresh the page and try again.