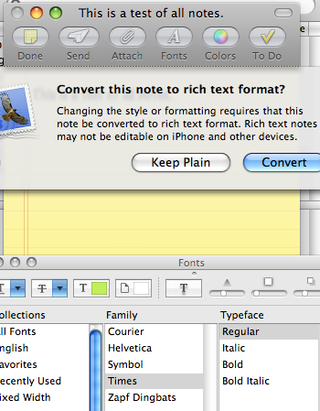 I spent a bunch of time getting Leopard installed and set up on my mac to find out what goodies it would bring to the iPhone. It looks like syncing notes from the iPhone to Mail might have been pulled just before it was ready, or that it's going to come in a future iPhone update. When I tried to change the default font in an edited note from Marker Felt to anything else, I'm given this warning message:
The language is there, as you can see above. Based on the language that I see above, I think it's safe to assume that it should be available soon.
And in other news, it looks like Apple hasn't made up their mind whether or not we'll be able to edit rich-text notes in the future. The fact that there's a warning at all indicates that we should be able to edit notes on the computer and have them sync to the iPhone.
boom!
Now here's the next question - will somebody figure out how to "switch it on" before Apple makes it official?

I am one of the few who switched to an iPhone from a Smartphone (Treo 700p) who is getting sick of the feature-set of the iPhone getting pushed back "indefinately"?

I cannot believe that the fancy iPhone STILL cannot sync a plain-text note. Ug. I am stuck with putting them in the Notes field in Contacts and then it syncs to Yahoo Mail. Hardly elegant. What is (perhaps) even more wonderment is the fact that not a single AppStore developer has figured out how to do it. That is not a good sign. Apple, please, help me to love the iPhone.

Yes is quite ridiculous, sync note with phone is more than 5 years ago technology, such an high tech iPhone can not do this task. I been searching around to find a good solution to synce all my notes in iphone with my mac.
Get the best of iMore in in your inbox, every day!
Thank you for signing up to iMore. You will receive a verification email shortly.
There was a problem. Please refresh the page and try again.