New iPhone 6 commercials highlight A8 gaming, Continuity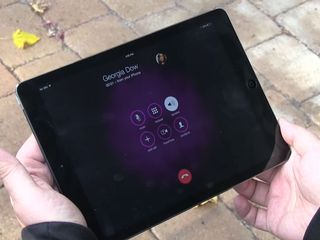 Apple has released two new commercials for the iPhone 6 and iPhone 6 Plus. The first, titled "Gaming", focuses on the Apple A8 chipset and the quality of video games it enables. The second, titled "Continuity", highlights call relay from both the Mac and the iPad. Both commercials once again feature the voice stylings of Justin Timberlake and Jimmy Fallon.
How does continuity work with the iPod touch? Sent from the iMore App

Same as it does with an iPad. http://www.imore.com/continuity

When will continuity work at all? Sent from the iMore App

It works perfectly for me. Sometime the computer doesn't see my phone as a mobile hotspot and I have to turn it on from my phone. But I'm ok with that. Sent from the iMore App

Mine worked in 10.10.0 (although not consistently) but since 10.10.1 I have not been able to get handoff or air drop to work one single time. I've tried logging out and in iCloud reboot etc. but for me and many others these features are nonexistent. Sent from the iMore App

Nonexistent Sent from the iMore App

"Gaming" #PCMasterRace #HeilValve Posted from the amazing whatever device I can afford because I'm a broke college kid.

Nobody who plays games on their iPhone without headphones would hold their phone in this orientation, considering it completely covers the speaker ...

Eh, still not very good ads. These are only "meh" ads on their own, and really subpar when compared to the ad quality we've come to expect from Apple. Honestly, Google is winning when it comes to add right now.

Wow, Those were terrible! The gaming one is the worst of the series. I'm convinced even Apple knows they are bad, and just have them out there to fill contracts. I mean. There are still lines at the Apple Store for the iPhone... If there is anything that doesn't need to be advertised, it's the iPhone. I mean, Why isn't Apple advertising the iPad anymore? They did just release a new one of those too.

I'm unimpressed with gaming on the 6 plus. I can't reach everything with my thumbs. Liking the new iPad Air 2 though, enough to get rid of my mini 2. I really wish apple would use some of that enormous bezel though and give me some forward facing speakers! Sent from the iMore App
Get the best of iMore in in your inbox, every day!
Thank you for signing up to iMore. You will receive a verification email shortly.
There was a problem. Please refresh the page and try again.