July 2 iPhone pre-orders shipping early?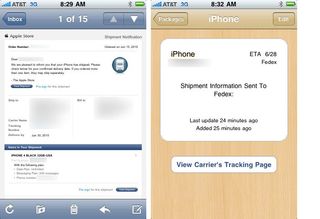 We don't want to get anyone's hopes up here, but one of our readers just sent us his shipment notification and tracking info for a second round, July 2 iPhone 4 order and it looks like he may be getting it a tad early -- June 30 according to Apple and June 28 according to FedEx.
Now there's many a slip between an arrival and a ship, so let us know if any of you are also getting your iPhone 4 shipment emails or tracking info, and what your dates are showing.
Here we go again!
[Thanks tipster!]
Rene Ritchie is one of the most respected Apple analysts in the business, reaching a combined audience of over 40 million readers a month. His YouTube channel, Vector, has over 90 thousand subscribers and 14 million views and his podcasts, including Debug, have been downloaded over 20 million times. He also regularly co-hosts MacBreak Weekly for the TWiT network and co-hosted CES Live! and Talk Mobile. Based in Montreal, Rene is a former director of product marketing, web developer, and graphic designer. He's authored several books and appeared on numerous television and radio segments to discuss Apple and the technology industry. When not working, he likes to cook, grapple, and spend time with his friends and family.
Remember, it said "ships by" not "delivered on", so this isn't technically early.

This will not help me stop checking the Apple website ten times a day. Mine still says "not yet shipped."

Mine says prepared for shipping.....

Mine is "in transit" 2 towns away ;)

Mine says shipped. Estimated delivery of Jun 28th, from FedEx.

WHY IS TIPB.com ALWAYS LATE ON EVERYTHING?

GET YOUR BUMPERS NOW. WILL CURE THIS SINGAL PROBLEM

Mine still says "Ships by July 2. Delivers Jul 6 - Jul 8". Boo.

Just planned my vacation for next week since the phone wouldn't even be here until July 8th...only to find the email this morning saying it will be delivered on the 30th. Blurrg!

Plannig your vacation around a phone
LAME

Didn't plan it around the phone. Planned my vacation and was expecting it's delivery when I returned home. Now it'll ship while I'm out. Pleased to meet you little squeaker!

My order (placed on the night of the first day pre-ordering started) originally said ships by July 2, arrives July 6-8. But today I received a shipment notification e-mail with a FedEx tracking number that says it was shipped today and will arrive June 28!

Just planned my vacation for next week since the phone wouldn't even be here until July 8th

Didn't plan it around the phone. The since - because it makes sense to plan a vacation during the week a 300 dollar piece of equipment ships to your home?

I also ordered on Day 1 & was in the "Ships by July 2nd" crowd. Last night sometime, my status changed from "Not Yet Shipped" to "Prepared for Shipment." Woke up this morning to find my tracking number- should be arriving Monday. Considering that I was hoping for an at-best delivery BEFORE the July 4th holiday, I'm pretty pumped.

Doug, Dood, and Ahambone - you guys are lucky. Hopefully, my shipping status will change as well, but I'm not holding my breath.

I received my July 2 iPhone 4 this morning at 10:00 EDT

I alreadry got mine yesterday suckers...

This is what I have been hoping for!!!

Mine is still in transit LANTAU HK, Apple confirmation said delivery date will be on June 30 but FEDEX delivery sates June 28 by 10:30am

Where the people from who are potentially getting thier iPhone 4 before their orginally July 2nd ship date. I am in Oklahoma and it still shows "ships by July 2nd"

anyone with july 14 seeing anything yet

Mine shipped early, fedex had it down for the 28th by 10am but it slipped back to the 29th because it missed the cutoff...

You guys are really lucky, I preordered mine on June 15 at 9pm and mine still says July 2nd and not shipped

Order Date: Jun 15, 2010 at 08:36 PM
Status: Not yet shipped

Update to my post above -- FedEx just changed my delivery date from June 28 to June 29. Oh, well, still earlier than July 6-8.

This of you that had a July 2nd ship date but now have an earlier one; what part of the US are you in?

I second Greg's question and add one of my own; for those of you in the July 2nd camp but received your iPhone earlier, what date and time did you place your order???
I placed my order on Jun 16 @ 12:00pm and as of this morning it was Not Yet Shipped. But I'm crossing my fingers that it will arrive by June 30th!!!

The screenshot at the top shows that the order is a 32GB phone. Keep in mind that one may be more readily available than the other... as in, more people ordered the 16GB and the 32GB orders are able to be filled sooner with lesser demand.

My phone was ordered June 15th at 8:29pm PDT. I have a July 2nd ship date and a July 6 - 8 delivery date. It is now "Prepared for shipment" WOOHOO!

Greg- I ordered mine 14 min before you at 8:15 PDT mine still has not shipped yet. Still has a by ship date of July 2 and delivery date of July 6-8. This sucksss

I pre-ordered my 32gb on June 16th @8:30am.
I still have a "not yet shipped" status, along with a July 2nd ship date and July 6-8 delivery..
I'm hoping this all changes soon... ehhh... such a rat race...

I ordered my 32Gb on June 15 @ 1015 pm. I still have a July 2nd ship date.

I ordered a 32gb on Jun 16, 2010 at 06:17 AM PDT - still showing July 2nd ship date :(

Anyone know how long it takes from prepared for shipment before I get my phone?

Order Date: Jun 16, 2010 at 04:29 AM PDT: 16GB still July 2nd to NYC.

I ordered 32gb on June 15 at 8:57pm PDT: still showing July 2 ship date.

i feel like throwing a childish tantrum.

Ordered my 32GB iPhone 4 on June 15 at around 11:45pm EDT and still says "Not Yet Shipped." I'm in Boston.

Order Date: Jun 16, 2010 at 05:29 AM PDT, mine still says Not yet shipped

My order date was June 15th @ 8:17...order shipped yesterday. Once your order status goes to preparing for shipment it should go out the same day. My order got knocked back a day because it missed cut off time. But went out that night. So I guess my phone is somewhere between China and Tennessee. I'm suppose to have it tuesday by 10:30am. Good thing is I live in the same state at Fedex's main hub. Good luck to all of u waiting, be expecting ur order to get pushed back a day due to cut off once it ships...

I ordered mine Jun 15th at 10:49 PDT and it still says "Not Yet Shipped" still says "Ships By: July 2nd" it is a 16G I really hope they ship it early...

Order Date: Jun 15, 2010 at 09:07 PM PDT
Status still says "Not yet Shipped". I ordered the 32GB. Hopefully I wake up to a pleasant surprise!

Hey guys, just checked my order status page @apple.com
It's preparing for shipment, finally!
I wish all you guys the same=)

Bigz, mine went to prepared for shipment last night. Does that status change? If so what should it say?

It should switch to shipped...apple will then send you an email with your tracking number an info. My order was in prepared for shipment for a few hours. I would assume yours is already on the way. Shenzhen China is exactly 12 hours ahead of our east coast time. That's where our phones are coming from. If you order is still sitting in China you should still have it next week. I noticed Fedex ships using international priority which is 1-3 days to anywhere. So to all of you that are in prepared for shipment, depending on the time your iPhone went to that status your phone should be on the way I would assume. I know when I got my Fedex tracking info it said that the tracking updates would be off.

Ordered my 16GB at 9:00pm PST on June 15th. Still showing "Not Yet Shipped" for a Ship by July 2nd date. I'm beginning to think it's going to be one of those orders that gets magically canceled or something. My dock has been "in transit" from Hong Kong for 2 days now.

Forgot to mention, mine is shipping to California..... if it ever ships.

yea speaking of docks, mine has been in transit for 3 days...

o wow, just checked mine says it has shipped, so now I wait=)

sorry for the row of posts... just clicked on my tracking number and apparently it's expected to arrive on July 30th (this Wednesday) before 12:00pm... I live in PA

ordered on June 15th, 10:45pm. "Not Yet Shipped" and Ship By July 2nd date. I live in CA.

Just got an email that mine shipped on 06/26 which was actually the 25th since China is a day ahead of us. Est delivery date is the 30th... WOOHOO

I live in southern California I got a ship date notice early morning of the 24th that my iphone would arrive on the 29th

Also had the original July 2 ship date. Received email stating phone has shipped on June 25th with estimated delivery of June 30th. YEAH!

Just got my "prepared for shipment" status. Ordered on 7/15 at 8:45 PDT, a 32GB going to Boston. Seems as though "prepared for shipment" usually hits in the morning in Shenzen, then ships by Shenzen evening. Shenzen is 12 hours ahead of EDT, as has been previously noted.

Ordered on June 15th at 9:45pm PDT going to Southern California. Still at "Not Yet Shipped"

Forgot to mention I ordered a 32gb

I was starting to get so bummed hearing about people having problems with their 4's... (ie: signal strength/reception, yellow screen, fragility) but I'm hoping to god above all is well...
to anyone who has received their 4 yet: how is it?

As of today, mine is still showing not yet shipped. I ordered mine June 15 @1015 pm. I am getting bummed!!!!

Well i have bad luck so i dont expect my 32gig iphone 4 til the very last date out of the july 2nd delivery expectancy

I ordered my on June 15th and as of today shows that is is prepared for shipment.

Forgot to mention I ordered at 9:13 PM on June 15th.

I ordered my 16g on June 15 at 9:21. It now says "Prepared for Shipment" instead of "Not Yet Shipped" the dates haven't changed yet, but it's Sunday here in NY, so we will see what happens tomorrow.

My phone has been on Lantau Island for two days. I received my "your order has shipped" notification a day after it shipped.

Just a little update... at some point between 10:30am and noon PST on Saturday my status changed to "Prepared for Shipment". I was hoping I would get a ship notice earlier this evening (since it's Mon afternoon in China), but no luck. I was seriously considering canceling my order the other night. The whole thing has just irritated me beyond belief. You'd think they'd be shipping on a first ordered, first shipped basis, but I guess that's not how they do things in China. It's just irritating to know that I would have gotten it on the 23rd had I gotten through (or used the app) an hour earlier and that people who ordered after me are getting their phones before mine. GRRRRRR!
On another note, my dock also arrived in AK on Saturday and is still sitting there.
@Greg Are you sure it isn't just in transit from Lantau Island to AK? That's the only activity I have there for my dock.

My 16gb order still says not shipped (Texas order). I ordered 7am (CST) on June 16th....

I ordered mine on the 16th at 10 am Eastern. Still not shipped. Really hoping that it ships soon as I would love to have it before the holiday weekend. Anyone know how long the shipping takes approximately?

I ordered mine on the 15th at 10:39 PM PDT it is a 16g and as of 5 mins ago it still says "Not Yet Shipped" with a "Ships By" date of July 2nd... I kinda thought they would have at least changed it to "Prepared for Shipment" today, there shouldn't be a supply issue you wouldn't think being that they are on schedule to deliver to Canada still.. I dunno just sayin, im over the wait..lol

I ordered mine (32 g) on June 15th at 8:57 PM PDT; It now says "Prepared for shipment"

I ordered mine on june 15 at around 9pm and mine just changed over to prepared for shipment and i live in alabama on central standard time

Me say I should have it in the morning by 10:30am, but my shipping info show it was released from international shipping @ 4pm my time today. So that means it has to go from Alaska to Tenn in 18 hours...we will see...

I ordered mine on June 15th at 1015pm. Mine still says "Not Yet Shipped" though I did just notice that my bank account available balance is less and happens to be the same amount as the 32GB iphone 4, so I beleive I was charged, so I am assuming it is soon to change

@Jamie it was sitting in Alaska and then it changed to In Transit after about three hours. I don't know how long it's gonna take from Alaska to Tulsa Oklahoma. Hopefully by Wednesday!

I ordered my 32gb (going to California) on June 15th at 9:45 and it changed to the "Prepared for shipment" status this morning. As of right now, the status is unchanged.

I just got my shipment notification a little after 10pm PST. Apples email says it'll be here by July 6th, but FedEx says July 2nd. Meanwhile, my dock finally left AK earlier this evening and arrived in Memphis about 30 min ago. Is Memphis a hub or something? Kind of out of the way since it's going to So Cal.

Jamie, yea...Memphis is Fedex's main hub. You may wanna check where ya package is. I figured mine wouldn't make it until the 30th, but mine is sitting at the local sort facility as of 5am my time. I'm suprized my package went from Alaska at 9pm to tenn at 5am...guess there may be a lil hope.

Just an update, ordered mine 7 am (CST) on June 16th (16gb) and mine stills is 'Not Yet Shipped'.... I'm so impatient!

I am from July 14th batch. I could not wait so went to ATT store early in the morning around 5:30 am. I was sixth in the line (I come from a small town which helped) and in ten minutes I had my Iphone 4 activated in my hand.
I had to cancel my pre order before that as that is what one ATT employee told me.
Those who are impatient should approach ATT.
Good Luck.

I ordered my iPhone 4 32gb at 7 AM CST on June 16th and it still says not yet shipped. I had a ships by July 2nd date. I ordered my case on Sunday the 27th and it has shipped today and will arrive tomorrow. I wish apple was as speedy as this. The case was even back ordered and said it would ship in a week. Well i was hoping to get the phone before the holiday weekend but i guess not ill hopefully get it next Tuesday which is the original delivery date.

Update: My phone shipped, it will be here July 2nd at 10:30 according to Fedex

Just checked my 16g iPhone 4 status today and it still says "Not Yet Shipped" I ordered it on the 15th at 10:39 PM PDT... I was thinking it would change today or tomorrow if I was going to be one of the lucky ones to get it earlier than the July 6-8 delivery dates...

I ordered mine June 15 at 1045 pdt and still nothing anyone know how the ordering line is processed?

Got my phone at 10am this morn...this phone is awesome...wish yall luck...

Ordered mine the morning of the 16th at about 10am Eastern. Got the July 2 ship date but it has still not shipped and my credit card has not been billed.
Sounds like mine won't be shipping any earlier than July 2nd. At this point I am just hoping it ships on time.

I ordered my phone on 6/16 around 10am,
As of right now 6/29/10 my status is "not yet shipped" I live in Chicago IL and its supposed to ship on July 2nd but like everyone else im hoping i can get it earlier

Where can you find the tracking number for an order off of Apple's website?

You should get an email once your order shipped with it in it

Ordered iPhone 4 at 9:30am PST on the 16th = Not Yet Shipped. Ordered Bumpers case at the same time = Prepared for Shipment.

My dock is on a truck, out for delivery a day early! As for my phone, I thought it was in route to AK since it showed "in transit" at Lantau Island last night, but as of this morning it's showing as "At local facility" at Lantau Island. For those who have received their phones, is that normal? My dock didn't stop there, just transited through to Anchorage.

My phone never went there...it went to alaska, then to Indy, then to me

Hmmm... interesting. On another note, just got my dock, only to realize that I can't have a case on the phone and actually use the damn thing. So 5 minutes after it got here and I'm already returning it. ::sigh::
Did anyone also order an Apple Care plan when they pre-ordered their phone? If so, when is that coming. My status says "Completed" but I haven't received anything.

I ordered two iphones, one order went through at 10:15 p.m. on the 15th, it now reads "prepared for shipment" as of 4:00 p.m. CDT today. The other phone was ordered at 10:35 p.m., it is still showing "not yet shipped". Both are 16 GB models.

I just check my status, it shows "prepared for shipment" I placed my order on June 16 @ 05:30 CDT

Placed my order @ 0424 PST on 16Jun. Oddly enough, after i sent an email to Jobs telling him i hope im not bogging down the website by refreshing the page, mine changed to prepared for shipment. Guess either im lucky, or Mr Jobs supports the troops? Lol

bought at 8:15 am pacific on the 16th. Just went to prepared for shipment. How long till it ships? Anyone know or anyone who already has got theirs?

ordered mine on June 15th at 8:00pm,got a has shipped notice on the 24th at 4:50am and received the phone today at 9:17am. Just luck I guess since I'm sure there are those that ordered b4 me and haven't got theirs yet. I feel fortunate but I hope Apple does a better job next time of taking care of it's loyal early adopters.

This really upsets me how I ordered my phone June 15 around 1000 and I'm hearing people ordered the next morning and they already have a prepared to ship notice. What was the point of preordering is I have to wait so long when I can just cancel my order and walk into a store and buy one today I will never preorder again when they do come out with the next phone I will wait and buy it later down the line and they will come out with another one.

I'm with you Tec. Had the same thing happen to me. Was about to cancel my order when the status changed to "Prepared for shipment". Just wait until it does ship and you get to watch it just sit in China, not moving, for no apparent reason. ::glaring at fedex::

aren't the stores sold out?

I ordered mine on July 15th at 10:39 PDT and mine as of right now still freaking says "Not Yet Shipped" I don't understand how someone who ordered on the 16th can already have their status change to "Prepared For Shipment"... WTF Apple!

according to FedEx, my iPhone 4 32gb should be here in Pennsylvania today by 12:00pm... last I looked it left AK around 5pm (pacific time) so yea I guess we shall see...

UPDATE*** this morning the status said Not yet shipped but I its late night 11:50pm in chicago and now it says "prepared for shipment" Does anyone know how long after it actually ships?? I hope tomorrow when i check it says "your iphone has been shipped" or something

@PrettyBoi My stuff took about 2 days before it switched to shipped. Both times were around 10pm PST.

Update from DFW, order still says Not Yet Shipped. Tec I am fairly certain you cant just walk into a store today and get a phone, best wait like the rest of us...

Ok it finally changed to prepared no I have to wait I wonder if it will be here by Friday, is fedex open on the weekend? And anyone that has there phone how long did it take to get it from the time it went into prepared mode lol?

Mine (32g) went to "prepared to ship" on the 28th at 2:57pm and no change as of yet.

Mine has changed to "prepared to ship" as well.. While they might ship out a few days earlier, they'll probably still get delayed because of the holiday weekend. Jult 6th can't get here soon enough!

My "Ship by July 2" 16gb phone is now in transit from Shenzhen, China as of Wed, June 30 @ 11:02am. Fedex tracking says it will deliver by July 7 @ 12:00pm.

Looks like the order status server is down.

Ordered mine yesterday around 8:00am EST, just got an email with a tracking number and the item has been picked up with a scheduled delivery of tomorrow July 1st.

ELake, if what you say is true congrats, but it doesnt make any sense.

Shipping from Fort Worth, TX
I did get expedited shipping though - if it matters
Email came from ATT with tracking number, also got an email from ATT with my CSS information and activation procedure

Makes no sense as to what ELake is saying...

my 32gig iphone 4 has been in the "prepared for shipment" stage since the 27th, my bumper went to prepared for shipment on the 28th and now this morning my bumper has shipped but my iphone is still in the same stage, this sucks ass

Elake how is that possiable are u for real

My Phone was just changed to prepared for shipping at 2:20 CST.

My info for those interested.
16gb ordered on the 16th @ 920am PDT changed to prepared for shipment around 2pm on 06/29. Shipped on 06/30 at 809pm in Shenzhen(FedEx received after cutoff). Estimated arrival in northern California of 07/07/10 on the FedEx site. Apple claims a 07/06/10 delivery date.
32gb ordered on the 16th @ 9:23am PDT changed to prepared for shipment around 7pm on 06/29. still has not shipped as of 12:30pm on 06/30

Took a screenshot of the fedex track and ATT email
fedex track:http://i468.photobucket.com/albums/rr47/ELake20/iphoneship.jpg?t=1277927451
ATT email:http://i468.photobucket.com/albums/rr47/ELake20/iphoneship2.jpg?t=127792...

Screenshots to come (awaiting moderation)

Order placed on 15 JUN at 10:39 PM PDT for a 16g just changed from "Not Yet Shipped" to "Prepared for Shipment"...

I still can't figure out why my phone sat on Lantau Island for 25 hrs not moving. I was trying to figure out what plane it is now on via FlightAware like people were doing last week, but I can't find it.

Order placed on Jun 16, 2010 at 08:24 AM PDT for 2 16gig just changed to Prepared for shipment. Finally, now to see how long for the next stage.

Update from me. Ordered at 7am on 16th. Now shows as prepared for shipment which means it should ship within 24 hours. The excitement builds.

My phone sat on that stupid island for over 12 hours as well. Anyone know what the next stop is after hong kong?

@Dana Should be Anchorage.

What's new any updates the sun should be rising soon in china I'm hoping some process will be made today

Mine has been in "Prepared for Shipment" status for 3 days now. Hopefully that changes soon.

Ya phones should leave the island an go to Alaska, then it will have to release for international shipment. Then on to the states...once it gets released, it should be in your hands within the next 24 hours...an try not to drop ya phone...lol...mine took it's 1st crash the day I got it...got 2 tiny marks on my baby...:( imma have to call State Farm an get some insurance in the near future...

Mine just updated! It skipped Anchorage and went straight to Memphis and has already cleared customs! That means it should be on a plane tonight and out for delivery in the morning, arriving a day early! My dock came a day early too, so I would guess all of you should get your phones a day early as well.

Finally really using my phone it's awesome I know apple bungled this launch but hang in there it's worth it!

I just saw a pic of a smashed ipone 4 on flickr. Apparently it fell off the arm of a couch onto a hardwood floor. I ordered 3 $5 silicone cases from boxwave that wont ship till the 8th. My iphone is in TN and will be here on the 2nd. Maybe I should go out and get a fourth case to keep my baby safe...
http://www.flickr.com/photos/edwardshepard/4736046488/

Dana, our phones should be taking off from Memphis any min now. I bet we'll both have them by tomorrow afternoon!

Well my phone is in 'Prepared for Shipment' hopefully this means I will have it soon.

My 32gb order placed on June 15th around 9:30 went to 'Prepared for Shipment' on the morning of June 28th. Early this morning I received a shipment notification with the tracking number, with FedEx's estimated delivery of July 8th.

FedEx says my phone has shipped. Now the question is: How long will it take to receive it? Many Apple products are shipped overnight but FedEx is still showing July 7th; that's the same as the original Apple estimate.
According to FedEx:
Jun 30, 2010 8:52 PM In transit SHENZHEN CN
Jun 30, 2010 8:20 PM In transit SHENZHEN CN
Jun 30, 2010 12:20 PM Left FedEx origin facility SHENZHEN CN
Jun 30, 2010 11:58 AM Picked up SHENZHEN CN Package received after FedEx cutoff

Well, for some reason my phone is sitting idle once again. It should have left Memphis last night, but it didn't. According to FedEx it's supposed to be here by 10:30am tomorrow, but it's not looking like it will make it.

How does one of my Phones go back to Not yet shipped after was in prepared for shipment. This is so dumb.

Mine has been "Prepaired for Shipment" for a little over 24hrs, still says Ships By: July 2nd which is tomorrow so hopefully tonight it will ship... I ordered it on July 15th at 10:39 PM PDT

perhaps FedEx didn't update the tracking...keep in mind, there are a ton of people being shipped iPhones. It's impossible to keep the tracking page updated for EVERYONE. 98% of the time when FedEx says it'll be there at by certain time, it will be.
...in other news, my phone is expected to ship by July 14 :'-(

i ordered my 32gb on june 16 at 12pm. i was one of the unlucky ones to get the july 14 shipping date and 15-16 delivery date. this afternoon (july 1 at around 3pm) my order changed to "prepared for shipment." i don't know if that means i'm getting the phone earlier than the 14th or if the schedule seems about right.
i was wondering about how long it takes to actually ship and about how long it will take to get to texas?

@Jamie check it again my phone is already in NY it will certainly be in my house tomorrow as promised

My final destination is in the SF Bay Area and my transit info was recently updated to:
Jul 1, 2010 5:18 PM Departed FedEx location ANCHORAGE, AK
The original ship by date was 7/2 with delivery 7/7 but it looks like itcoul be here tomorrow... Unless it takes the long way home ,-)

Walked into the AT&T store June 30th and ordered iPhone 4. After everything went through and I set up the plan they told me it would be available for in store pick up in 5-7 business days. I was shocked, but the guy reiterated that in about a week I could walk in and pick up my phone. We'll see in a few days I suppose. here's hoping...

Well my order shipped and is now listed to arrive June 8th (hopefully).

It has went into ship mode it's says delivered by July 8 but I hope it comes it 24 hours

Email notification gone to shipped on wednesday 30th, from Shenzhen China, then to hong kong. Now its been since 2am HK time yesterday and no update on the TNT site. Haha..gota accept it will only come in next week....hopefully :-)

so it arrived!!!!! 45-minutes early!!!!! it shipped on the 28th at 9pm and arrived on the 2nd at 9:45am.

How does it take to get off of Lantau Island

Does anyone know how long will my iphone stay in transit for ?
Will it be delivered today ?

What's the next stop after Lantau Island?

Mine now says :
Not yet shipped
Product / Part No.
Qty
IPHONE 4 BLACK 32GB-USA
1
Custom configuration| Show
Ships: 3 - 5 business days
Delivers: Jul 9 - Jul 15

Mine has been waiting on LANTAU ISLAND HK since July 2nd 11:30PM im hoping that it will ship sometime soon today being that its July 3rd 8:17am HK time, FedEx should still be working Saturday..

Oh im pretty sure after LANTAU ISLAND, it goes to Anchorage AK, then to the states, at least that's what Ive seen in most peoples posts online...

FYI, mine shipped on June 30 and arrived at10:20am today 7/2... Both fedex and Apple had it listed to deliver on July 7 by 10:30 am... And Apple was to ship by July 2nd

@ bpowers that's interesting, mine shipped Jun 30th also, Fedex and Apple says it will be delivered by Jul 8th, Fedex still says its in HK but there is a possibility it could be here anytime lol..

Anybody know if fedex is still shipping over the weekend?

My buddy ordered his iPhone on the 18th as for me the 23rd last night 7-2-10 he sent me a screen shot of his order prepaired for shipment not trying to get hopes up but July 14th shipments seem that they are going to ship early (kinda mad) as I want mine to be ready for shipment also so hopefully everyone with 7-14 shipment will see there's ready to ship in no longer then week 

My iPhone had July 14 shipment date yesterday July 2 got a statues of ready for shipment waiting for tracking number but seems going to ship hopfully 11 days early

Ordered mine from ATT on July 1st
was told 7-10 business days. Does anyone know if these numbers are even close? Thanks

So how long does it take to get iphone 4 once it says prepared for shipment?

Ordered mine from apple on the 26th and it still says a july 2oth shipment date. Any chance it will ship sooner?

Anyone knows if fedex ships on the weekend cuz my phone has been in hk for 2days now and not moving

I ordered a bumper after ordering my phone (July 14 ship, now shows prepared for shipping), and my shipping details are below with an expected arrival date of July 8. Not that the bumper is the phone, obviously, but they seem to take the same shipping path!
Jul 3, 2010 2:29 AM Arrived at FedEx location NEWARK, NJ
Jul 2, 2010 4:07 PM Departed FedEx location ANCHORAGE, AK
Jul 2, 2010 11:51 AM Int'l shipment release ANCHORAGE, AK
Jul 1, 2010 8:37 PM In transit SHENZHEN CN
Jul 1, 2010 7:52 PM In transit SHENZHEN CN
Jun 30, 2010 8:03 PM Left FedEx origin facility SHENZHEN CN
Jun 30, 2010 3:39 PM Picked up SHENZHEN CN

Ok now my phone is in memphis tn now how long from there?

Anyone have an update on walk in sales at AT&T stores. Is it even worth looking?

@Tec, the next stop is your local fedex facility, then to you, sometimes its faster to scheldule a pick up at the facility

Here is the big question. I understand Fedex is not delivering on 07/05 (celebrating Independence Day) but what about 07/06. Are they delivering that day?
I think mine will be delivered on their next work day that is why I am asking. I checked the Fedex website and some types of deliveries are definitely happening on 07/6 but I am not sure if the iphone deliveries are included.

I think fedex is still moving the phone around today because there open 24/7 when it comes to shipping but I don't know if there gonna acutally deliver until tomorrow, and my phone is coming from memphis tn sense yesterday and the status say released from international shipping what does that mean? All this waiting I coulda just went into the store a got one.

I ordered my iphone 4 on 06/17 @ 8:48pm PST. I received a 07/14 ship by date. I just received and email from apple saying it's on it's way from Shenzen, & will be here by 7/09!

mines has been in tennessee for 24 hrs now, it says departed tennessee, it should be in alabama where i live by now

glad to see that they're shipping a bit earlier than expected. i ordered mine on the 2nd so hopefully i will get it by next week.

My Iphone 4 I ordered on June 24th has a ship by date of July 14th. Today July 6 my status is "ready for shipment"

Just an update. Bestbuy now has phones in stock for walk ins. I went there last night and walked out with a 32gb. The hard part was cancelling the online order with ATT. It took almost 3 hours and they tried to screw me on my upgrade. When they reversed my online order, their system recalculated my upgrade and said i could not get it until October. Then they said they would correct their mistake but it would take 24-72 hours. I fought with them and I had to threaten to sue them beofre they would correct the error on thespot so I could walk ut with my phone. Almost seems like a penalty for not buying from an ATT store.
Get the best of iMore in in your inbox, every day!
Thank you for signing up to iMore. You will receive a verification email shortly.
There was a problem. Please refresh the page and try again.