Dueling Documents: AT&T Hatin' the Storm, RIM Hatin' the iPhone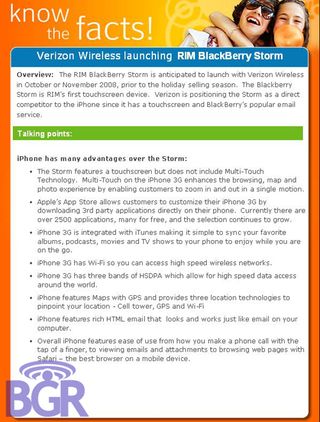 If you head on over to Crackberry.com you will notice a "few" articles relating to the BlackBerry Storm on Verizon. Honestly, it is no surprise since this is supposed to be RIM's answer to the iPhone.
A few months back Casey reported on a AT&T store handing out anti-iPhone propaganda to it's customers... Now AT&T themselves are taking shots at the BlackBerry Storm. And is it really a surprise seeing how Verizon is pushing this device as it's iPhone killer?
The Boy Genius Report has two independent sources supplying a email floating around AT&T that is laying the smack down on the latest effort of RIM, the BlackBerry Storm. Some of the key points being the lack of WiFi, multi-touch screen, App Store, and tri-band HSDPA.
(Via BoyGeniusReport)
...Meanwhile, BlackBerry News [via CrackBerry.com, naturally) has their own internal documents from last summer detailing why the BlackBerry is better than the iPhone 3G. Naturally, RIM is touting their history, keyboard, and most of all Enterprise chops.
Personally I want this Storm to come out already so we can put it up against the iPhone 3G and find out once and for all which device will come out on top!
Get the best of iMore in your inbox, every day!
Your source for all things Apple
All companies do this. They have to. If a customer asks "what about x compared to y", and you make X, you absolutely want a salesman to have simple, instant replies they can give. It's how you get them on your side, and how they get customers for you. Battle for mindshare, gotta be armed...

Please report what Apple is doing to make apps work.
This is more critical to Apple's future than AT&T game.
Apple broke many app with the August o/s release required to make the platform stable. Many apps that were ok with 2.1 are not now. No advance notice of changes by Apple, so the vendors were left scrambling to get fixes in, and now Apple's release process is so slow that vendors that have had upgrades in since just after the 2.1 release still have not seen them released to the App store.
Apple will not have much problem with the competition if they start talking to their customers (ie support = conversation) and the iPHone delivers its promise but if they continue in their current pattern of customer abuse they will give the competition opportunities.

I just can't beleive that it doesn't have wifi... What a deal breaker! No Youtube or streaming media or anything! What If you live in a non 3g area like me and rely on wifi?
Fail

The storm sucks
That is all

Unlike AT&T VZW covers 85% of the US pops in 3G coverage. Wifi on this device is not needed.

I THINK (and i'm shure i'm not alone) THAT THE IPHONE AND APPLE POLICIES SURROUNDING IT SUCK !!! YOU CANT INSURE THE PHONE , YOU HAVE TO MAKE AN APPOINTMENT TO HAVE "ANYTHING" DONE TO IT , REPAIR OR OTHERWISE. I LIKEN IT TO THE PSEUDO PRESIDENT, PEOPLE FALL IN LOVE WITH IT AND DON'T KNOW WHY! IT MAKES YOU PAY DEARLY, IT FRUSTRATES YOU WHEN YOU TRY TO USE IT, AND IT WAS SOLD TO YOU UNDER FALSE PRETENSES! HOW IS THIS COMPANY OR FOR THAT MATTER THIS ADMINISTRATION DOING SO WELL IN THE PUBLIC EYE !?!