Steven Sinofsky, Microsoft's former President of Windows is now using an iPhone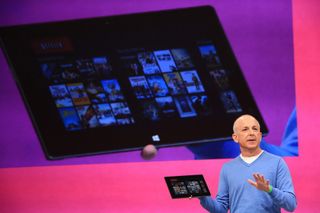 Steven Sinofsky, Microsoft's former President of the Windows Division is now using an iPhone. Sinofsky, who departed company with Microsoft back in November 2012 hasn't taken long to discover what we already know. The discovery was made by 9to5 Mac who received a tip about Sinofsky's use of Twitter for iPhone.
In his defense, Sinofsky did try to clarify why he was using an iOS device. He claimed via Twitter that he uses an iPhone and a Samsung device as he wants to be familiar with the work of all companies. I suppose it is a fair excuse but we are sure once he is familiar with all the other devices, that iPhone will be his first choice!
Get the best of iMore in your inbox, every day!
UK editor at iMore, mobile technology lover and air conditioning design engineer.
The overwhelming majority of tech folk - bloggers, executives, reviewers, etc, all seem to have an iPhone, regardless of what perception they may want to portray.

Can you cite a source for that information? Or is that just "what you [want to] see"? Oh, wait, you said "tech folk" and then you said "bloggers, executives, reviewers". So you didn't mean technical folks. You mean non-technical folks who work in the Tech industry. Got it. Like the CIO of the last state agency I consulted at. She had an iPhone. And she thought that having internal staff enter credit card numbers into a browser-based application was PCI Level 1 compliant because the credit card number was "never stored on the user's PC". I agree the iPhone is very popular with people that have that level of technical expertise.

@Greg..I couldn't have said it better myself ... And I'll add, a lot of regular folk does the same thing too, it's just that they won't admit it either.

It.s been too quiet around here...I think I plant some bait. (SMDH)

Lol relax. What I meant by tech folk and bloggers, was people like the editors and staff who write/podcast/make YouTube vides for most of the general tech sites like the Verge, Engadget, Phone Arena, Phonedog etc.

And some Apple board members use Blackberrys, so what?

Hmmmm... Makes me wonder what Scott Forstall is using these days. He probably ran out and bought a Galaxy S3 the day he got his notice.

Sinofky didn't build Windows Phone, so he probably wasn't too attached to it. Forstall built iOS. It was his baby. So I'm guessing he won't change until at least the next version, then it will depend on how painful it is for him to see a version he didn't create...