Introducing Mint Mobile, the perfect way to get cheap data for your iPhone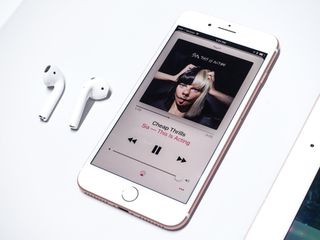 Mobile Nations and Mint Mobile have partnered to bring you the best new way to get connected to high-speed LTE in the U.S.
Favorite phone, favorite speaker, favorite Fitbit — While it's relatively easy to list off the benefits of products you can hold in your hand, it's less easy to recommend mobile carriers.
There are so many factors that go into deciding which carrier to sign up for — location, budget, and individual needs. In the U.S, four carriers dominate the industry, and the airwaves — T-Mobile, AT&T, Sprint, and Verizon — but thankfully there are alternatives, many of which are built on the foundations of those incumbents.
One such alternative is Mint Mobile, which uses T-Mobile's growing 4G LTE network to do something wonderful: eliminate the overhead, the confusion, and in many cases the "loudness," of the network it connects to. But to talk about Mint Mobile, we have to talk about its place in the U.S. market, and how such a company came to be. To do that, we have to use a term that we'll quickly leave behind: MVNO, or Mobile Virtual Network Operator.
Only click this if you want insane prices on wireless service!
What is an MVNO?
The idea behind an MVNO is simple: instead of spending the billions of dollars building an entirely new nationwide network, companies enter into deals with the incumbent providers in a particular country — in the U.S., that's T-Mobile, AT&T, Verizon, and Sprint — to resell access to their networks. These often come in the form of contracts, where the smaller companies will buy space on the network — voice, messaging and, of course, data — at a heavily discounted, bulk rate, and sell it to you, the customer, for a profit.
This benefits everyone in the equation: the incumbent gets a bunch of money upfront to invest back into its business, or give to shareholders in the form of dividends; the alternate provider gets to sell access to the network at a lower cost to the incumbent while still making a profit; and you, the user, gets to purchase access to a high-quality, fast and reliable network at prices lower than those incumbents.
Such a market only works when there is robust competition in the wireless market, which exists to some extent in the U.S. (a conversation for another day), and is extremely common across Europe, where the market was built with alternative providers in mind.
Why would you go with an alternate wireless carrier over an incumbent?
That's the question we mean to talk about, and why a company like Mint Mobile is so interesting.
You could be paying just $11.67 per month for wireless!
On the site, we've mainly limited our conversation around these alternative brands to companies like GigSky and AlwaysOn Wireless, which offer service through iPad Pro's eSIM slot. But neither of those companies actually own any wireless spectrum, nor any towers, nor any service centers. Everything they do is, as the "V" in MVNO suggests, virtual. They buy access to networks and package them up in an innovative way.
For Mint Mobile, it's about price and simplicity.
Why you should think about switching to Mint Mobile
Mint Mobile is interesting for a number of reasons. It's no-frills, which means that you don't have to contend with any of T-Mobile's extensive terms and conditions caveats — because even without contracts, you're still locked in to a service deal in exchange for a phone purchased on financing.
Mint Mobile doesn't worry about that because it doesn't need to. It sells unlimited talk and text with every package, along with a monthly allotment of data in 2GB, 5GB and 10GB bundles. That's not unusual, right? But what is is the way it's sold: in order to provide epic discounts, Mint Mobile sells service in three, six, and 12 month chunks; the more you pay for in advance, the cheaper the monthly service.
And right now, they have an insanely good deal where you can 10GB of data for $20 per month when you sign up for three months of service.
This is the same service as you'd get from T-Mobile, just cheaper. It's like going to Costco and picking up more of something you need — paper towel, or replacement toothbrushes — in bulk because you know you're eventually going to use them. That's the same with Mint Mobile. You're getting T-Mobile's best-in-class 4G LTE network with none of the overhead, none of the confusion (and none of the annoying emails from John Legere) that works in practically any unlocked phone you can think of.
So what's the deal with the data? Is it worse than T-Mobile?
Let's go back to the Costco metaphor. You need pain medicine, and the Tylenol brand costs $20 per bottle while the generic Acetaminophen (the active ingredient in Tylenol) costs $14 for then same number of pills. The effect is the same in either bottle; you're just paying for Johnson & Johnson's branding.
It's the same thing with Mint Mobile. You order a SIM card with your service from the company's website, put it in your unlocked phone, and immediately experience the benefits of T-Mobile's network.
Data is a commodity. As long as it's fast and reliable, it shouldn't matter where it comes from.
That's the beauty of a company like Mint Mobile, and of alternative mobile providers in general. You get all the benefits with none of the downsides, and as long as you know your way through an unlocked phone, you're good to go.
These days, it's also easier to recommend Mint Mobile given that it's running on T-Mobile's network: the incumbent was just co-crowned the fastest in the U.S. alongside Verizon, which is an enormous gain from just a year ago.
According to OpenSignal, T-Mobile's network is both fast and widely-available, with over 86% availability of LTE across the U.S. Mint Mobile customers get that speed and access without having to figure out whether T-Mobile's expensive unlimited plans are actually unlimited.
To us, that's Mint Mobile's biggest draw: you pay for access to the network, and nothing more, and you do so in a way that lets you skip all the contortions that T-Mobile does to make its unlimited plans seem like they're good for you.
More on alternative providers soon
Unlimited calls and cheap data, without compromises!
We'll have lots more about Mint Mobile, and alternative mobile networks, in the coming months. We're excited about this, because as great as the Big Four networks are, they're expensive, and many people — you, reading this — don't need all that extra stuff. They just need unlimited calls and text and cheap data.
Get more iMore in your inbox!
Our news, reviews, opinions, and easy to follow guides can turn any iPhone owner into an Apple aficionado