MVNO helps iPhone users save money on their phone bill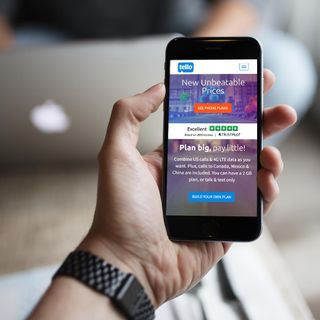 With the new releases coming up this September, one must think of new ways to save money and still enjoy all the best your favorite brand has to offer.
Tello Mobile phone plans are a great way to get permanent low rates and great service with your favorite iPhone.
Easy steps towards a smaller phone bill with Tello Mobile
If you're on the verge of losing faith when it comes to reliable wireless carriers, take a look at Tello Mobile, the Sprint powered MVNO that made quite a splash in the market in the last year when it comes to outstanding prices and reliable service.
While it's no secret that MVNOs are a cost-effective alternative to the big four carriers, not all offer the same value for money.
iPhone users can now enjoy Tello Mobile's plans and perks, as well as the same quality and coverage as the big players, minus the huge monthly costs. As long as your iPhone is compatible with Sprint, you're in for a wireless treat.
Goodbye Predefined Phone Plans. Hello Freedom.
Tello Mobile's biggest hook is the freedom to build your own plan instead of getting the predefined packs forced as default by other carriers.
Tello customers can choose the amount of minutes, text and data they need, and go up or down as they please, free of charge.
The one size fits all phone plans are outdated. And since iPhone users as different as the models they prefer, it comes as no surprise that people want flexibility and tailor made solutions that adjust to their way of life. Tello mastered the need of the NOW generation.
Their plans range from $5 to $39/month. You can get 2GB of data plus unlimited talk & text for just $19/mo, which works best for most people's needs or go for the the popular choice with 1GB of data, unlimited minutes & text for just $14/mo. If you want to start slower than that, try a talk & text only plan, which is perfect for kids or seniors.
Freebies: unlimited 2G data, hotspot, visual voicemail, free calls to Canada, Mexico, and China included in every plan. You can always mix your phone plan with Pay As You Go Credit for your international calls, and enjoy low rates all around.
Human Customer Service. No robots.
A 9.1 rating based on over 2.9k unbiased reviews on TrustPilot, makes it clear that this carrier is all about customer satisfaction.
With practically no waiting time and 4 different languages spoken by Tello support team, it's no wonder they're among the only wireless services to get a 5 star rating.
Real Cell Phone Service
A lot of alternative phone service providers offer primarily voip service, and several may not be compatible with iOS devices.
That is not the case with Tello Mobile, which provides actual cell phone service on the Sprint network so you don't have to worry about constant Wifi access to ensure the quality of our calls.
Wifi calling is however available through My Tello App - great when abroad to make calls over Wifi to any country in the world using their Pay As You Go balance or to the US using their Plan balance.
Transparent all the way. Dedicated iOS app
The budget-friendly MVNO keeps things easy & upfront.
The signup is hassle free and everything can be managed online, via Tello.com. Once you sign up for Tello, their iOS app makes it easy to review your plan and paygo balance, check your all records, set payment methods or even upgrade or downgrade your plan for no added cost.
There are no contracts and no credit checks.
No extra fees whatsoever, not even for porting out.
Do your iPhone or iPad work on Tello?
From the iPhone 5 or SE to the latest iPhone X, most iPhones work on Tello's network when they are made for the USA, unlocked and free of contract. The flexible plans with free hotspot included make Tello data only plans popular with ipad owners, as well.
Got an iPhone that you want to enroll? Dial *#06# and you'll view your ESN code. Use the code to check if your phone is Tello compatible here.
Before you enroll, be sure to check Sprint coverage in your area. Sprint has been doing a lot of work on improving its signal and Tello customers clearly enjoy everything this MVNO has to offer:
"Tello for Life" "...What you guys are doing in the mobile phone market is unmatched. I get unlimited talk and text I used Ting before swapping to you. While I could keep my bill about $15 a month, it was with less than 300 minutes or texts. Now it's $15 and that's with a gig of data thrown in. I also get to use any phone that I want. .."
"Honest" "Honest, quick results. I was with sprint for over a decade, and I'm more impressed with tello than I have been with sprint. Thank you for all that have helped me!"
"Tello is the best thing since sliced…" "Tello is the best thing since sliced bread. Great rates, great customer service. I hope the founders of this company will soon be millionaires, because they deserve it. I have told everyone that I know about it and they can't believe how tremendous everything about Tello is. I am a big fan."
Free trial available for a limited time
Until Sept. 30 2018, the $14/mo phone plan is FREE for 1 Month for newcomers that sign up to Tello. You can try the service risk-free, no strings attached, no coupon code needed.
Get more iMore in your inbox!
Our news, reviews, opinions, and easy to follow guides can turn any iPhone owner into an Apple aficionado