NetShare Uses Your iPhone's 3G/EDGE For Your Computer (Update 2: Yeah, gone again)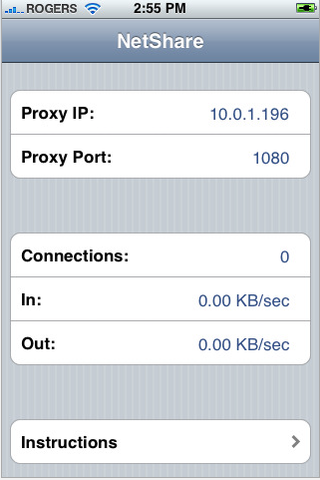 Update: Macrumors lets us know that, strangely enough, it's back in the App Store. It doesn't show up in a search, but you can download it via this iTunes/App Store link.
Update 2: ...aaaand it's gone again, at least in the US. Le Sigh.
The Interweb is abuzz about this little program that popped up on the App Store yesterday, so aptly named NetShare. The concept of the app is to essentially use your iPhone's 3G or EDGE (god knows why) connection for your laptop. It creates a proxy and establishes a pseudo-hotspot with your iPhone's connection leaving you free to surf the web on your laptop. It's tethering, more or less.
How this got passed Apple and AT&T who knows. But it looks like has already been kicked out of the App Store. Did any of the TiPb faithful get their hands on this app while it was hot? Anyone get it to work? From what TiPb has been hearing, it's really hit or miss. Let us know.
Maybe Apple wanted the developers of NetShare to get the app right before they put it out again...wish for it and it'll come true...wish for it and it'll come true.
Get the best of iMore in your inbox, every day!
It's in preparation for the new Apple Tablet or whatever it is.
Seriously, I doubt AT&T cares, since the $30 per month 3G data plan actually costs $43 per month to consumers, and there's a 5GB per month limit anyway. Apple would want to enable tethering in part because it limits the interest in jailbreaking the phone, increasing app store revenues, and gives them the ability to provide tethering to all their notebooks (and of course others). For consumers, it means we don't have to buy a 3G sim card wireless router. Hurray.

It wouldn't surprise me if AT&T had anything to do with this. With their PDA phones, you have to pay an extra monthly fee to tether your phone (according to AT&T) even if you have a PDA plan for your phone.

Macenstein is reporting that Apple has pulled it. No longer available.
It's a shame - I would have been all over this one.

does this voliatr your att contract? I don't want to east 10.00.

Sorry typo s on my part (My iPhone's auto correct feature)
Violate and waste is the correction fo viloar and east

its 10$.. i would try it.. but if its illegal.. I dont want to waste my money.. itd be nice for when I'm out on the rare occasion I dont have wifi available.. but if its not kosher.. :-/

I was just on the app store reading the reviews on it and as soon as I saw a review saying someone OK'd it through AT&T, I went back to buy it and a popup came up saying "the item you have chosen is unavailable" or something. This was done on my iPhone of course, and I will try the iTunes app store ASAP. Hope this helps.

Same here it's not available for me.

no I mean if I clicked buy now 3 minutes before I read the reviews, I'd have it

Says its not available in the UK Itunes store :(

I downloaded this Friday night from iTunes UK and spent several hours getting it to work on an XP PC. It's a bit of a workaround and requires Proxifier to also be installed on the PC but works just fine. I now have an O2 unlimited 3G connection in my laptop running through the iPhone.

Hi! I am in Japan and itunes says it is not available in the Japanese store either.

someone who already has the app just needs to share it on bittorrent or something. apple hasn't blocked the app from working yet, so if you install it manually it should work.