No, your Apple Music library wasn't deleted if you switched accounts to get Pokémon Go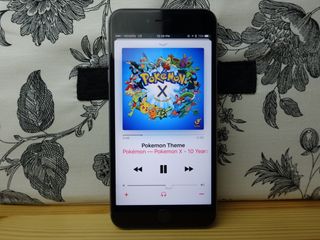 If you're one of the poor souls (or fortunate, depending on who you talk to) whose country hasn't yet been inundated with Pokémon Go, you may have resorted to creating a U.S.-based Apple ID to download the game. While only quasi-legal, this is generally considered the best tack to getting your hands on some Pokémon — but it comes at a price.
You see, all Apple-based cloud services are tied to your Apple ID. As such, when you switch user accounts to a different country, all those services no longer recognize you as being logged in, and disappear. That means files from your iCloud Photo Library, iCloud Drive — and yes, all your songs from Apple Music — will appear to be missing if you visit one of those apps after downloading Pokémon Go.
Now, you can have two separate IDs logged in for the App Store and iCloud, via settings: That would restore your iCloud content, but because the App Store is linked to iTunes, you'd still be missing your Apple Music content. As such, you need to return to being logged in with your original account to listen to your tunes and tracks.
Thankfully, it's a simple fix, and doesn't even require you to give up chasing Pokémon: You just have to visit the App Store. Pokémon Go will continue to work on your iPhone even with your original country-specific Apple ID; you may just have to sign in with that secondary U.S. ID for any Pokémon app updates.
How to fix your missing Apple Music or Photos library after switching user accounts
Launch App Store from your Home screen.
Tap on Apple ID: [your current email] at the very bottom.
Tap on Sign Out.
Next you need to return the region on your iPhone or iPad to your original location.
Launch Settings from your Home screen.
Tap on General.
Tap on Language & Region near the bottom.
Tap on Region
Check off your home region.
Finally, log back in to your original account.
Launch App Store from your Home screen.
Tap on Sign In at the very bottom and enter your information.
If you opened the Music app at any point with your U.S.-based ID, you may have to also do the following:
Open the Music app.
Log in with your original account.
Press Merge when asked about the content of your music library.
Questions?
Can't get your iCloud account to work properly? Have other questions about dual accounts? Let us know below.
Serenity was formerly the Managing Editor at iMore, and now works for Apple. She's been talking, writing about, and tinkering with Apple products since she was old enough to double-click. In her spare time, she sketches, sings, and in her secret superhero life, plays roller derby. Follow her on Twitter @settern.
and to those who ask why Apple does this? DRM for music.. specifically streaming music, which you may have downloaded to your phone, but isn't legally available in a given country or legally sharable to another account. Which is fine and makes sense.. those complaining are doing so while trying to cheat a system so I have no pity for them if they believe their music is gone. They just couldn't WAIT for it to release in their country. pfff. Silly

It's crazy how impatient people are, and there's really no reason to get this game early. They're suffering with server issues, and bugs. It's worth waiting so you actually get a playable game in your country

This wouldn't be so annoying if it didn't delete all offline Apple Music when you switch accounts. Switched accounts to download Pokemon Go but won't be switching accounts again to update it. Not worth re-downloading over 700 songs.

just store them on your sd card.... oh wait....

It doesn't work.
All downloaded music is wiped out! Sent from the iMore App

OK, solved. iCloud was a problem. Sent from the iMore App
Thank you for signing up to iMore. You will receive a verification email shortly.
There was a problem. Please refresh the page and try again.