iPhone Dev Team Warning to Unlockers: Do Not Update to 2.2.1 Firmware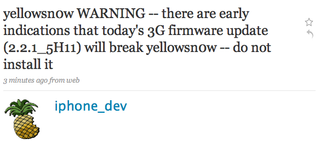 There is an old saying, a picture is worth a thousand words. This could not be more true than the image above.
If you are currently jailbroken or unlocked, do not update your firmware via iTunes to the latest iPhone firmware, 2.2.1. According to the Dev Team this update will indeed break yellsn0w rendering your unlocked iPhone useless.
So you have been warned, do not update to the latest Apple firmware if you are unlocked or jailbroken. Stay tuned to TiPb for more information, when it becomes available we will be sure to update you.
Who bothers to jailbreak these days? I don't know a single person who does.

There are a ton of people who do, take a look in our forums. You will see some there for sure.

I bet this is why they released such a useless patch. It fixed a bug noone ever heard of. Give me a break. It was to scare off "fair-weather"l hackers.

@Pinny, doubtful as there will be a work around the next few days. If anything they would do that in a major update. To get people to update for that MMS or copy and paste. To update for a simple bug fix? Nah. This was legit for bug fixes.

frog, you show ignorance...

I have a jailbroken iphone that is unlocked as well. The MMS, copy paste applications are already available..only if you havea jailbroken phone. How abt this 2.2.1 ? Apple things ppl are dumb !

Is it only if your phone is unlocked? Cause I didn't need to unlock it but it's jail broken

I wonder how many people ate going to be unlucky. You have to think a few won't read the blogs and they're the ones we must feel for. On the brighter side I'm jailbroke and the new vista bliss works like a charm LOL

Sorry I meant "are". The keyboard again LOL

A jailbroke phone is the only way to go. My phone is a world phone not just an American phone!!! Thanks again Dev Team. For people who live in a bubble I can understand why u don't unlock your phone, but for us travelers it's a blessing !!!

PwnageTool 2.2.1 has already been released already!!
http://www.mydigitallife.info/2009/01/02/download-pwnagetool-221-to-jail...

@Ra'ed, that is not for the latest firmware... that is a old release. There is NO CURRENT Pwnage tool for firmware 2.2.1.

I'm currently jailbroken: if I restore my phone will it be okay to install 2.2.1? Not that I want to , but just wondering.

@Jeremy, yeah it didn't work. Thanx
@fonzman, it would be ok but you won't be able to jailbreak till an updated jailbreak tool is released.

I just jailbroke my phone about 3 weeks ago and I'm not going back. Jailbreaking is the only way to go with the iphone. I can't belive I waited so long before I did it. Besides, it does not take them long to break the new firmware anyway....

Pinny the image problem is definitely noticable. Take a photo, set it to wallpaper. then send it to yourself via email. resave the new pic, then use it as wallpaper. then apply this to any picture sent from the phone. it scales/compresses and looks bad.

well im a noob ,and went ahead to updating it to 2.2.1 and now im without phone use ,hope smthing comes up soon.thx

Well I did it by mistake before I read the warning as soon as I clicked ok I thought crap I really shouldn't have done that !!! Totally regret it jail broken is the only reason I don't chuck my iPhone in the bin no Bluetooth pictures no forward messaing no mms included !!!! Crap camera no video !!! Jail break 2.2.1 asap pleeeeeeease !!!!!

@ Dumb ass : you're not alone in the world... I totally forgot about jailbreak and updated :( I miss my apps and it's been less than 24 hours!! Anybody who know how to downgrade to 2.2??

I've also updated to 2.2.1. I'm lost!!

i was unlocked and jailbroken .. i just upgraded to the 2.2.1 firmware.. i am still unlocked and nothing was f**cked up .. i just lost the jailbreak.. just have to do it again ...

I have a 2g with 1.1.2 fw had it unlocked to T-mobile with just the sim card I don't know if it was jb had someone do it for me. I mistakenly uploaded 2.2.1 from itunes I thought I was downloading a unlocking program. But wait, I already have a unlocked iphone(I wanted free upgrades for life. Can you say greedy) The error message said my sim card was not supported and now I can only make emergency calls. I'm an idiot. I know, but I still need HELP!!!

You can jailbreak the iPhone with the latest 2.2.1 firmware upgrade and even with the baseband at 2.30.03. I did it. Quickpwn has just released the software - you get it from their site. It's just all the websites that talk about jailbreaking haven't gotten hold of this news yet. Remember - this is jailbreaking only..not unlocking. Again - If you upgraded to the 2.2.1 firmware, 2.30.03 baseband, you can jailbreak only using the newest version of Quickpwn.

oh yea, for windows and mac, you'll find it all here
http://www.quickpwn.com/

PS: You can't downgrade, and besides, you don't have to now!
And if you're iPhone buggers up from this or from whatever you've done to it so far, just use iTunes to restore your phone to factory settings and start over.

Hello!
a friend of mine updated his iPhone 3G 'accidently' to firmware 2.2.1. & baseband 02.30.03. The device is locked cannot be used to make/receive phonecalls. I want to help him.
As I understand it - he is screwed. Apparently there's no software solution for this - for now. And no clear view on a solution from the DevTeam is not in sight.
So what are the options: buy a new one, obtain a valid sim or ... do the trick with a turbo sim. Will that help my friend? What I read on the interweb tells me there's no guarantee that the turbo sim will actually make it work.
Is this a correct summary of the options?
Thanks for helping me helping my friend out.
Regards,
Benedictus

I had used my iphon for 15 days with 2.2 OS in india. I had updated 2.2.1 os on 1st april by itunes the phone is locked. Now there is now solution justnow. Atleast itunes and apple should put notice with itunes when the suggested any drawback for new updates. or should give the updates with its solution also.

I have been surfing on-line more than three hours these days, yet I by no means discovered any fascinating article like yours. It's beautiful price sufficient for me. In my view, if all web owners and bloggers made good content material as you probably did, the web can be a lot more helpful than ever before.
Thank you for signing up to iMore. You will receive a verification email shortly.
There was a problem. Please refresh the page and try again.