Original iPhone 2G Pulled from AT&T Stores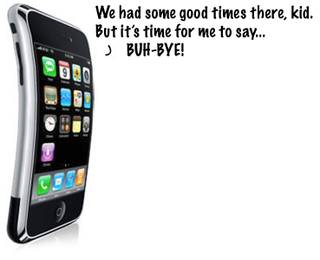 It's official, folks, the iPhone 3G is replacing the original iPhone, aka the "iPhone 2G" (which makes the iPhone 1G the... Newton?). Company-owned AT&T store managers received the word today:
...Which means this past week wasn't just a crazy dream after all, the iPhone 3G is really coming. What's more interesting: we're going to have a full month of NO iPhone sales. What's most interesting: What do you suppose AT&T and Apple are going to do with these returned 1st-gen iPhones?
Heck - let's have some fun. This is a Wait-a-Thon post. Any comment here gets you entered to win that $100 iTunes gift card. Here's our guess: those long-lost, landfilled "E.T. The Extra Terrestrial" Atari Games create a sort of blackhole of bad user experiences. Throwing a bunch of iPhones in there would sort of balance that out, no?
What do you think they should do with them?
Thanks to Bla1ze for the tip!
Get the best of iMore in in your inbox, every day!
I expect that they'll be used as replacements for warranty and AppleCare phone claims.

Have fun with it?
I think they are going to gather them all up in a field. Superman is going to come on over with his massive net and fly them into space, wherein he will do his super-speed spin throw and launch them into the sun, Superman IV style.
(Realistically... I feel the same thing as Badmofo)

I'd love to see an army have sped up iPhone Pong games that have been making the rounds on Mac blogs.
Our how about outfit an orchestra with iPhones and have each iPhone play a different instrument, a la the band application demoed during Jobs' keynote at WWDC?

im sure they are going to recycle as many parts as possible and use the rest to aid warranty claims.
i wonder how many iphones are being sent back nationwide. is 1 million too big of a figure?

I don't see why they wouldn't want to resell them as refurbs or a lower priced alternative. It will be a waste to recycle them, considering that many people will now have to pay 3G data while they only get 2G speeds.

If you do the math June 13th or 16th until July 11th isn't a full month as you say, although it seems like it's been a year already since 3G was announced on Monday.
I'm not an iPhone "2G" user, but I'm seriously considering becoming a 3G user. I'll be on vacation July 11th so I'm trying to find the closest AT&T or Apple store to where I'll be so I can get in on the fun right away.

I think they will jailbreak them and sell them in China!

They could keep them to use as loaners on repairs to iPhone 2G.
They could give them back to Apple to sell at a big discount online.
But really, how many are we talking here? I thought the supplies ran out a couple weeks ago. There probably aren't all that many, just 100-200 of leftovers, some new, some refurbished.
I really don't care what they do with them, since I'll be getting the iPhone 3G as soon as it comes out.

recycle them for company use

I agree with badmofo: replacements for warranty and Applecare claims.

I suspect that they're going to keep them in storage for people who don't want to upgrade to 3g but have something go awry with their first gens. How else will they replace them if something goes wrong!? I doubt they would give them the 3g phones free. That, or they're going to keep them and develop on them so that they can be ready for the 3rd generation of the iphone which will hopefully be more substantial... maybe like a "pro version".

After thousands of iPhones are sent back to Texas - Apple will convert them all to the iPhone 3! "We brought back the old metal back due to popular demand." , "the 2G iPhone thickness also allowed us to add the front faced camera" Jobs added. lol xD

Definitely going to be used for warranty replacements or loners. I agree with Nathan that they shouldn't really have all that many to return in the first place.

There going to make a Jobs face sculpture out of them...

They can just convert them into ipod touches.

Blend 'em!
Seriously though, they'll almost certainly be gutted & the parts will be used for repairs.

Well I think it begins with, "How can we prevent a bad customer experience." You know you buy an apple product and 2 weeks later something else comes out and your stuck because its been too long to return it.
Anyone remember all the drama behind the iPhone price reduction and the media jumped all over how anyone can possibly reduce prices!
I think its the same here. Yes, there are people who will still buy the iPhone and live in a reclusive world and purchase an iPhone 1-2-3 weeks for $399 before the $199 iPhone is available. So, I think it starts there and really just feeds in the delemma of the warranty replacements.
Just another innovative apple solution all while causing demand and generating a very substantial savings in marketing and revenue cost!

Let us all not forget that there are still many cities within the United States and in other parts of the world that do not currently have 3G coverage, and will likely not have 3G coverage for a few years to come. At first, I would say the phones will be used for warranty replacements - unless Apple thought ahead and already has a stock of replacements. In that case, I think these would be sold in 2G-only cities.

we have one at my store andour inventory lady is off till Monday

i jsut got an iphone for my dad for father's day yesterday.. surprisingly. i really thought they were out of stock, (but i guess not):) funny thing is the att rep said are you sure, you want to get this when the new model is releasing in the coming weeks. lol.
i guess he'll have the option to do a free upgrade if he wanted to. if thats really legit.

I think they will probably keep them and use the parts for repairs. However, they should make some kind of 3-D iphone sculpture/statue "An Ode to Iphone 3G"

They are going to stack them outside of Steve Jobs' office. He will use them as projectiles to whiz at his staff when they screw up and he flies off the handle in one of his famous temper tantrums.
"I SAID WORK!" "I SAID STYLE, NOT UGLINESS YOU IDIOT!!" THAT IDEA SUCKS!!!"
You get the gist... ;)

I bet Apple uses them for warranty and Apple Care replacements and sells the excess at a discount in their special deals section of the online Apple Store.

Two things: Use them for in-house development testing Donate them to a charity

I'm with the recurring theme of using the iPhones as Apple Care replacements. I'm sure none of these phones will be sold again. However, I could see them scrapped for parts. The batteries could be used in Apple's battery replacements program. I'm sure many of the old parts are in the new iPhone also.

Bury them in old Mac Cube carcasses, cover them in cement, and sale the earth...

I have it on good authority that Steve "Ben Linus" Jobs is going to pile them in the Dharma grave. Once, of course, he fnds the island. It must be protected from Ballmer, Keamy and the Redmond River Raiders.

I don't know what Apple will do with them, but I've been seriously considering buying one on eBay once the 3G comes out (can probably get one pretty cheap). I can't afford the data-plan prices, but I've been wanting an iPod touch for a long time and could never justify the $300 for one; maybe I could use an iPhone 2G as a less-expensive (and more feature-rich) version of the iPod Touch?

I think that Apple would be on my list of bottom dwellers for pulling a scam if they do not not provide some kind of recourse for customers who purchased the 2G just prior to the announcement of the 3G. Also, when did the original IPhone become the 2G, another marketing scheme. We shall wait and see!!!

2G is in reference to the EDGE data network. 3G is, obviously, in reference to the 3G/HSDPA network.
They do have recourse. If you bought an iPhone after May 27th, you can walk into an At&t/Apple store and trade it for a 3G iPhone. Considering that most companies don't even offer this much, I think it is a fairly good deal.

I do hope Jobs would be more business-minded to allow the 3 G to be unlock for the reason of underground market is more than he can imagine, esp in Asia! Even I like the 2nd Gen for the metal cover, I do hope to have one with a cheaper price!

I can't wait for the new iPhone, because I get my boss' old one!
J

I'd guess they can send them back to apple and apple can use them as replacement units for 2g customers that bought the extended apple warranty

there going to keep it for warranties and info

You are right, Drew. Touch screen toehnolcgy is here and has been here for some time now. I believe my phone came equipped with a touch screen and was releaes only 2 years prior to the iPhone. The internet speed is great (and two years older). Windows media player works fine while I type up some notes in Word or review some spreadsheets in Excel, or even connect with an infrared port of a projector to show off a Powerpoint presentation. Aside from a pretty interface, the phone has nothing.

Does anyone know if it's still possible to get the iphone 2G somewhere in NY?

They will be sell them in markets where 3G is not available yet. India fits the bill.

so... if i bought an iphone 2g before may 27th i cant trade it in for an iphone 3g

I have a 16 gig iphone which i purchased after may 27th, unfortunately they have no iphones in stock anywhere in nyc. Day 1, I had one but the AT&T employee told me they don't exchange them, and I had to call up at&t myself to confirm their own policy. By the time I did so they sold out. Now they're telling me I can pre-order the phone for the 200 or 300 dollars. Since I'm doing the exchange they can't preorder it, I HAVE to go in the store and SEE if they have the phone in stock. I hate this company and don't even want the phone anymore, unfortunately even though I've been inconvenienced (they told me they were holding phones for me at other locations) they won't cancel my account unless I pay the fee.

If they sold them I wounldnt mind buying one. I really want one :)

Why not just sell both. 2G is not that bad if they would give it the same upgrades as the 3G

Sell them for a fantastic affordable prices. With no contract. Please.

They'll begin packaging and selling boxed sets of iPhone checkers. It's obvious, why are we even discussing this?

It's silly really. I'm sure there is a market for 2G iPhones in some countries and it's a great opportunity for Apple to introduce it's technology and design to new users.

All those old Iphones are now being offered at discount prices to AT&T employees.

i got four for my self. no plan needed. jail break and use anywhere :)

i just got a replacement from my original 2g that i purchased last dec, 2007 , with a brand new 2g, in 1 day fed ex, and did not repair the old. would anyone reccomend me to keep it or sell it, at & t may be dropping us do to over due high bills to them...i really dont see any huge difference. Im in cal.

Jamie is correct. They can buy them as low as $49.00

where can i buy cheap iphone?like what "DL" said...$49?

whats the diference between the iphone 2g and the iphone 3g

should sell them online....

They will open the 2G phones apart and use those parts they've got to produce iphone 3G. Less cost for material.

hello,anyone out there who wants to sell there iphone 2g an upgrade to a 3g i am willing to take that iphone 2g off your hands as long as there are no scratches or dents i am willing to pay $250-$260.
contact me at 832-620-0699 text only please
or at unlesam39@aol.com
thanx

I've heard that AT&T employees can purchase iPhone 2g 16gb phones at $149 from their company stores. These would be locked but without a contract.
Im trying to get a couple of these :)

hello,anyone out there who wants to sell there i phones 3g2g,300$ 8g,400$or 500$16g i will statr pay for for the stander contact me at 5075813444 text only or email me at f797999@hotmail.com appriecate for evary body

you guys are stupid. if you have even gone to apple's web site, they sell the old iphones at a discounted price.
ur
YALL ARE - ---- - - - - - -- - ---- ---

And ur even worse since ur replying to a post that was back in July when they WERN'T selling the phone at a discount price on the website....noob.

I would imagine that it would be in Apple/AT&T's best interests to make those 2g iPhones disappear. They will certainely hurt 3g sales numbers because many people will jump at the chance to buy a 2g phone for cheap. They should use the parts. But I am sure some will make it to ebay or craigs list since thats where cell phones uaually end up!

feel used and abused by the marketing strategies, took me 10 yrs to upgrade only to have the newer one out 2 weeks later....AT&T sales clerk told me it was my phone that didn't get the reception because it was "so old"
why aren't they market the longevity of the phones?
ended up giving to soldiers as AT&T put minutes on them for them so that was the only consolation. won't buy another apple product though!
their sales people were rude to me when I went to the store to see about the upgrade offered us 2g leftouts...
DONE WITH APPLE!

I think they should have them free for there customers that when you pay your bill on time you get one as a Gift from AT&T and when you have a bundal you get one as a reward kind of swich up the rewards that they give to there customers or when new customers join AT&T and buy an iPhone 3GS they will get an iPhone 2G free when you buy new thing for the iPhone 3GS.

I think they should give it to children. At Parkmead Elementary in Walnut Creek CA

can any one tell my whit is the price of iphone 2g in egypt now and where i find it

Yes they should work fine, just keep in mind that it must be purchased unlocked.

Thank you, I've recently been looking for information about this topic for a long time and yours is the best I have discovered till now. But, what in regards to the conclusion? Are you positive concerning the source?|What i don't understood is if truth be told how you are now not really a lot more neatly-favored than you might be right now. You are so intelligent.

Heya i am for the primary time here. I found this board and I in finding It truly helpful & it helped me out much. I hope to provide one thing again and aid others like you helped me.

Arwin,With all due respect, I neither expect you to do so, nor do I care.
Thank you for signing up to iMore. You will receive a verification email shortly.
There was a problem. Please refresh the page and try again.