Plastic iPhone shell shows up again, goes side by side with current products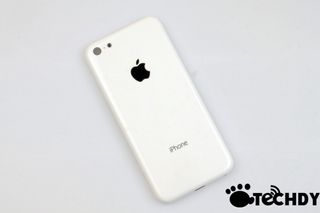 The alleged low-cost, plastic iPhone continues to be a thing, and well known YouTuber DetroitBORG has managed to obtain one of the shells we've seen so many leaked images of already. While it is only the shell, DetroitBORG – otherwise known as Michael Kukielka – compares it to the iPod touch, iPhone 5, iPhone 4/4S and the iPhone 3GS.
The comparisons are pretty neat, actually. The shell bears a lot of resemblance to the 5th Gen iPod touch, with a similar form factor and speaker arrangement down the bottom, alongside of course a Lightning port, the 3.5mm headphone jack and the microphone. It's also slightly thicker than the iPhone 5. At this point in time we're still wondering exactly what this is, if indeed it does come to market. Speculation is that the 30-pin laden iPhone 4 and 4S will be discontinued, and that this 'budget' offering will fit into that part of the lineup, along side the iPhone 5 and iPhone 5s. Check out the video and see what you think. How do you like the looks of it?
via 9to5Mac
I like it. In my opinion, I believe Apple is going to completely go back to the color Apple logo for this phone (at least on the box) and have a retro feel.

That's kind of nice. With the plastic shell, and with colors, cases will be an interesting discussion.

I've never seen a white iPhone 5 in the wild. Sure looks nice in this video, as does the iPod touch 5th gen (mine is black). Not really feeling the love for the plastic phone in white. Maybe the colors will help.

I don't believe this will be a cheaper iPhone but the next iPhone 5S (or whatever they decide to call it.)

This definitely will replace the 4 / 4S since Apple is forcing developers to developers to support the 4 inch screen. This makes it easier for them.

This could be interesting phone... As long as they don't skimp too much on cpu/ram/screen (like Samsung & HTC with mini-versions) or put too high price for it.

Cheaper iPhone thing is a hoot... the real thing isn't that expensive... Well worth what it costs... You always pay for what you get... Apple always delivers on quality!

I am really excited about it. Hope it doesn't go over $400. Availability is also important. Hope to get it from the USA because in Europe or Latin America might be considerably overpriced.
Two things concern me but I won't think much before the actual product gets announced and tested or reviewed. Still, food for thought: 1. How many years of updates would it receive? If it does run A5... I'm a little worried. What if it gets discontinued next year when the new model arrives? I don't want another iPad 1. 2. Would we suffer any performance drawbacks? Don't mean to start discussions because it's obviously too early but I just want to share excitement.

I honestly doubt this is the case for the iPhone "5S". I would be extremely disappointed. I really like the material and the look of the current iPhone 5 design. We'll have to wait and see... Sent from the iMore App

really wish they would just build all their phones with premium materials and thats it.

i dont think this is a phone.. maybe the new ipod touch line.. where are the volume buttons? silent toggle?

Sort of reminds me of the Lumia 521 and 520 with the camera lens and volume button slots. Going to sell like crazy to the teen crowd.
Thank you for signing up to iMore. You will receive a verification email shortly.
There was a problem. Please refresh the page and try again.