Caze Swarovski Apple logo decal give away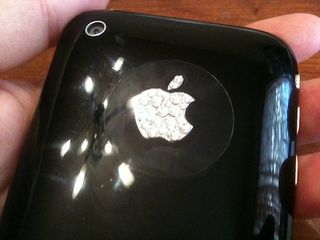 The Caze Swarovski Apple Logo Decal is just the item for adding a touch of bling to your iPhone. It features 26 Swarovski in the shape of an apple. The decal is handmade and I have had it on my iPhone for 3 weeks and I have not yet lost a Swarovski crystal. I use my decal with my CaseMate Chrome which I feel makes a nice pairing as the CaseMate Chrome has a opening in the back for the Apple logo. This also protects the logo from wear and tear.
The decal is self adhesive, similar to a sticker. Those worried about getting some adhesive stuck on the back of the iPhone can choose to use a clear round backing, which comes with the decal. (I used it for the video but wouldn't again -- next time it goes bare on the back). I do wish that the apple logo and the leaf were stuck together as the leaf is getting loose and I worry that I will soon lose it.
The decal is wonderful but the drawbacks are that you can not use many cases with the sticker on. I have been able to still use my Mophie Juice Pack albeit snuggly, which would have been a deal breaker for me (yes, I often forget to charge).
Give-away: we have 2 Caze Swarovski Apple logo decals for our faithful TiPb readers. Just leave a comment below telling me why you want to bling out your iPhone it and be sure to include a real email address (we won't make it public but we will use it to notify you if you win!). Now start typing!
The Caze Swarovski Apple Logo Decal is $19.90 and available in light blue, Pink, gold, clear, light purple and purple, from Caze.
Senior Editor at iMore and a practicing therapist specializing in stress and anxiety. She speaks everywhere from conferences to corporations, co-host of Vector and Isometric podcasts, follow her on Twitter @Georgia_Dow and check out her series at anxiety-videos.com.
I deserve one because I will wear it on my forehead. Proud and distinguished :)

My girlfriend has had the worst luck with her iPhone 3GS. She just bought it last month and had to warranty exchange it twice. She loves this bling and would love it on her iPhone! She needs to be cheered up and getting this for her iPhone would mean so much to her! Please help a poor apple fan who's had, so-far, a very unpleasant experience with her iPhone. If it helps, she loves TiPb! Thanks to me of course :)

I want this bit of bling not for me, but for my girlfriend. She has been eyeing my iP4 since I got it and this would go a long way towards making her 3GS (and me) look a lot better!

Because it would be the perfect gift for my wife to bling her iPhone4 on our 15th Anniversary!

If I win it, I will give it to my girlfriend, to help butter her up before I pop the question this month, and give her the real bling C'mon, help me out here.

I want this for my fake chinese iPhone, that way I can pretend it's a real one! :P

I want it because I don't have it

My girlfriend has finally joined the iPhone legions with her ( ok, MY ) purchase of the iPhone 4. She does not let this thing out of her sight.
She loves her iPhone and loves to be unique with different cases or skins. This type of decal would let her rock out without a case and still feel unique.

I'm a poor white boy who could always use more bling in his life...

I would like to have it to put on the back window of my Lexus or to drive my girlfriends crazy by having it on my awesome Iphone 4.

It's not so much that I want to bling out my iPhone, but that I buy EVERY piece of Swarovski that I can. I have a curio cabinet filled with Swarovski miniatures, and all my favorite jewelry is Swarovski. So if I don't win it...I'm gonna have to buy it anyway!

I'd like to win it since I don't have a sweet boyfriend like these other ladies. I have to bling myself out. That gets expensive. Help a girl out here, TiPB is the best.

Would look great with my pink bumper

Oh Em Gee.. I SO luv and deserve to win the decal. I NEVER win anything!! All summer I've been making sure all has been in line for my kids--camp, parties, gymnastics, cleaning, laundry..etc. Etc. I've had NO time for myself and my guilty pleasures--mani's, pedi's, mall... Nada... So this would b the perfect reward!! (not that Mom's have to have rewards... I'm doing what I'm supposed to so...but u know what I mean) And it's the cutest!!

I think I should win because tipb is amazing and I tell all my friends to follow you guys on twitter. (how am I doing so far). I'd also like to win because it's the hottest thing I've ever seen, and have never won anything. This would brighten my day, every day, and my kids would think I'm cool. Maybe.

I need something to take my mind off attenagate...

That is very pretty. I want to blind out my iPhone because every true girly girl deserves sime bling!

I not only want to bling out my iPhone, is a must. I need TiPb to help me do that, could you? I need te bling to show off my iPhone ad be super unique.

I need one of these for my wife. She loves crystals and butterflies and glitter and her new iPhone! This is the chance for two of those to come together.

I need those Swarovski crystals to make my iPhone twice as flashy to make all of my friends totally jealous. Fo sho.

WOW
I want this SO bad for my (future) white iPhone 4!!! Can you imagine the beauty..
Also Georgia I love the sentiment of protecting your cheap metal Apple with genuine swarovski crystals... LOL!

Been waiting for a reason to buy an iPhone 4... thanks for the incentive

I need it to make my 3GS look good since I've had to wait (still waiting) for a white iPhone 4 ;)

Looks like papery stuck together :/

I want to boing out my iPhone with this because if I did, my mom's boyfriend would stop beating her up. If I had the Caze Swarovski, things would be different.

@Luke
LMAO...best comment thus far...

I would want it when I pick up my new iPhone4 in Sept. I'd be walking down the street and people would be so jealous of all the bling it would make them sick! BLING BLING!!!!!

I want this to commemorate switching from BlackBerry to iPhone, as well as RICK ROSS THE BAWWWSS album coming out tomorrow. He knows a thing or 2 about crystal...

i just think it's awesome, and i love that it's available in purple which is my favorite color! i also like the clear too. i'm not a girly-girl but i do love a touch of sparkle and i adore my iphone. :)

The bling is necessary because my wife is the queen of bling... this would just make her day... and make her new iPhone4 WAY cooler than her BlackBerry Pearl. (And I'd be her hero for bringing the bling!)

I want it because diamonds are forever and so is an iPhone! :D

I would love this for my iphone 4. I havent bitched about the antenna issue and have been a good little iphone convert. BlackBerrys are dead to me. Bestow on me the bling-y. Happy happy joy joy!

Great way to get on the good side of my gf

I want this decal because I have had some serious bad luck with my iPhone. Since upgrading to the iPhone 4 is not financially doable for me, I've been trying to keep my iPhone 3GS in perfect condition but it is kind of hard to do since the shiny logo can get easily scratched. This decal would be perfect for me! thanks Tipb for the oppurtunity, even if I don't win!

I want it cause it would look good on my iPhone 4 it will def. Look so limited edition..

I think it will score me huge points with the Fiance, especially if I can put it on her iP4 the day it arrives before she gets home from work. She has seen these before, and makes hints that she wants one on her iP4, so maybe I can get her off my back with one if I win :)

OMG! This is so cool. I've always wanted Swarovski crystals, thank god you guys found a Swarovski product I can actually afford. (But it'd be cool to win it too!) :) Thanks guys!

I want one because, well just because!

I'm an up-and-coming rapper and I'd love to bling out my phone with this logo decal!!

Who doesn't want a little bling. Looks especially nice on an iPhone.

I would like one so that I can place it on my new iPhone 4 and then maybe it could deter me from death gripping it.

i wanna spruce up my girl's phone, i'm generous!

If I had a girlfriend, like so many of the guys posting, I'd probably give it to her, but since I don't maybe it'll help me catch a prospect's attention better, not that I need the help or anything, but it can't hurt =P

Cause it don't mean a thing if it ain't got that Bling!

Because I'm a 12yr old princess

Because I like shiny things on my iPhone 4.

Thats awesome. I could tottaly use that to show off my new iphone even more :)

I'd go perfect with my Lexus in dubs. (yes I did just go there, and yes I really do have a Lexus on 20s)

I think I should be the proud owner of the swarovski apple logo....as at 4.12 in the morning I'm suffering from toothache(not nice).can't get to sleep,hopefully now I can have some sweet dreams about winning.. Thankyou and goodnight. Stephanie xx

I love swarovski and i need a case for my naked iphone
please let me get one

Because what could be better than a sparkly iPhone 4?!

hope i win! this would be a nice gift for my sis!

This would look awesome with my black bumper! thanks tipb!

My husband and I have a an iPhone 4 and have trouble telling the difference. This is just the what I have been looking for! He will never want to touch my phone again.

Screw that I am a dude I would totally bling my iPhone!!!
No shame baby just bling!!!

I am a blunt kind of girl!!

Because having an iPhone is no longer bing enough!

I'd like it because it would make my friends that much more jealous of my iPhone 4. ;)

I would like it because how can you go wrong with accessorizing your iPhone, it's just enough. However like you I would not put it on the back of my pristine iPhone 4, I'd place it over the zagg. Thanks for all these reviews!
Does anyone know if this okay to put over top of a zagg? Does it also leave a residue on that?

<3 it! Would be nice to win this. Esp since the wait for the white iPhone 4 since to be a never ending loop. Atleast this would make my 3G look fab in the meantime while everyone else around me rocks their iPhone 4.

Because TiPb is better than Tuaw!!

This just shows that people will take anything free... I have an old sneaker with gum at the bottom in the shape of an Apple logo. Anyone want it?

Because I want to win something...and honestly it's my birthday this Thrusday!

Actually, just to clarify, my intent was not to troll. I'm a huge Apple guy (iphone, ipad, imacs) and I love this blog. Rene Ritchie does a great job! I just found this giveaway particularly uninteresting.

It would have been nice if Apple had added some highlights to their logo (such as the lit Apple on the back of their laptops) - but since they didn't, this is the absolute next best thing!

I am one of your guys best fan. I have a app icon ( bookmark ) on my iPhone and I check the site faithfully close to 10 times a day. I would love to win this beautiful logo decal because i never win any contest, I always think that contest are always fake because I never ever have won anything in my life. Either way I will always be faithful to this site. It has a lot of good news and keeps me up to date with the latest. Thanks in advanced if I do win.

Pick me! My 3gs needs a make-over! Its feeling frumpy with all these new super phones floating around!

I love this apple logo! Pick me because I would love to give it to my daughter as one of her 16th birthday presents and I would give it to her at her sweet 16 bday party, which happens to be a surprise, in front of all of her friends, she would think I'm the best & coolest mom in the world.

I would like this because the back of my iphone is ugly.
The apple logo looks crap. Lol
So If you give me this i'll be thankful. <3

Because I need the bling to make the scratches un-noticable

Time to make this iPhone look sexy :)

If I win you can have it.

I wonder how that would look on the ip4 I plan to get. But while I still have my 3GS I need something to make it look like less of a dinosaur.

I'm not so sure I'll put it on my iPhone, but I'll find somewhere to put it.

I want one! I've been through hell with my iPhone 4: apple wouldn't fix a manufacturing problem so I spent more $$ to have 3rd party fix it then calked apple back. Apple actually AGREED with me and is in process of refunding my upgrade fee cause they KNOW they were wrong. So my poor iPhone 4 NEEDS boing for all the trouble it's been through... PINK bling, especially....

Sweet looking! My wife would love it on her phone. That way we'd be better able to tell them apart. Thanks...

Why not? My reason is the reason that your thinking of as worthy of winning this contest. :p

This would give me major brownie points with my wife. It's her birthday and our anniversary later this month.

i want it!!! who doesn't??
i am a swarovski lover.

Congrats to Heather and Michelle who get the give away. Lots more to come, so thanks everyone for entering and good luck next time!
http://www.tipb.com/2010/07/19/quick-reviewgiveaway-caze-swarovski-apple...
http://www.tipb.com/2010/07/19/quick-reviewgiveaway-caze-swarovski-apple...

Is there more models to choose?I'd like to buy a pink one

is it still avaliable the giveaway?
Get the best of iMore in in your inbox, every day!
Thank you for signing up to iMore. You will receive a verification email shortly.
There was a problem. Please refresh the page and try again.