Reminder: Last chance to enter our BBM4ALL Video Contest for a chance to win an iPhone 5s or a trip to Toronto!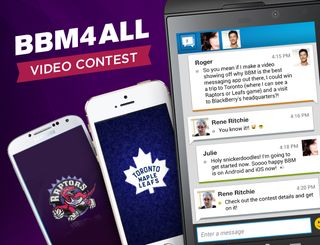 Hey you. Yes, YOU! You want a FREE iPhone 5s, don't you? Of course you do! And you only have about one week left to get it - thanks to our BBM4ALL Video Contest! The kids at CrackBerry have already cranked out some great videos, but if you do one of your own thats even bigger and better, you can win a brand new iPhone 5s or a trip to Toronto. Check out all the details below.
The Details
Your video should be no longer than one minute and needs to show at least one of the following:
Creative way to tell your friends to get BBM
Show some of the key differentiators of BBM vs. WhatsApp or other IM clients as reasons why to download BBM

Show fun/creative ways to share your PIN with your friends
Other than that there are no constraints, so go nuts. We'll be looking at how well you get the message across, how good your video looks and how much awesome it's packing.
At the end of the entry period we'll be picking the one video that we think is the best of them all.
Grand Prize
One grand prize winner will receive a BBM prize pack that includes:
Round trip for two (2) to Toronto to attend a Toronto Maple Leafs OR Toronto Raptors game
A visit to BlackBerry HQ at Waterloo to meet the BBM team
A guided tour of the city with BlackBerry's Alex Kinsella
OR
How To Enter
Create your video and then send us a link to the file (Dropbox, Box, etc) so we can download it. Submit your entries to bbmcontest(at)mobilenations.com before November 30th at midnight PT. One entry per person.
The competition will be tough as we're running this one on CrackBerry and Android Central as well, so keep that in mind as we'll only be picking one grand prize winner.
By day, Adam is a writer for multiple Future Publishing brands with over fifteen years of experience. He's expertly researched and written hundreds of articles ranging from mobile phones to mobile homes to baby mobiles. By night, he's a gadget geek, avid disc golfer, 80s nerd, cord cutter, cook, husband, dad, and memory collector.
I have to be honest, a few of my friends just got new phones so we couldn't use iMessage anymore and we were excited to use BBM. Unfortunately it is still too locked down right now. We could only attach voice notes, no photos or videos. We started using Google Hangouts and it is much better. I guess the biggest problem was we were excited for BBM due to remembering our old Blackberries but the app is very underwhelming at this point in time. :(

Just the Android and iOS versions are vastly underwhelming. The BB10 has many more features, they need to make them all equal. Even though the BB10 Version is much better and integrated very well, it still has lots of room for improvement. Hopefully they put out the updates before the end of year like they said they would.

BBM has a great challenge.
I have had BBM for more than one month and absolutely nobody has chatted to me through it.
I preffer Whatsapp because of groups.

Good luck to everyone who entered!! (Crackberry shows Z30 as a possible prize and a 5S here at iMore. I haven't checked the one at Android Central yet.) Sent from the iMore App

i want an i phone 5s because the apple is the only technological place where my faith is always belongs to it ,means i will always in favour of apple technology and i hope that apple launch so many techno devices in coming few years which we cann't assume that they are so good and their market value is so high
Get the best of iMore in in your inbox, every day!
Thank you for signing up to iMore. You will receive a verification email shortly.
There was a problem. Please refresh the page and try again.