Steve Wozniak demonstrates keyless entry at Starwood with iPhone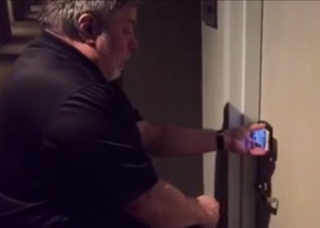 If you've ever wondered how the keyless hotel room locks work at Starwood Hotels, you're in for a treat. Apple co-founder Steve Wozniak demonstrated the lock with the accompanying SPG app on his iPhone on video. Essentially, users launch the SPG app on their iPhone and then just tap their phones to the lock, wait a few seconds, and then the door opens.
With the SPG app, hotel visitors can sign up for a Bluetooth key so they can skip the check-in and wait time at the front desk. When they arrive at a participating SPG property, they can go straight to their room and use their iPhone as a room key. The lock and the phone communicate with each other using Bluetooth tech.
SGP had also announced that it will be expanding the keyless tech to the Apple Watch next year.
Source: SGP
Honestly, it look like a bit of a hassle to me. You have to fish out the phone, look for an app, launch that app, and then wait, wait, wait for the bluetooth pairing for the door to open. If you're like me, the bluetooth won't be on all the time since it consumes battery and that's a bigger concern when travelling, so that's another step to add.
Not to mention that when you're staying with other people, everybody will need apps on their phones, and if you have relatives in nearby rooms and are getting there and back all the time this becomes a pain rather fast.
Its a proof of concept, but I'd rather stop once at the front desk and afterwards swipe a card.

Agreed. This would be fantastic if/when Apple opens up NFC to use even outside of a specific app context, but , until then, a keycard looks more convenient Sent from the iMore App

So what the plastic credit card key is easier and faster. Sent from the iMore App

As a business traveler I think this is a great idea. I don't know how many times I have gone to the hotel room and the room key did not work. Then you have to go down and get another key.....

I agree if you are a buisness traveler this is great the magnetic strip wears all the time or I loose the card. Apparently some people don't understand or you forget the key in your room and lock yourself out Sent from the iMore App

Or worse, forget the phone in your room and lock yourself out.

Looks like it's not quite ready for prime time in terms of steps and latency. I'm looking forward to the concept but only see it as usable when it works faster than a card that I don't have to pull from my wallet (I always take two cards, one that I can leave in the light control slot inside the door and one in my wallet.)
Get the best of iMore in in your inbox, every day!
Thank you for signing up to iMore. You will receive a verification email shortly.
There was a problem. Please refresh the page and try again.