Steve Wozniak sides with Apple against FBI's 'lame' iPhone decryption case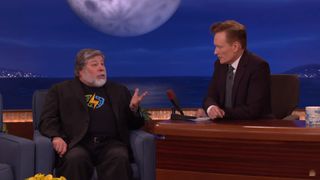 (Image credit: iMore)
Steve Wozniak was on Conan recently to talk about many a things, as well as touching on the whole iPhone decryption battle between the FBI and Apple. According to the Apple co-founder, the FBI case against Apple surrounding the unlocking of said phone is lame and has potential repercussions that could affect millions as well as national security.
Wozniak also spoke about how he created what could have been a Mac virus, but threw everything away in fear of code leaking out. The same can be said about Apple being ordered to create a tool for the U.S. government to gain access to an iPhone, which could then be requested by other countries and agencies.
Get the best of iMore in your inbox, every day!
Totally Agree with the Woz.

Encourage all companies to improve security and not create back-doors and/or weaken security efforts. If the FBI is able to set a precedent, the "bell" will have been rung. Like the Woz, make your voice be heard on this issue. Also, please join me in signing the White House petition at http://1.usa.gov/1R9A4cM

Wait till china or some other country request this from apple. Sent from the iMore App