TiPb Birthday Bash: Crosswords for iPhone Give Away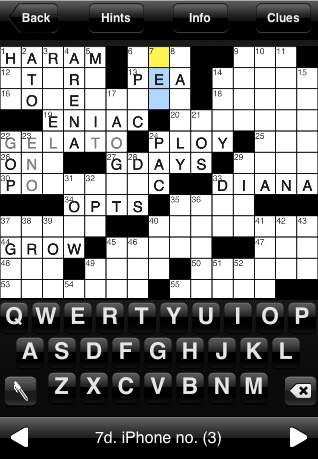 What goes better with coffee on a lazy Sunday morning than crossword puzzles? Yup, crossword puzzles on your iPhone! And thanks to the kind folks at Stand Alone, we have four (4) promo codes for Crossword ($9.99 - iTunes link (opens in new tab)) to pass on to you!
Crosswords is a personal favorite of Smartphone Experts' editor-in-chief, our own Dieter Bohn, who insists it boosts brains and supercharges smarts. Want a copy? Just drop us a comment below telling us your favorite daily crossword puzzle (New York Times? Wall Street Journal? Something else?).
US iTunes Store account required to redeem promo codes
Valid email address required to send you the code (won't be made public)
Contest starts now and ends tonight, May 10, at 11:59pm EDT
Rene Ritchie is one of the most respected Apple analysts in the business, reaching a combined audience of over 40 million readers a month. His YouTube channel, Vector, has over 90 thousand subscribers and 14 million views and his podcasts, including Debug, have been downloaded over 20 million times. He also regularly co-hosts MacBreak Weekly for the TWiT network and co-hosted CES Live! and Talk Mobile. Based in Montreal, Rene is a former director of product marketing, web developer, and graphic designer. He's authored several books and appeared on numerous television and radio segments to discuss Apple and the technology industry. When not working, he likes to cook, grapple, and spend time with his friends and family.
The duluth news tribune. From the quaint port city of Duluth Minnesota. Hope I win!!

La Settimana Enigmistica! I'm not American :-D

Definitely the NY Times. I got hooked on crosswords during boring college lectures. A talent for word puzzles may be the most valuable skill I took away from engineering school.

ny times is my wife's most enjoyable.

I'm a sucker for the NYT puzzle as well. Can't beat it!

The Straits Time. (Not an American too!)
I'm a Crossword Puzzle maniac.
Love it.
And will love to have one(or more) in my iPhone! :)

USA today because it's easy and I can actually finish it!

USA Today or NYTimes, but the Times ones take me forever to complete.

Definitely the NYT puzzle, although I have bought crossword puzzle books to satisfy my cravings from time to time. An iPhone app to do the same would be awesome!

The Dallas Morninf News :) some good crosswords on the newspaper

The NY Times, without a doubt. I'm always very ambitious and attempt to get through the whole puzzle, without crossing out, using ink... never successful. It'd be nice to have a great quality crossword game for the iPhone, and it would save my fingers from all the ink smudges. :)

Love the NYT, WSJ and the Chicago Tribune.

NY Times crossword is and always will be the best. Thanks!

Chicago Tribune is the one for me.

There is no other but the NY Times, edited by the brilliant Will Shortz.

Nothing beats the crosswords in The Times.

The Times crosswords are definitely good. But I prefer the book that sits on my nightstand for use every evening before bed - nothing like tiring out the brain a bit before nodding off to sleep!

USA today because it's the only one my brain can match... :) :( :D

New York Times. Tuesday or Wedensday.

I like those books that have like 50 in the since we dont hae any good ones in our local paper.

The NYTimes gets my vote, although I often use the help of Safari!
Bob

Definitely the NYT. The difficulty rises from Monday through Sunday.

USA Today and Chicago Tribune

Love all of your Birthday bash excitement. I use the L.A. Times & the S.F. Chronicle for my crossword needs.

United Media, published in the DMN. Grew up with it and love to play it anytime I'm in the DFW area.

USA Today for sure... NYT from time to time... fingers crossed!

NYT. Make sure you block out some time though!

No love for Sudoku?! If I had to take a pick of crosswords puzzles it would be "The Evening Sun" Norwich NY's only newspaper.

It has to be the Daily Telegraph for us Brits. Its a classic daily brain teaser.

The Yated based out of ny.

I personally like the crossword in the Oregonian. I live in Oregon obviously.

Any. I love sitting with family, friends and coffee trying to figure out the clues. Trying to work up to "Wordplay" status.

Crossword books so I can finish one and continue with a new one.

I use the iGoogle crossword gadget from Bestcrosswords.com

WSJ and USA today. Would love to have puzzles on my iPhone!

NY Times for a challenge; USA Today for an easier one.

Love the NY Times puzzles.

NY Times - but, only because it makes me look smart. It's harder than Chinese calculus.

I like the cheap crossword books the best! You know, the kind you can get from bookstores or local hobby places. A whole book is always better than 1 a week in a paper!

im more of a local news crosswords guy, over here in puerto rico we got bilingual ones which are rather easy at times i mean you got 2 languages to choose from en El Nuevo dia newspaper jejejej

I played some crossword puzzle on the DS and it was pretty fun.

Does this count as an entry to the grand prize give away? ;)

The University of Washington Daily

NY Times is great, or the Washington Square News on Campus at NYU

The NY Times puzzles are the best.

Personally, I've always loved the New York Times Crossword Puzzles. Hopefully I win this one! :)

the atlana journal constitution. It's pretty challenging
hope I win. Looks like a good app. :D

I always go with the Houston Chronicle. Nothing like starting your day with a little brain food.

I'm a big fan the the NY Times crossword.

I like the Birmingham News :) I'm a local fan!

USA today. Yeah, that's why I would love this program - I could get better at doing the damn things.

USA Today and the NY Times. I enjoy both most every day.

My crossword is the NY Times crossword. Well, the Monday and Tuesday ones. After that, well, Sudoku time!

The Sacramento Bee has 2, a generic, syndicated puzzle, and the New York Times. I do them both.

Times, Journal, USAToday. Doesn't matter.

Been waiting for this for awhile.

I enjoy the NY Times, the WSJ, USA Today and many others depending on whan my mood is.

I love doing the crossword puzzle in the boston globe, or my local newspaper, the standard times. My friends make fun of me all the time for bringing them around with me all day, trying to figure them out all day. I would love to have them on my phone.

The lame one my boss gives me.

New York Times for sure!!

I just getting into Crosswords... haven't tried NYT, still out of my league, but I am learning. I have tried the 2-Across app and it is good, but need to give this one a try.

NYTimes. But I've been known to do others.

I like the NYTimes, but I must admit I am a beginner.

USA Today as I can usually finish it.

Switched 2 years ago from German to English/US crosswords. Learned about degree of difficulty from Monday to W/E puzzles. Worked our (incl. wife) way through MO, TU and WE books by Peter Gordon, NY Sun. Next: Killer Thursday Book.

UW The Daily
Seattle Times
online: Microsoft Live Search Club
doesn't matter where or how I find it, I always have to stop and do the crosswords!

I'm not proud of it, but I like to do UClick's Universal Crossword. I usually access it through the San Jose Mercury News web site.

I don't do crosswords, but if I did it would be the NY Times!

Richmond Times Dispatch
Use it all the time my mother loved it, but since she died I have taken up doing them

The daily NY Times one is my favorite--the Sunday one kicks my butt!!

My girlfriend and I like to do the times puzzle together on Sunday mornings if we have time.

Wall Street Journal Since it is the only paper i get
thanks for the entry

Love the NY Times. Will Shortz is the man.