Today on the Forums: Blackberry Storm... iPhone Killer?! 2.1 Firmware Hot or Not?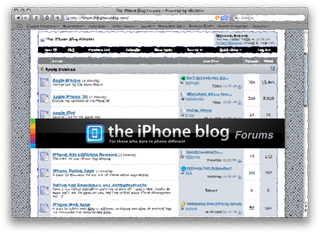 Today on the forums we have a few hot topics for you to check out:
First let's start off by taking a look at the latest iClone... the Blackberry Thunder/Storm. Do you think it really is a iPhone killer? Make your voice heard and vote in the poll! Next up is a thread started by mikecc and he wants to know if you are using your iPhone for gaming more than anything else? Stay tuned to TiPb in the next few days for more coverage of the iPhone as a gaming platform.
If you are addicted to Spore: Origins, as some of us here at TiPb are, be sure to check out the "Show of Your Spores" thread! Rene's spore is pretty creepy looking... And last but not least the last thread of the day discusses the upcoming 2.1 firmware... so head on into the forums and let us know what you are thinking!
Things have been heating up on the forums as of late. The community continues to grow! Join in now. It's simple and it's free!
See you on the forums!
iPhone killer? There's no such thing until something generates more buzz than the iPhone, regardless of features.

Hence the "?" mark after Killer. Feel free to speak your mind in that thread on the forums.

The only iPhone 3g killer is this HOT new product coming out. Its called the iPhone 4g.

Hey Jeremy, did you graduate from Washington High School?

@Dan, Sorry, I'm from Chicago. Went to a south suburb high school.
Get the best of iMore in in your inbox, every day!
Thank you for signing up to iMore. You will receive a verification email shortly.
There was a problem. Please refresh the page and try again.