Spectrum reallocation enables unlocked iPhone to use T-Mobile 3G in a a few locations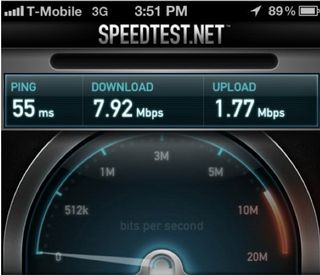 TmoNews is reporting that some unlocked iPhone users may be picking up T-Mobile's 3G network in small areas of the Pacific Northwest -- specifically limited pockets in Nevada, Utah and California -- due to spectrum reallocation under the 1900MHz band.
Most unlocked iPhone users are relegated to 2G due to most of the T-Mobile 3G network running on the AWS spectrum of 1700MHz/2100MHz. We're not exactly sure what they're reallocating the spectrum for, however, multiple reports have surfaced from Howard Forums detailing a jump in speeds and, more specifically, the 3G network indicator popping up in the statusbar on their unlocked iPhone.
It's possible that T-Mobile could be testing spectrum allocation for new devices or simply to expand their network range for existing devices that already support the 1900MHz band, but again, there's no concrete evidence on what precisely they're up to. If you're lucky enough, however, you may be able to hop onto their 3G network depending on the area you're in.
Source: TmoNews via Howard Forums 1, Howard Forums 2
Andrew Wray is a Salt Lake City, Utah based writer who focuses on news, how-tos, and jailbreak. Andrew also enjoys running, spending time with his daughter, and jamming out on his guitar. He works in a management position for Unisys Technical Services, a subsidiary of Unisys Corporation.
Okay. Testing or not... That is pure awesome.
Hopefully one day we'll see T-Mobile with 1900MHz, making that $649.99 unlocked iPhone just a bit more appealing to people like me.

TMobile needs the iPhone, as a sprint user, I was finally glad of finally having choice. Sure we don't have 4G yet, but I have Wifi everywhere. Tmobile needs their choice of everything too.

That's faster than my home broadband...

ummm...... PNW is Oregon, Washington and Idaho. Those states are considered the southwest...

In other breaking news, residents in Kentucky, Nebraska and Colorado brace themselves for a tsunami.

I came here specifically to say that - but you all have done greatness already. Bravo sirs.

Kudos, T-Mobile, and its iPhone users!
On a related note, anyone have any idea what "pockets" of CA that the 1900MHz T-Mobile is active in?

Is this part of the spectrum roaming agreement between AT&T and T-mobile that was include in the break-up deal?
Thank you for signing up to iMore. You will receive a verification email shortly.
There was a problem. Please refresh the page and try again.