Verizon willing to pay to keep iPhone off Sprint and T-Mobile?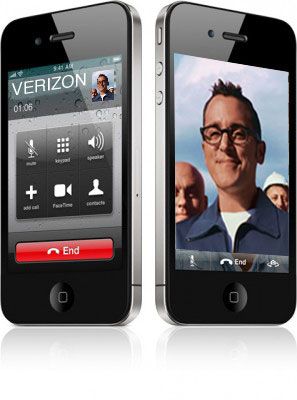 We have all heard the rumors of the iPhone going to Verizon in early 2011 but today we are hearing word from Analyst Shaw Wu with Kaufman Bros., that Verizon is not only interested in obtaining Apple's widely popular iPhone but they may be willing to pay a price to keep it out of the hands of Sprint and T-Mobile.
Wu also told investors that Google's Android operating system has begun to lose some of its luster with Verizon and gaining a device like the iPhone could greatly increase subscribers on their network.
If true it seems as if it just creates the same situation we are in now in the U.S. except we will have one other option. What do you think about Verizon possibly being willing to pay to keep the iPhone off of the Sprint and T-Mobile networks?
[ AppleInsider ]
Get the best of iMore in your inbox, every day!
I'm pretty sure this is illegal. I've got the legal bills and a judgment to prove it.

I cant wait until they get the iPhone, im a loyal subscriber to at&t. but once verizon gets this phone, and if they do all of this. i cant wait to see what it leads to. Android sales on verizon, will drop SIGNIFICANTLY!

Sure they will do that. Only if Apple comes out with an LTE iPhone, but we all know Apple. They are always at years a year behind.

More carriers = more money for Apple.

CDMA iPhone? You Know what that means... devs unlock and boom, you got your self a CDMA unlocked iPhone on Sprint Network. Where 69.99 Includes everything.

Thats right Terry hopefully Apple will see that too... Hoping for a Sprint iPhone

This seems like a pretty feasible situation to me. Verizon wants the iPhone to continue to have the perception of being a premium phone, and is willing to pay big bucks over the next year to co-promote this phone with apple and is not willing to let that advertising just go to the sale of an iphone on a 2nd tier network. Verizon wants 2011 to be the year Apple and Verizon hooked up, not the year the iPhone finally became available everywhere. For the time, and monetary investment Verizon is putting into getting the iPad/iPhone, I don't see them willing play tit-for-tat on data and voice packages on the devices versus Sprint & t-mobile. And for those who don't like it, grow up this is big business and capitalism and businesses have a need and right to protect their investments.

Here's what's going to piss me off. Verizon is going to get the iPhone and it won't have a death grip. I hate cases and have learned to deal with the dead spot, but if verizon's doesn't have it I'm going to be pissed.

I don't buy it. Verizon is hardly worried about Sprint and T-Mobile. No doubt Verizon would have to make concessions for Apple, but not for other carriers.

Unless their are lte devices released by the time the iphone releases I will probably pick one up. I want a phone that's good and im tired of dealing with carriers and oems messing up my phones im looking at you Android and droid 2

You can correct me if Im wrong but i think carriers are going to charge extra for 4g data service. Sprint on WiMax to me is not really 4G I live in one of the 4G markets and Sprint coverage is worse than ATT as crappy as that is.

@Rob
Well, one of the rumors was that Verizon was forcing Apple to build a CDMA device with an internal antenna. We'll see if that rumor, as well as the early 2011 release rumor, pans out.

@Andre
It is not clear what Verizon's plans for it's LTE network on phones are yet. As for it's mobile broadband...Verizon charges the same $50 for 5gb of LTE/3G coverage s it does for basic 3G connectivity. So to say that all carriers will up charge customers for newer and faster technologies simply because Sprint does for it's dubious WiMaxx network is a stretch at best.

Seriously iPhone 4 CDMA in early 2011? Since when does Apple do out of cycle launches? The rumors are all wrong. The new one is less than 6 months away. They are not testing a CDMA iPhone 4, it's already old gen to Apple.

@Jimi, anything is possible if you have an OPEN MIND.

You don't think apple would release a cdma only iphone 4 then when the 5 comes out make a global version to pull in more customers. By the time 6 is ready lte should have significant coverage then you get the lte version. Just a rant from a know nothing guy

@ thebizz
This is my thinking as well. Get the phone out there to hungry customers to start. Launch the iPhone 5 in June with world capabilities (with possible AT&T exclusively to start, just to honor the contract in some degree), and by the next year a fully capable LTE phone to take advantage of the by-then robust networks.

You VZW custies enjoy your crippled iPhone lol I bet a CDMA version is released in India were they have been testing it.

Just open it to all networks in USA like in the UK and let the consumer make the final decision.

Apple will announce a LTE iPhone by the end of January. This announcement will vary from their normal cycle. Most Verizon employees were briefed about two weeks ago.

I might be good for verizon, but not as good as apple.AT&T got this deal when iPhone first came out because apple didn't know how it was going to sell. But now apple knowing that android is growing so fast and that the iPhone is still the most sought after smartphone on the market. It would not make any sense to get into another exclusive deal. For verizon it's a win win , not for apple though

I have the 3GS. I am waiting for T-Mobile to get the iphone in June. I will switch in a second. I did a speed test in the bay area with each network's premium phone. Here is the speeds I got. I am very intrigued by T-Mobile's improvement in their network.
Sprint Evo 4g 0.33 MB/s
Verizon Droid X 0.59 MB/s
Apple Iphone 4 2.3 MB/s
T Mobile MyTouch 4g 5.47 MB/s

The only reason Android has lost its luster on Verizon is because Verizon loads up all the devices with their crappy bloatware now with no ability to delete without root. They did it to themselves.

Nooooooooo!!! Tha horror! Please come to sprint! Why God? Whyyyyyyyy?
Ok a bit melodramatic but honestly. I'd love it on sprint. i got sprint and it's much more affordable and it would drive down verizon prices i'm sure which is a win for everyone.

PLEASE let the iPhone come to T-Mobile U.S., Steve!

i know this sounds stupid, but they should come out with the iphone 4.5 around january on both at&t and verizon. an iphone that fixes all of the iphone bugs and then do the iphone 5 around next christmas maybe

I would like to thank You for this article and please allow me to have the possibility to express my satisfaction with Hostgator web hosting. They offer professional and express support and they also offer some HostGator discount coupons.