We've teamed up with Vena to give away the new iPhone 7 and accessories!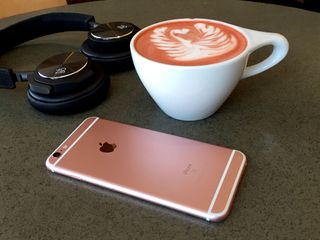 Today's the day! The Apple event is happening in San Francisco, and there are sure to be many exciting announcements, including the new iPhone 7! But before the event gets under way, here is your chance to win a shiny new iPhone 7 from iMore and Vena! Keep reading for details and how to enter!
The Prizes
One Grand Prize Winner : iPhone 7 + 7 iPhone 7 Cases + Car Mount
Five Second Place Winners: 7 iPhone 7 Cases + Car Mount
10 Runners-Up: 7 iPhone 7 Cases
THE RULES Use the widget below to enter. There are several different options, and if you complete them all, you'll have the maximum chance at winning! Please note, we DO verify the winning entries, so if you say you completed something, but you didn't actually do it, you'll be disqualified and a new winner will be chosen. The contest ends September 21st. We'll announce the winners here on iMore shortly after the closing date.
That's it! Good luck, everyone!
Get the best of iMore in your inbox, every day!
Awesome contest guys Sent from the iMore App

Love the cases here guys. Plus love the contest Sent from the iMore App

I love the cases where you can put your cc and id in them! Sent from the iMore App

Great contest - thank you iMore and Vena!

Thanks imore and mobile nations for the contest and good reporting.

Good luck to everyone, but I hope that I win.

Same! #donthavethecashtoupgrade

Watching Phil Schiller unveil the iPhone 7 now. The camera alone is my reason to upgrade to the 7 Plus from my 6 Plus.

Can't wait to see if I win!!

I'm happy to see that Apple is doubling the storage capacity. I will buy the iphone 7 with 32gigs

Thank you guys for doing this giveaway!

if i will one i will buy a venna case

you can always count on imore to have the contest before anyone else.

This is lit. The new case from Vena are completely stunning.

I would have a fight on my hands with wife and daughter if I won this awesome prize.

Awesome! Posted via the iMore App for Android

Jet Black on the iPhone 7 Plus looks sleek.

7 Plus Jet Black is the way :-)

So ready for the new iPhone. Sent from the iMore App

So I hope I win the iPhone 7. I'm still using an iPhone 4, so this would be incredible!

Checking out the Vena products right now!

This is quite the contest guys. Thank you!

So you're sayin theres a chance?

Awesome contest. I never win anything, its nice to dream :)

Hey thanks for the great contest. Hope I get lucky!

I really like the fact that the base models have 32GB. Finally, no iOS install issues.

great contest, I feel like I'm in 7th heaven! Sent from the iMore App

Wow, this cases are really nice. Hope I win.
Thanks

wow, another iPhone 7 contest! another chance at winning a brand new iphone, another chance at moving on from my old iphone 5. hahaha. good luck everyone!!!

I'm ready for a new iPhone - ready to win, too.

I'm returning to India in couple of months, after 5 years in USA. So, this probably is the last giveaway that I can take part in. Hope I win I at least this one phone.

Is this an international give away?

awesome giveaway ... exciteddddd

Really great contest! Thanks Guys!

After once again, watching the Apple launch event, Apple have convinced me that they deserve $600 of my money lol. Just when you think, ah my iPhone 6s is perfect. they bring out something new and fantastic and we once again scratching through our pockets for money lol

This is a great contest :) Was really impressed with the new features Apple is putting into this phone!

Thanks for the opportunity!

Hey! Good Luck to Everyone! Great Contest!

Would be nifty to have but chances are !

I so want this phone!!! There is so much I can teach my 10 yr old daughter about photography with the new camera!

Always love these contests, even though i don't win. Maybe it will change this time.

Hope it's international.... hehe.

you guys never disappoint with great giveaways

I love these cases!!
Good luck everyone!!

Really cool cases. This is my first competition too! Good luck all

This is a contest I can get behind.

Great contest love to win so I can give my iPhone 6s to my nephew

Great Contest I'm not sure how I can help anybody but I'll try

I really enjoy these contests. Best of luck to everyone (although I hope that I win!)

I'd love to use the 7, as I'm not going to pull the trigger myself this year. Waiting for the big anniversary iPhone

This is a fabulous contest! Good luck to everyone.

This is a great contest! iMore is a great tech website.

I can't wait to see if i win. Good luck everyone on this contest!!

How's wonderful content here ! Amazing !
Thanks . Let's me be the winner of iPhone7 .

I entered the contest and I hope I win the iPhone 7 for my little sister! :)

Thanks for this great giveaway.

Love the iMore competitions! iPhone 7 ❤️

it's morning here oh men, i can't wait to have this phone i love it the way it look

A brand new Iphone...I'm in..

I'd like to win the new iPhone 7 with one of these cases. Sent from the iMore App

Best of luck to all that enter

Cheers to everyone here. Can't wait to try out te Airpods.

Sweet contest, I'd look great holding a new Iphone 7....

Free iPhone? Count me in!

Awesome contest. Good Luck everyone! My wife sure could use this. Be a nice upgrade from her 5.

This is a great contest. Great way to win a new iPhone 7 and have it protected by great cases. Great selection.

Cool. Nice if I could win.

It'd be good to win this!

Thanks for the contest guys!

I think it's awesome the IPhone 7 and 7 plus are to die for an those cases are soooo cute!!! I would deformity love to win that would be really awesome finally I would be getting a upgrade because I haven't had a upgrade in years!!

great promotion but one problem: we all want to win!!!

Just curious why i did all of them but the top shows 0 entries?

Very very happy to stay here

what widget? i have ghostery etc and don't see it although i've whitelisted most of iMore.

I'd like it for my Dad :)

What a possibility ! hope I be the one. It has to be the black. iMore the best place to find out anything. Thank's

love IMore thank you for the contest

I followed all the Steps required and is really looking forward to win an iPhone 7, it would be awesome if I win. I convey my gratitude to iMore for always arranging such wonderful contests. Best of luck everyone! =)

Great I would love to give my wife an iPhone 7!

the best giveaway guys and hope for the best

Awesome. Love that there is always a new contest!

Best giveaway. Hoping I win. I have never won anything ever contest wise. Well, maybe not entirely true. I won $2 on a scratch card once.

I hope they're giving away a Jet Black iPhone 7! that would look great with the Vena cases!

Awesome! I'm so excited for the new iPhone.

Great contest friends
Thanks iMore & Vena

If it's free, it's for me! Thanks iMore!

My family members all are using iPhones and i'm the only one that uses Android and BlackBerry phones. I've always had the soft spot for iPhones and winning this might make me switch to iPhone entirely as my daily driver and use my Android and BB phones as backups. Hope I win.

I hope we Apple accept to cover liquid damaged even it is water proof...

Love that it's international lol, I pray to God I win!

Did EVERY step to enter and it says I have 0 entries. :(

This might be my first Apple!!

I could be nice to replace my iPhone 5s :)

Amazing giveaway , would love to win the iphone

hopefully i win but im most like not

Awesome. I need to win so I can return this phone in time........ (Note 7 got recalled, iPhone 7 and 7Plus sold out EVERYWHERE in my area.)

I hope I WIN! Jet Black iPhone 7 128GB please.

Crossing fingers , hoping to win

It'd be a grand prize indeed

Only 34 hours left to win

Why do I want to win an iPhone 7? Well, I just do! It's as simple as that... :) Honestly though, when I lost my iPhone 6S Plus (in a mugging, where the guy had enough knowledge to have me reset my phone at gunpoint so that I couldn't use Find My iPhone later on), I decided to hold off for the iPhone 7 and switched over to a used Nexus 6 device. But fate struck and my wife's Samsung Galaxy S6 Edge started running into hardware problems after a fall. So I gave her the Nexus 6 and got myself a new Samsung S7 Edge instead. So here's to winning this one so that I can either give her the iPhone 7 (most likely) or she'll get the S7 Edge (whatever she prefers really). So hand it over, will ya? ;)

Im new to this & im actually excited for this free iphone 7
WELL GOOD LUCK TO ALL THE PEOPLE ENTERING !!!!

Great contest Thank you imore and vena

You guys are fantastic. Thank you for all the help and guidance into the world of apple

You guys really bring it home! So excited and good luck to all. imore is a great website I use daily and will continue too

super excited can't wait to see who won reeeeaally hope it's me

I worked my but off to win this contest, I WANT THIS PHONE SOOOOOOOO BAD

I HAVE LITERALLY NEVER WON ANYTHING IN MY LIFE!!!! , MY SISTER WINS EVERYTHING!!!!

I DESPERATELY!!!!!! need a new phone

Nice cases for a cool phone!

The last 5 minutes, I'm excited

Eargely waiting for the announcement of the winner. Very optimistic.

I hope I'm one of the winners!

This is the first time I participate in a contest like this. I hope I 'm one of the winners.

I would hope to get the phone as I was beaten for my other Iphone

I wonder when they are going to announce the winners. I've kinda been waiting for a while lol

Thanx guyz for conducting frequent contests!

i won this competition, anyone who have an idea how to claim my prize :)

I won it too. I was contacted by some one from Vena asking for my postal details. I replied, but didn't hear anything from here again. :S