How to play Pokémon Go while Social Distancing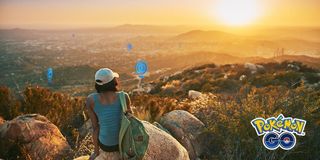 (Image credit: Niantic)
Pokémon Go, the hit AR game from Niantic, encourages players to leave their homes and traveling to places of social importance. So, you might be wondering how you can still catch 'em all while social distancing. Luckily, there are plenty of methods to play from home, your car, or locations that are easier to manage without other people. Even better, Niantic is adding more and more ways that people can play Pokémon Go from the safety of home.
What's new from Niantic
As social distancing becomes more and more necessary, Niantic has made several changes to gameplay and teased many new features to help players keep playing Pokémon Go.
Live Events: most live events, such as Safari Zones, are being postponed or canceled.
Reworked Events: other events, such A Drive to Investigate and Community Day have been modified to support solo play, and play from home.
Field Research: Research Tasks that cannot be completed from home or solo have been removed.
One PokéCoin Bundles: every week a new one PokéCoin bundle is added to the shop.
Increased Daily Bonuses: players earn 3x Stardust and 3x EXP for the first catch of the day.
Raised Caps for Gifting: players can now open 30 Gifts per day, hold 20 Gifts at a time, and receive more Poké Balls per Gift opened.
Go Battle League: players do not need to walk to earn Go Battle League sets.
Spawns: Pokémon spawns in the wild have been increased, allowing players to encounter more Pokémon from home.
Incense: Incense, an item that draws more wild Pokémon near, lasts twice as long with each Incense running for an hour.
Gym Radius: the proximity players need to interact with Gyms has doubled.
PokéStop radius: the proximity players need to interact with PokéStops has also been doubled.
Remote Raid Battle Passes: players can now purchase special passes to participate in any Raid on the map, regardless of proximity. Up to 10 players can participate in a Raid remotely.
Updates to Adventure Sync: Adventure Sync will be getting a significant update that will better support indoor and stationary activity, like cleaning up around the house or running on a treadmill.
Social features: players will be able to communicate virtually and participate in Raids remotely.
Virtual exploration: players will be able to explore the world around them from the safety of their home, visiting places of interest remotely.
Keep Pokémon Go up and running
The most important way to succeed at Pokémon Go is to keep the game running whenever you can. Open up Pokémon Go, plug in your phone, and go about your daily routine. If you keep the game up and running, you'll still be encountering Pokémon and, from March 12, 2020, until further notice, Niantic is boosting wild spawns. This means, even from your living room, you're going to see more Pokémon wherever you are.
Adventure Sync
For those times when you can't or just don't want to keep Pokémon Go running, Adventure Sync will keep track of your movement. Currently, Adventure Sync will keep track of your distance once enabled, but it will get a big update soon that promises to give in-game credit for activities done while stationary or at home, such as running on a treadmill or cleaning around the house. Currently, Adventure Sync can also work with two different fitness apps:
Apple Health can be set to sync with Adventure Sync:
Open the Apple Health app.
Tap your profile image in the right corner.
Select Apps under Privacy.
Make sure that Pokémon Go is listed as a connected application.
Before Adventure Sync, players could download the app to their Apple Watch. That's no longer an option, but your Apple Watch can still be useful because it can sync to Apple Health.
Read more about Apple Health.
(opens in new tab)
The Apple Watch Series 5 syncs seamlessly with your iPhone and Apple Health, allowing you to hatch Pokémon Eggs, earn Candies from your Buddy Pokémon, and more.
If you're using an Android device, all of your Google Fit data can be applied to Adventure Sync, as well.
Open the Google Fit app.
Open the Settings menu.
Select manage connected applications.
Make sure Pokémon Go is listed as a connected application.
There are lots of smartwatches and other devices that work well with Google Fit. Click here for some of our favorites!
Accessories?
While Pokémon Go no longer supports the Apple Watch as a solo device, there are a few accessories that work with Pokémon Go to help you keep playing without keeping the game running constantly. There are two accessories which are officially supported and one third party accessory that works as well. All three of these accessories allow you to spin PokéStops and catch Pokémon while Pokémon Go is not running. They will only use standard Poké Ball,s, and you only get one chance to catch a Pokémon before it flees, but that's better than nothing when you're unable to play because you're jogging or riding your bike.
(opens in new tab)
The first Pokémon Go accessory and the easiest to use, the Pokémon Go Plus syncs up to your phone via Bluetooth and alerts you when you encounter Pokémon and PokéStops. It can spin any PokéStop and will attempt to catch any Pokémon. The downside: it only uses regular Poké Balls and will only try once.
(opens in new tab)
The Poké Ball Plus was introduced with Pokémon: Let's Go, Pikachu! and Pokémon: Let's Go, Eevee! and has all the functionality of a Pokémon Go Plus, with added bonuses for the Pokémon games for the Nintendo Switch.
(opens in new tab)
The Pokémon Go-Tcha is a third party alternative to the Pokémon Go Plus that works in a very similar way but with one major difference: autoplay. While you need to press a button on the Pokémon Go Plus or the Poké Ball Plus to spin PokéStops and attempt to catch Pokémon, the Pokémon Go-Tcha will do it all automatically.
Use Incense to draw in nearby Pokémon
You'll find incense among the items you're given when you first start playing Pokémon Go. Incense draws nearby Pokémon to your location, so you don't have to go to them. Ah, sweet, sweet laziness.
How to activate an incense pot:
Tap the Poké Ball at the bottom of the screen.
Tap Items
Tap Incense
The incense pot will appear on your main screen. Tapping it again will activate the luring effect for a period of 30 minutes.
NOTE: The timer will continue to count down even if you leave the app, and incense does work better if you're moving at least a bit, so consider going for a walk while your incense is running. However, Niantic is also offering a bundle of 30 incense for just one PokéCoin and extending incense to last an entire hour instead of half.
Know your local PokéStops and Gyms
It really helps to know your local area. Most places have at least a couple of PokéStops or Gyms that can be reached from your car. While you're probably avoiding the mall, you can still drive to your local Starbucks and reach the PokéStop without leaving your car.
Lots of public parks also feature PokéStops and Gyms, and the fresh air will do you some good after being trapped inside for days. If you are new to your area or just don't know it well, there are a few good Map Trackers that can help you find the PokéStops and Gyms near you!
Use a Lure Module at a PokéStop.
A Lure Module is a more powerful form of incense. You use Lure Modules by heading to a PokéStop and activating them at that location. Because Lure Modules benefit all Trainers (unlike incense, which only benefits you), you can usually spread the love (and the cost) among Trainers at a PokéStop. Consider going to a local park or similar outdoor stop, or even parking your car near a stop.
How to use a Lure Module:
Visit a PokéStop by tapping it on the map.
If no Lure Module is active (you'll know there's an active Lure Module if you can see pink petals floating around the PokéStop), tap the rectangle at the top of the screen that says Empty Module slot.
Tap to add a Lure Module from your inventory.
Note: There are also special Lure Modules - Glacial, Mossy, and Magnetic - which can draw in Pokémon of specific types, as well as make it possible to evolve certain Pokémon.
You don't need to walk to hatch that egg!
If you've come across a Pokémon egg, you've likely figured out their hatching cycle is tied to the distance you walk. There are two, five, seven, and ten-kilometer eggs — move that distance, and the egg hatches. However, as with the other changes Niantic has made until further notice, all Eggs are hatching at half distance. Now is definitely the time to buys a few Incubators and hatch all those Eggs.
So, with a gigantic caveat that you should be careful with your expensive electronics, you might consider doing the following:
Hop on your bicycle and go for a slow ride (thanks to Silph Road, we know that you can't go faster than 10.5 km/h).
Is the GPS signal in your location weak? Often, leaving your game running in an area with poor GPS signal will gain you distance as the GPS drifts about.
Own a Roomba? Get one

(opens in new tab)

and attach your phone to it. Clean and hatch Pokémon eggs without moving a muscle.
You're probably getting the idea by now: As long as it doesn't move too fast, you can trick the app into adding distance on those eggs.
Note: Pokémon Go determines your movement for hatching eggs by logging your location from point A to point B and then calculating the distance. You won't be able to hatch an egg by putting your device on a record player or taping it to your ceiling fan.
Driving Miss Drowzee: Your vehicle Is the ultimate Pokémon Go hack
First thing's first: Do not Pokémon Go and drive. Not only is it dangerously distracting, it's outright illegal in most places. However, if you hop in the car with your roommate or your kid, one of you can drive while the other is catching Pokémon for you both. If you live alone, you can even just let the game run while you take a slow drive around your neighborhood. Sure, you won't catch much, but you can still hatch eggs this way.
Note: Just keep in mind not to drive too fast. Going much faster than 10 KM/H won't work.
Questions about playing Pokémon Go while Social Distancing?
Do you have any questions about our tips for safely playing Pokémon Go while Social Distancing? Have any tips of your own for your fellow Trainers? Drop us a comment below and be sure to check out our Complete Pokédex, as well as our many Pokémon Go Guides, so you too can become a Pokémon Master!
Get the best of iMore in your inbox, every day!
Mikah Sargent is Senior Editor at Mobile Nations. When he's not bothering his chihuahuas, Mikah spends entirely too much time and money on HomeKit products. You can follow him on Twitter at @mikahsargent if you're so inclined.
6. Forklift driving. Combine work and pokemon in newfound laziness and use your forklift to get from one pokemon to the next.
Caught a bunch this way!

haha. After getting laid off from offshore i became a porter temporarily for a dealership. I have caught SO many freaking pokemon. Think ima stay at this job just a wee bit longer just to play this game.

I work at a Caterpillar dealer and we have a huge yard and I hope that I am as lucky tomorrow.

Gonna catch a Caterpie with a Caterpillar?

I have a salad spinner if I put my phone in there and slowly spin it would that work

I took the bus this morning and in the fifteen minutes it took to get to work I caught 5 Pokémon. You can hit the pokestops too if you're quick.

The bus is a great way to do it

another way of getting the 10 kilometers needed for some of the eggs is if u have a dog/cat u can place ur device on its back if it wears pet clothes and let it do the walking for u lol

If your a farmer like me just get in the swather, cut your hay while playing Pokémon go and done Sent from the iMore App

I work in Security and half of my night I am driving around a nature preserve in a golf cart. In my first 30 minute round I caught 5 Pokemon! I am supposed to be "investigating" the safety of this app on our property because there are two pokestops on it. This is going to be great to get paid to go after Pokemon lol!

That is great! Make sure when you're around your boss you say things like you don't play. "Darn kids, I just don't understand it, but it's perfectly fine and safe." Then they'll never suspect you're playing on their time....lol

Just pulled 5 different ones in my backyard, just by walking the same round over and over again

Wanna get me a beer while u'r at it ?

Dude, seriously?? Attach it to a FAN??? *LOL*

Actually attaching it to a ceiling fan does work. I was moving out of my old apartment so didn't get out much while packing. This earned .5/km hour and I didn't have to worry about my phone going CRUNCH. The key: really good rubberbands.

Mikah your reviews are so simplistic its absurd that they would be published by anyone. A 5 year old could give a better tutorial than all of your reviews combined. I've read the 3 that you have published here and I gather that you have no interest in the game and have no clue what you are doing. The next time your desk gives you an assignment that you can not handle - please do us all a favor and simply tell them that you are incapable of doing so and save us the grief of reading your elementary reviews.

"Attach your phone to a Lazy Susan (bonus points for the name) and give it a light spin every once in awhile." That's not an accomplishment, anyone with a brain knows it's called a Lazy Susan. No bonus points for you.

I think it's because the article is about playing the game while being lazy and the name includes lazy in it, hence "bonus points for the name".

Yep, @invader05 hit the nail on the head, @EPJS. Bonus points to you for using a Lazy Susan in the spirit of the article.

That last tip is COMPLETELY wrong. Hatching eggs is not based on movement. It's distance traveled based on GPS location. Sent from the iMore App

It is on both thou, I'm home unable to to move out so I hatched several eggs just by moving from the living room to the bedroom and my place is not that big. So yes you can try those tricks.

Good read. Thanks for the amusing tips.

don't forget the screen need to be one ..... i have a little bag for my dog and he walks all day around the house..... all eggs hatched.... nice but no 10 km one yet.. what did you guys get at the 10 km egg?

I hatched an Aerodactyl once, I was so happy!

I'm using the plate in the microwave to spin it of course never turn on the microwave with your phone inside, just saying I already saw some people who try that and decided to turn it on and not a good thing for the phone nor for the phone.

I know I am a little late to the discussion, but I have taken my Pokemon eggs out with me while using the riding mower.
Grass gets cut, I get closer to a hatching egg. Win / Win for both of the lawn & my game.
Other nights I put out the incense & walk for half an hour while it goes to work.
The state fair is a month from now & I am trying to not tire out as fast as I usually do out there walking around.
So it's also more training for me & hatching the eggs.

If you all know DanTDM tell him he can play Pokemon Go and not move everywhere :D. It's only becuase i cant comment on videos on youtube.