Comic: Blue Screen Dearest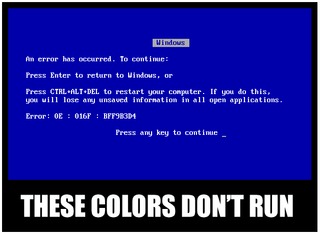 Happy Saturday, iMore! Because Rich is awesome, he's letting us run some of his Mac-themed comics from the Diesel Sweeties archive on weekends. Bonus comics, woo! We hope you enjoy.
Read more comics from the Pixel Project on iMore.com.
Get the best of iMore in your inbox, every day!
Pixel lover and cartoonist. Still have my original Apple IIgs. See more at clango.org or follow him on Twitter @rstevens.
One of my first online jobs was helping moderate the CompuServe help forums the day Windows 95 launched. That BSOD should be on my wall :)

"These colors don't run" Can I print this and hang it up? I want it framed in a place of honor. The battle cry of my brethren. #RealPCMasterRace Posted from the amazing whatever device I can afford because I'm a broke college kid.

As far as I'm concerned, I love it when people print a copy for personal use.

Ah the days of Windows 2000 at work. I actually wrote a program that displayed a fake BSOD that you couldn't get out of. It was set up on a 90 second timer which gave me plenty of time to deploy it on my co-worker's PC, execute it, and leave them to it. Ah those were the days!