Comic: Day one with my Apple Watch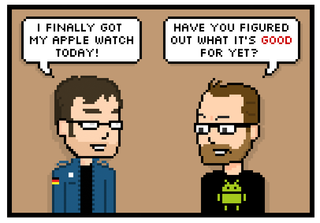 Ed: Welcome to this week's edition of The Pixel Project: a weekly comic from Diesel Sweeties' Rich Stevens on Apple, technology, and everything in-between. Today: Day One With Apple Watch
Read more comics from the Pixel Project on iMore.com.
Get more iMore in your inbox!
Our news, reviews, opinions, and easy to follow guides can turn any iPhone owner into an Apple aficionado
Pixel lover and cartoonist. Still have my original Apple IIgs. See more at clango.org or follow him on Twitter @rstevens.
Total BS. No way that box survives more than 3 seconds in Rich's hand. :p

Haha! This comic is too good. I got my stainless steel yesterday and haven't give into temptation...yet. I ordered too many because I wanted the first chance but I'll actually be keeping my Sport and milanese loop that comes Thursday :D

It was a long, twenty minute ride home from the UPS center yesterday.

You got your watch too late. Did not stay awake for the pre order?

Serious questions guys/gals. Do you think the watch is worth the $200 extra than the sport because I am planning on getting either the black sport or watch with black sport band. I know all the differences between the two, but I would like input from people who have used/own both. I don't mind dropping the extra 200, I just want to make sure it is worth it, especially with a first gen product.

Is the improvement from ionx to sapphire worth it to you? The aluminum/stainless steel difference doesn't matter very much. Posted via the iMore App for Android

You're going to get a variety of answers on this. My two cents is that it isn't worth getting any first gen Apple watch given that 1. it's 'must have' use case is still yet to be determined and 2. Apple has a track record of really nailing their second gen iterations of their products, fixing the issues of the first gen. I'd say that unless you just must have an Apple Watch now, wait for the 2nd gen which will likely be drastically improved.

I've had my stainless steal watch since April 24th, Ive seen some pretty bad scratches on the aluminum and glass sport. However I'm an engineer and even tho my watch has been blasted with wood chips, metal shards and plenty of sparks it's yet to have a scratch on its screen, steel case looks pretty good to nothing I can't remove. Sent from the iMore App

I think you shall wait for the 2nd Gen Apple Watch because every company makes some mistakes in it's 1st gen products. And then they launch the 2nd Gen version which has improvements and fixes. Also, it's just 3 months and new Watch will be released, so if you buy the 1st gen now, you will be sad for not waiting just three months for a new improved model. Hope you will think on it.

Two friends of mine have Apple watches. We went to Starbucks and one of them was excited to pay with his watch (not for the first time mind you - it's just still that exciting for him). I was in front of him, ordered, paid with my phone, stepped out of the way and enjoyed the show. The baristas were enthralled as he pulled out his watch with a "check this out" and then completely failed somehow to launch the Starbucks app. He fumbled around on the tiny screen trying to find it, launch it and finally pay in only five times longer than it took me to pay with my phone. Granted that doesn't happen every time but it was hilarious to watch him hold up the line (with several eye rolls from the people behind him) using his expensive, fancy, super efficient, second coming of technology that was slower than the guy paying with a bag of nickels. Four hundred bucks well spent!

i see where that would be a problem using the starbucks app to pay instead of just using apple pay. because the double tap the button and hold wrist out is nice but i do not have any experience with the starbucks app itself

Hahahaha. A tip for your friend: Their Starbucks card is also available in Passbook. A little bit easier to find! :)

Do you earn "stars" using Apple Pay? If so I might have to nudge him in that direction.

Yeah, to be fair, Apple Pay on the watch works great, but Passbook only so-so.

I usually have it ready once I am next in line. I like seeing peoples face when I use my watch. They are like...what just happened.