Comic: Jed1 Usernam3s and Pa$$words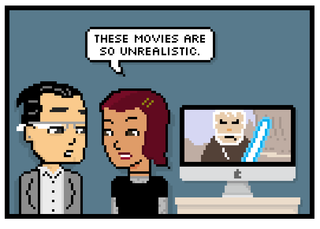 Happy Saturday, iMore! Because Rich is awesome, he's letting us run some of his Mac-themed comics from the Diesel Sweeties archive on weekends. Bonus comics, woo! We hope you enjoy.
Read more comics from the Pixel Project on iMore.com.
Get the best of iMore in in your inbox, every day!
Pixel lover and cartoonist. Still have my original Apple IIgs. See more at clango.org or follow him on Twitter @rstevens.
And these should be funny? Sent from the iMore App

I have a theory that they are all building onto something and eventually a punch line will come Sent from the iMore App

lol reminds of my gf asking unrelated questions about the movie

Why is this a thing? Sent from the iMore App

I have yet to laugh at a single one of these.

I'm glad to know I'm not the only one who finds these not funny at all. Why are they still even posting these?

There are some in the iMore community that find these comics amusing.

Who could possibly find these funny?

I'm glad it's not just me. I kind of assumed I wasn't geeky enough to understand the humour.

Is it really that hard to understand? "I'm da Blur boys!" - Me with 1200 ping. Fiber in Nashville? Save me based Google.
Thank you for signing up to iMore. You will receive a verification email shortly.
There was a problem. Please refresh the page and try again.