Comic: Sweet, Delicious Tabs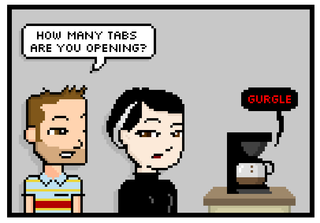 Happy Saturday, iMore! Because Rich is awesome, he's letting us run some of his Mac-themed comics from the Diesel Sweeties archive on weekends. Bonus comics, woo! We hope you enjoy.
Read more comics from the Pixel Project on iMore.com.
Get the best of iMore in in your inbox, every day!
Pixel lover and cartoonist. Still have my original Apple IIgs. See more at clango.org or follow him on Twitter @rstevens.
Lol i actually get this one! Soo funny, its because...... No, wait.. I lost it. Sent from the iMore App

Lol now that comment is funny! Posted via the iMore App for Android

What? Ha ha What? Sent from the iMore App

God I didn't think it was possible for these to get worse... I was, wrong.

What the f u ck did I just read? Posted from my Nexus 6P

I don't get this at all. Who is this guy that does these? Does he know they aren't funny.

I currently have 27 tabs open in Safari. But I can't relate to coffee... :( Sent from the iMore App

Aaah, I think I got it... Sent from the iMore App

I usually like these, it's like reading Dagwood and Blondie in Sunday morning comics.....but this one I am still clueless....care to explain? lol

Sorry, I forgot already! :D Sent from the iMore App

I like the subtlety of the comics, take a while to brew in your mind, just like coffee.

The real funny part is that iMore published this... Now that part made me laugh.
Thank you for signing up to iMore. You will receive a verification email shortly.
There was a problem. Please refresh the page and try again.