So what if the AirPods Pro were just announced just weeks ago! In-ear headphones just don't work for everybody, including this writer right here. If you can relate, you'll be glad to know that the new product announcement came with a slight price drop on the latest Apple AirPods with Wireless Charging Case (otherwise known as the AirPods 2). Apple sells these wireless earbuds in its store for $199, but you can snag a pair right now for only $154.99 at Amazon while supplies last. That's the best price we've ever seen these earbuds reach, and there's no telling whether it will last for long or not.
Amazon also offers a discount on the AirPods with Charging Case, which is available for just $134 currently. This version is still the upgraded 'AirPods 2' model, simply with a case that doesn't have the capability to wirelessly charge.
Bluetooth Buds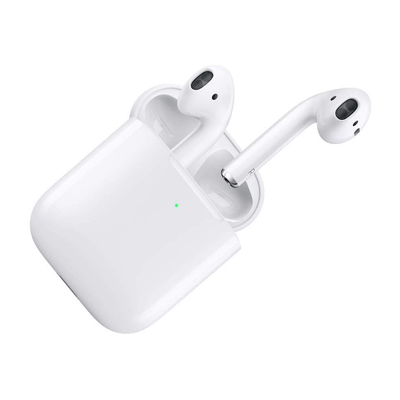 Apple AirPods with Wireless Charging Case
Amazon is the best place to go for discounts on Apple's latest devices, and thanks to the recent unveiling of the AirPods Pro, the latest AirPods with Wireless Charging Case are now down to one of their best prices in history!
$154.99 $199.00 $44 off
The updated AirPods include an all-new Apple-designed H1 chip for more efficient performance, faster connection times, and better battery life. You can use hands-free Siri to control music playback, make calls, and ask pretty much anything else that Siri can handle. AirPods are great. Most of Team Thrifter (myself included) have them and use them every day.
The wireless charging is really convenient too — you can simply place the case on any Qi charger and have them powered back up without having to hunt down a cable. If you still have yet to add a wireless charger to your home, this guide on best wireless charging pads can help you find one worth your cash.
If you already have the original AirPods and just want to add wireless charging capabilities, the new Wireless Charging Case is also discounted — down to $69 from $79. Don't forget to grab some protection for the case the AirPods sit in, too.
Amazon offers free shipping on Apple's AirPods, though you'd receive your order even faster with Amazon Prime which offers free two-day shipping on thousands of items. Start a free 30-day trial today if you haven't tried it out already to score faster shipping, Prime Video access, exclusive members-only discounts, and more.
We may earn a commission for purchases using our links. Learn more.