Make your iPad look like a vintage Mac with Padintosh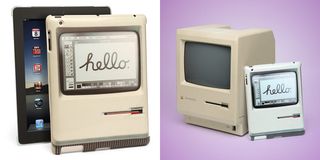 Padintosh is an iPad case that looks like an original Macintosh. I'll let all that geek awesome sink in for a just a moment... Ready for more? Okay: It works with both the iPad 2 and the new iPad, is compatible with Smart Covers, and the hard casing is both slim and protective. Oh, you meant about the awesome vintage Mac style? Here's what Think Geek has to say:
If you want to push your Apple geek cred way past 11, check out the Padintosh and indeed, party like it's 1984!
$24.99 -
Buy now
Get the best of iMore in in your inbox, every day!
Senior Editor at iMore and a practicing therapist specializing in stress and anxiety. She speaks everywhere from conferences to corporations, co-host of Vector and Isometric podcasts, follow her on Twitter @Georgia_Dow and check out her series at anxiety-videos.com.
Georgia, the link doesn't work for me.... Anyone else try? Edit: found it on thinkgeek.com.

Holy crap that's awesome.
Thank you for signing up to iMore. You will receive a verification email shortly.
There was a problem. Please refresh the page and try again.