AirPlay, VoiceOver coming with Apple TV 4.2 update today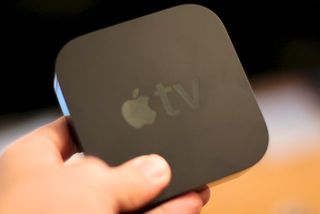 As we reported earlier, Apple has announced that sometime today we will finally see the much anticipated iOS 4.2 update for iPhone, iPod touch and iPad and what's more -- Apple TV should be getting 4.2 today as well.
What everyone is anticipating is the use of AirPlay, which was probably a big selling point for most buyers of the new Apple TV. Now any iOS 4.2 equipped device will be able to send videos, audio, and photos to their big TV screen.
VoiceOver is also making its way to Apple TV with this update and can be turned on in the accessibility menu. This new feature will read menu items to users and can also read information like episode/movie descriptions to users as well.
Keep an eye out for Apple TV 4.2 today while you are anxiously awaiting iOS 4.2 for your other devices. Let us know when you see it and how AirPlay and VoiceOver are working out for you in the comments section below. And if you need help or just want to chat, head on over to our Apple TV Forum!
[ MacWorld ]
Get more iMore in your inbox!
Our news, reviews, opinions, and easy to follow guides can turn any iPhone owner into an Apple aficionado
Still pissed off the "old" AppleTV gets no updates. They where selling it right down to the last day without telling anyone a new one was coming out. The "old" hardware is 1000 times better and more capable then this hacked down version yet it gets none of the new features.

iOS 4.1 (8M89) for AppleTV2,1 came out on September 27, 2010.

Does it still just play iTunes video? For example, can you send something from Hulu Plus or ABC Player apps to your TV via Apple TV?
If not, I'm still not spending the Benji on the Apple TV.

Typo guys, it should be 4.2. No big deal...

The weird thing is my about page on my AppleTV says 4.1 even though I updated and got Airplay video...

Works great!
For me also it still says 4.1, although I have Airplay and it works great! Also I would say everything seems a little smoother, accessing my iTunes library on my desktop is definitely faster and smoother.
Awesome!

Has anyone tried the VoiceOver feature? If anyone has the Second Gen Apple TV and would be willing to even do a YouTube vid of VoiceOver I'd love it. I'm totally blind and use VO on all the other devices and would like to see this thing in action. Currently own a first gen Apple TV and use the Remote app on my iPhone to control the Apple TV. Wondering if it'd be worth it to get the second Gen one.

Hi MV,
I am also a VoiceOver user.
See my post about my first impressions about the Apple TV 2nd generation on my blog at: http://outofthedarkness.vipbc.org/2010/11/23/apple-tv-a-look-at-where-we... .
There is also a short Youtube demo that was posted by Mac World. I mention it in my article.
Regards,
Alex,

So is 4.1 the latest or 4.2. Mine updated to 4.1 yesterday and works with airplay but only for iTunes videos, YouTube. Other apps like vevo and hOme movies don't Play.