Apple pushes Apple TV 4.4.3 software update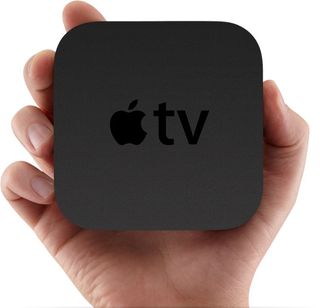 Apple has just released software update 4.4.3 for the Apple TV 2. The update carries a new build number (9A4051) following the last update that hit in October.
Details of the update include added support for Netflix in Mexico as well as addressing an audio problem when playing sound through the optical port when your television set is turned off. The Apple TV Software Update 4.4.3 is available now through the 'Update Software' option under General Settings.
(And yes, they're still referring to iOS Software 5.x as Apple TV version 4.x -- can we unif
Get the best of iMore in your inbox, every day!
Andrew Wray is a Salt Lake City, Utah based writer who focuses on news, how-tos, and jailbreak. Andrew also enjoys running, spending time with his daughter, and jamming out on his guitar. He works in a management position for Unisys Technical Services, a subsidiary of Unisys Corporation.
Build number 9A405l (AppleTV2,14.4.39A405l_Restore.ipsw). L as in Lima.

Download it from here
http://www.cellbull.com/apple-releases-4-4-3-software-update-for-apple-tv/

Doesn't sound worth the trouble of downloading.

begin to access netflix in brazil! good

begin to access netflix in brazil! good

I'd be happy if they fixed the Crap hardware instead of useless updates been through three of them in a year. And before you start crying user error its used like once a week and only for netflix same issue everytime it just stops responding and can't connect it via usb to a pc or mac to try and reinstall the OS and it fails. Boo!!!

When can we view our purchased movies on the Apple TV? So far, TV shows and music from the iCloud.

Rare dud? I've had three and have read a number of people having this issue, local apple store has seen it a good number of times they admited they see them coming back a lot. It's the same repeat issue with no reason as to why. One I can chalk it up to a dud two is pushing it three is not rare. First one came from bestbuy other two apple directly.

we have 2 appletv 2's and they've worked perfectly. The only glitch is sometimes I have to close and re open my iTunes. But thats only like once in a while and they get pretty heavy daily usage.

I have two apple tv's and haven't had trouble with either one of them . I don't believe apple makes an inferior product and perhaps you support Roku or Boxee etc... Apple tv has been a quality purchase for myself and my family and we use them everyday.

Maybe it's your network. I've never had a problem with mine

Il est ou le iOs 5 tabarnak???? Je veux mon MKV et 1080P!!!!!!!

Check this out iphone users : http://j.mp/sfdG9K

so theres really no noticeable changes in this update right?

If you want to see Hulu or other content such as apps etc... added to apple tv let them know about it!
http://www.apple.com/feedback/appletv.html

This is without a doubt a great addition to the apple family.TV software is indeed the next big thin in the world of entertainment.

The smart-cover idea was relaly quite cool it's more of a screen protector than a cover, and it doesn't bulk up the iPad's thickness like regular cases do.

Normally I don't read article on blogs, but I wish to say that this write-up very forced me to take a look at and do it! Your writing style has been surprised me. Thank you, quite great article.