Want to run Windows 10 on your Mac? Rejoice, Boot Camp 6 is here!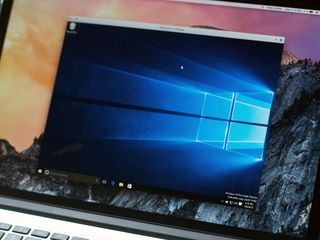 Apple's Boot Camp—the utility that allows for dual-booting on a Mac—now supports Windows 10. The support requires Boot Camp 6 on OS X Yosemite and a Mac from 2012 or later, and allows for drivers to be updated via Apple Software Update or the Boot Camp Assistant.
Boot Camp 6 makes the following Mac features available to Windows 10:
USB 3
USB-C on the MacBook (Retina, 12-inch, Early 2015)
Thunderbolt
built-in SD or SDXC card slot
built-in or USB Apple SuperDrive
your Apple keyboard, trackpad, and mouse
As always, to use Windows 10 in Boot Camp, you'll need a valid license from Microsoft and a copy of Windows 10 in ISO format. (You can use Disk Utility to make one from a DVD or USB drive.)
If you're unfamiliar with the aforementioned process, we've got you covered with a neat guide to get you started.
Apple has also provided technical support information on Apple.com (opens in new tab)
Get the best of iMore in your inbox, every day!
So you can't install Windows 10 right now on macs? How was I able to run the beta then? Sent from the iMore App

I think they are just updating the drivers. I have a full version of 10 already on my MBP and it seems to run just fine.

yes, you can. But this are new drivers and for the first time is fully supported by apple. Before you was able to but with win 8.1 drivers

You probably did an upgrade from Windows 7 or Windows 8. Bootcamp wouldn't allow you to do a clean install of Windows 10 without installing Win7 or Win8 first. As always, there are ways around it though.

No I installed a clean version of Windows 10 using an iso file. Sent from the iMore App

How to install windows 10 on Mac? Can I have both softwares in the same time? Sent from the iMore App

Yes, you can... and you can do it following this steps: http://www.windowscentral.com/how-install-windows-10-macbook
PS. they put the link in their post, next time you can read better and find it yourself

You can run Parallels, I use it to run OS X and Windows at the same time, Windows 10 in a VM within OS X. Works well.

No it doesn't. You have to choose one or the other now that Windows 10 has gone Gold as it can only be activated on one CPU. The VM makes it look like different hardware.

I meant with both activation. Thought that was kind of obvious. I also meant how I use it just in Parallels with OS X, so both are running at the same time. I don't use bootcamp.

I already managed to install Windows 10 on my MacBook Pro. Can I just install the updated drivers and have it work as Apple says? I really want to try out the new trackpad features and see if they work.

Note that for the moment at least dual booting Bootcamp with a VM (like Parallels) to the same install doesn't work. Windows cannot be activated in both places. Very annoying and hopefully temporary.

I'm currently using the trial version of Parallels and installed the release version of Windows 10. I purchased a license and it activated without issue. Is there any advantage to using Boot Camp instead?

It will always be better to use a system as native instead a virtual machine. I recommend you a lot to install it as boot camp partition instead VM

If you do that and then try to run W10 in Parallels though, you won't be able to activate the W10 while it runs in Parallels. You used to be able to but not any more.

I'm running Windows 10 in Parallels -- it took my Product ID number and activated...

And how about in Bootcamp? Does it activate there too?

Yeah it activates in both, if you get stuck call in and they'll do it manually.

Because one is native, the other virtual?! Look it up by google'ing it maybe. A quick answer is that a native installation has the opportunity to use the whole machine's hardware exclusively, while a virtual one requires two operating systems to run at the same time and share the hardware capabilities, thus not performing as well, compared to something running exclusively its own hardware. Both solutions have viable reasons for their existence, but there is a reason for both to exist. Some applications aren't that resource hungry, but only run on one operating system, thus it makes for a good usage scenario in a virtual machine, while other apps or games are more/very resource hungry, thus better suited on a native machine running a native operating system.
Was that a good enough explanation? :)

I'd like iMore to do a guide specifically on upgrading to windows 10 for free, with Boot Camp, from windows 8, etc. I know there's a guide linked, but it seems like there's probably some gotchas in the process, like, your windows 8 key, I assume, won't work for 10, after downloading the ISO in that guide. Just outlining the steps one would see after following the prompts within the windows side to upgrade to 10, and what to be aware of if doing this in a Boot Camp partition.

When is the update available in the UK?

I have updated to OSX 10.10.5, but my Boot Camp still says version 5.1.4. How do I get Boot Camp version 6.

Yes mine is the same,but I get an error saying boot camp does not support this operating system,but windows 10 seems to run OK ???
Mine also is 10.10.5 5.1.4.

Yuck no thanks. Windows 10 is awful.