Apple TV magically appears on Amazon's best-selling gadget list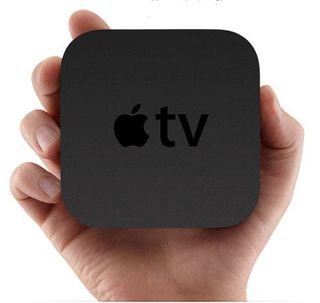 Apple TV is currently ranked in the number 12 position on Amazon's best-selling gadget list. What makes this so interesting is that Apple TV wasn't even listed at all until now, despite its sales numbers. When that was discovered and began to be questioned on several prominent online sites, the Apple TV magically showed up. (Amazon has yet to respond to questions on why Apple TV was originally excluded from their list.)
Also an interesting bit is that the competing Roku XDS and Boxee Box are also on the list, though below Apple TV's position.
Given that the Apple TV has only been out for a very short period of time and has managed to beat out 88 other gadgets on Amazon's Top 100 devices list, does this bode well for Apple TV and its owners?
[Yahoo! Finance ]
Get more iMore in your inbox!
Our news, reviews, opinions, and easy to follow guides can turn any iPhone owner into an Apple aficionado
I think what Amazon Does is take in the sales for each week and then update there list. So even if the item hasn't been on there top 100, if a new product sells great for that week then it just above what ever item it sold more then in that week. So for it to just appear on the list makes sense because its another Apple product which sell just because of that and its only $100. So now not just all the Apple freaks like me go and buy it, new people go and buy it because of the price. I got my new Apple TV on the 29th of Oct which was my birthday and I have used it everyday since then and will continue. Main thing I like about it is I watch Movies/Shows that I have on my iMac right on my TV with no wires and there is no lag at all. Second would be because its so small I can bring it will me everywhere I go. I even called apple and purchase 2nd Power Cord and HDMI wire so I didn't have to squeeze behind TV every time I bring it with me. Then the fact that I no longer have to leave my house to rent the newest movies because there right there. I don't pay to rent a show because I think thats a little waste of money but still a great feature for people who miss there shows and don't have time to wait around for the next time it comes on TV. Bottom line the Apple TV is insane and if they come out with a wireless controller and let you play Apps on it will blow my mind and probably be the next biggest thing Apple can do.

I think there's interesting timing here, considering Apple's mystery iTunes announcement tomorrow. I bet they've done this so Apple can say how well Apple TV is selling, thus positioning themselves to push Apple TV forward with new content streaming for the TV. We'll see.

Exactly John. It's not a cumulative sales ranking, just ranking of sales for a defined period.

@ John - ..."if they come out with a wireless controller and let you play Apps on it will blow my mind and probably be the next biggest thing Apple can do"...
Kind of off-topic, but yeah, maybe that's what Apple will announce tomorrow. Apps on Apple TV and some new way of controlling them remotely.

@ EricSchmidt - Most likely, sales are starting to ramp up due to the approach of the holiday season. The day after Halloween has replaced the day after Thanksgiving as the new "Black Friday."
Good luck with Google TV, brother.

Apple tv is definately a must have for anyone with iTunes.

I wasn't too excited for Apple TV initially but I'm convinced now with AirPlay coming soon! I'm getting an Apple TV for my upcoming birthday! Can't wait!

Sorry Sock, but I'm a Roku type.