Apple TV 6.2 update released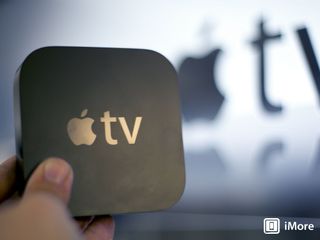 Apple has released yet another update today, this one for the Apple TV. This update is Apple TV software version 6.2, and appears to contain no major changes at this time. It is likely a release focused on fixing bugs.
If you've set your Apple TV to download software updates automatically, the update will come eventually. If you want to download manually, on your Apple TV, go to Settings > General > Software Updates and select Update Software. You can view the contents of this update over on Apple's Apple TV software updates information page (opens in new tab).
Have you noticed any changes with this Apple TV update? Let us know below in the comments.
Source: Apple (opens in new tab)
Get the best of iMore in your inbox, every day!
Joseph Keller is the former Editor in Chief of iMore. An Apple user for almost 20 years, he spends his time learning the ins and outs of iOS and macOS, always finding ways of getting the most out of his iPhone, iPad, Apple Watch, and Mac.
Nothing I can see; still got the reflective apple logo rather than the ios7 flat one on boot up, which was not encouraging... Sent from the iMore App

So in essence, whether you own an Apple TV or not, keep calm and carry on. Sent from the iMore App

Or, should you do not feel calm or able to carry on, an Apple TV, nor it's update, will not improve the situation. Sent from the iMore App

So the update doesn't hang on Apple TV like it did on various iPhone models today?

Not on mine - but as with other ios devices, it may not be always consistent Sent from the iMore App

Mine was bricked; tried the restore procedure three times with the same result... Surely Apple quality :-(

We have a 2nd Gen and I thought it might be bricked too... I restored it thru iTunes.. and still doesn't work on the tv... did everything but no luck... I have found however, that it does work on my computer monitor!... but still doesn't work on the Samsung TV. I'm hoping they'll fix that on the next update

Seems to me they have REMOVED the config option to use Airport Speakers for audio output from the ATV...?? I have been on the phone with Apple today, troubleshooting this option (not reliable)..maybe I should be happy..but I'm not. Never knew them to pull an option in an upgrade...anybody know how to downgrade to 6.1.1?

For a couple weeks I was having AppleTV issues while streaming Netflix. Would randomly lose connection to the internet (or to Netflix). Tried rebooting modem, router and AppleTV but it didn't fix the issue (iPads and computers were not having internet problems, though). Thought it was related to Netflix because it started happening right after they changed their logo/icon from red with white lettering to white with red lettering, and was wondering if they had other update issues going on at the same time. Then Saturday it happened yet again. But I was AirPlaying a personal video from my iPad to the AppleTV, and I had the same problem. So I did a restore of the AppleTV (which uploaded any new updates in the process). After that was done, no more problems losing connections.

I was having problem using Airplay to beam movies stored on my hard drive from either the iPad or the 2010 Macbook pro to my Apple TV. The movies would appear to be loading but would neither play nor return an error message. Today's update fixed the problem. Good job Apple..

At first I thought the Apple TV update I did yesterday messed up my iTunes server setup. But I should have guessed it was Windblows doing it's usual BS. UGH! After rebooting no less than three times, Windows finally decided it would go ahead and connect to my hard-wired network with static IP addresses. God is Windblows DUMB!!! I've done everything to get it to work reliably, but cräp is just cräp. I wish all my hardware and software was Apple! Not that they're perfect--far from it. But I am SO SICK of Microsoft's pathetic excuse for an operating system. UGH!!!!!!!!! I wish Microsoft would just die. Die Microsoft, DIE!!!

Movie Recently Purchased Section is broken and only shows all movies, after a long delay.

Not if I have imaged this, but airplay seems to take for ever to get started now. Going from iPad to TV takes what seems like for ever to start. A bit frustrating. Anyone else noticed this?