Apple TV update adds HBO Go, WatchESPN, and more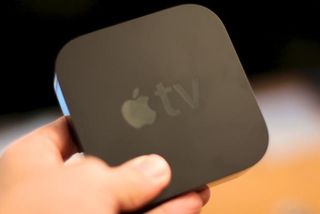 The Apple TV has been updated with access to five new content services, including premium cable broadcaster HBO, sports content from ESPN, Britain's Sky News service, concert film and music documentary service Qello and anime service Crunchyroll.
Qello and CrunchyRoll are both subscription-based services, though they have free trials available. HBO Go and WatchESPN both require users to activate their Apple TV by verifying their cable TV accounts (you'll need a supported service provider).
WatchESPN allows you to watch recorded ESPN content, as well as live broadcasts from ESPN, ESPN2, ESPN3, and ESPNU. Sky News offers a 24-hour live news broadcasts along with archived and featured content.
Apple has reportedly been talking to cable providers for some time about adding more live content to the Apple TV, and the addition of ESPN and Sky News is another big push in that direction. Up to now, Apple TV users have had to make do with live content only from the Wall Street Journal Live app and Apple's own Events app, which has streamed Apple's last two major public events live.
To access all of this new content, update your Apple TV by going to Settings > General > Update Software.
Get the best of iMore in in your inbox, every day!
Joseph Keller is the former Editor in Chief of iMore. An Apple user for almost 20 years, he spends his time learning the ins and outs of iOS and macOS, always finding ways of getting the most out of his iPhone, iPad, Apple Watch, and Mac.
Any way to get this content for those who "cut the cable"? ESPN is the one I really want.

No -- these require a subscription from an "affiliated provider." For ESPN, that list is currently
- AT&T U-Verse
- Bright House Networks
- Charter
- Comcast XFINITY
- Cox
- Midcontinent Communications
- Optimum
- Time Warner Cable http://espn.go.com/watchespn/affList?device=videosub I am sure ESPN (and HBO, for that matter) would love to sell to you directly, but you are not their biggest customer -- the cablecos are, and they cannot afford to bite those hands just yet.

I agree! In my opinion the providers who also offer internet should build in some sort of agreement to offer these channels/apps. There is no reason I should need cable to watch these. And if I had cable, I would watch these via my cable box! While I do not agree that you need to pay for cable to watch these, it is GREAT to see Apple opening up to more options. Now let's get some more options for the cord cutters. We need more people to join the movement and stand up to the obscene cable costs!

both sides have to agree to an agreement. you can't "build it in" unilaterally.

That was my first thought as well. I wanna cut cable this summer but will I need it still to watch ESPN. Caught in the vacuum it seems. Sent from the iMore App

I cut cable almost 6 months ago and so far do not miss it. We have AppleTV and Roku (2 of each) and have found that most of the things we watch, we use AppleTV and either Huku or Netflix. We also use Amazon on the Roku and Plex as our entire DVD collection is digital. I went from paying the evil TWC $200 a month for TV, Internet and Phone to paying $44/month for internet and I use Ooma for my phone and pay $4.32/month. Now I will say I am not sure what I am going to do when college football season gets here! That is the only sport I really care about and I will not be able to watch. Guess I will be heading to the local watering hole!

I cut the cable a few months ago. I was told by a Cox representative that, since I have a certain level of internet through them, that I qualified for ESPN. I have not tried it out yet, but I will be trying it soon.

I jailbroke my Apple TV which has made it even better, but now I want to be able to use the HBOGo and WatchEspn on it.

Does "verify cable account" insinuate that directv subscribers won't be able to get HBOGo? I know I already can't watch ESPN3, so I am almost certain I won't be able to gt it on my aTV either.

HBOGo shouldn't be a problem for you if you already subscribe to HBO and you are correct about WatchESPN not working for you.

Not totally true. Can't add HBOGonto Roku if you're a directv subscriber. I've tried.

When I try to add my HBO Go to my Apple TV, it tells me to activate it on HBO's site, but there is no option to select Direct TV on there list of providers. Anyone else seeing that?

HBO Go app won't be available to DirecTV or Charter subscribers, and the ESPN app won't be available to Dish or DirecTV subs.

Are you talking about the AppleTV HBO Go app, or HBO Go apps in general? I have Charter Business, and the HBO Go apps work perfectly fine with my Roku, iPhone and iPad.

My girlfriend is a Direct TV subscriber: I just updated her Apple TV and I was able to sign into her HBO Go account no problem. Thank you, Direct TV!

Come on man, you can do better

Crunchyroll isn't a free trial, it just has a premium version that allows HD streaming and no commercials.
Thank you for signing up to iMore. You will receive a verification email shortly.
There was a problem. Please refresh the page and try again.