ESPN holds 'preliminary talks' over web-based TV, a star in Apple TV's future?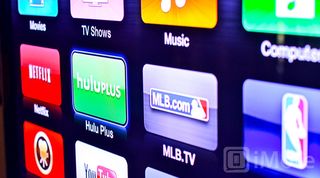 In a world where television is still tightly controlled by the cable providers, the news that ESPN is considering a future in web-based TV is both positive and exciting. The Disney owned sports network has reportedly been holding 'preliminary talks' to take their entire offering online according to Bloomberg:
Talk of web-based TV immediately points us towards the Apple TV, of course. Currently, Apple TV owners in the U.S. have access to WatchESPN, but that requires authentication of a cable subscription. If this came to pass it would in effect be the cable subscription. ESPN declined to comment which providers they had been in talks with, so we can only hope that Apple was one of them.
There's a whole heap of red tape and financial hurdles to overcome before anything could ever happen, but ESPN is setting a fine example in exploring a future outside the cable world. So, the biggest question is; would you subscribe to a full ESPN offering through your Apple TV if it didn't require a cable subscription anymore?
Source: Bloomberg
Get the best of iMore in in your inbox, every day!
No, because MLB Network is the only channel worth paying for. Unfortunately, they have a Sunday night game that is blacked out on MLB.TV.

I wanted to clarify that ESPN is the one with the exclusive Sunday night game.

Absolutely Sent from the iMore App

Yes 100 percent. Sent from the iMore App

If the monthly rate was reasonable (not something ridiculous like $40/mo just for ESPN), then absolutely.

Absolutely! I would love for all of the networks to offer a la carte options, for web-based TV. I would get just the channels I care about by purchasing a subscription to the network: Viacom, Disney, ABC, CBS, NBC and FOX. Hell, that's the majority of TV, anyway. Unfortunately, I would still have to pay Comcast to supply me with internet - that's really the ONE tie that I would like to sever!

...and doesn't Comcast own CBS now, too? So maybe I'm stuck with them forever - ARGH!!

YES YES YES. I doubt I would specifically subscribe to any other networks, but ESPN would be almost automatic barring an outrageous price point. I would actually buy an Apple TV today if they announced an agreement with ESPN for all their content.

I've read that ESPN gets the most money out of the standard cable channels. I've heard that's about $5 per subscriber. So, yes, I'd pay $5 for ESPN and ESPN2. Maybe offer ESPN U and ESPN News in an $8 package. The potentially scary part of this is the mention of a provider would have to offer a similar package of channels as what traditional cable tv does. I'm hoping that would mean an Apple TV has options for ESPN, HBO, USA, CNN, HGTV, etc. I would be on board if I could pay $5 per month for ESPN and $5 per month for my regional sports channel. That with Hulu Plus and my antenna gives me a nice TV experience for $18 per month instead of the $50 that Comcast used to charge me. If ESPN means they want people to subscribe to 50 channels for $50 per month, then I'm not interested.
Thank you for signing up to iMore. You will receive a verification email shortly.
There was a problem. Please refresh the page and try again.