Google Chrome for Mac to add extra authentication to your saved passwords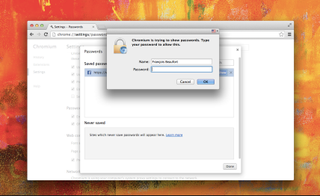 Remember a few months ago when the Internet went crazy over Google Chrome keeping your saved passwords in plain text? Our advice, like that of many, was to use a third-party app like 1Password instead, but Google now at least is doing something about it. As described by Francois Beaufort on Google+:
Chromium is the bleeding, bleeding edge, so it isn't yet ready for the mainstream. But hooking access to your passwords in to your system password on your Mac is as good a way as any to protect them. Ultimately, it would be better if there were no plain text versions of your passwords available at all, but it's a start.
Does this help? Or, like us, are you still more comfortable relying on a third-party security app?
Source: +Francois Beaufort
Get the best of iMore in in your inbox, every day!
And still no All Access music app that was supposed to be released in the summer and then last month. Sent from the iMore App

Yup :( Cancelled my subscription now, got tired of waiting.

So, Macs do not automatically encrypt the home folder? Well, Apple and security, go figure...
Thank you for signing up to iMore. You will receive a verification email shortly.
There was a problem. Please refresh the page and try again.