Skype no longer supporting Macs running OS X 10.5.8 or earlier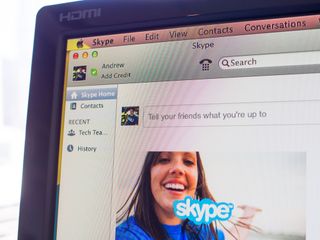 Following roughly a week of user reports on the Skype support forums, Microsoft has confirmed (in an awkward way) that Skype will no longer support users running OS X version 10.5.8 or older. Skype's official response to user complains explained that Skype still works on OS X 10.6 and higher, and encouraged all of its users to stay up-to-date with the latest version of OS X and Skype.
Users are finding different work arounds that include downloading previous versions of the app and using apps to restrict Skype's access to the internet to stop automatic updates, but nothing really beats having proper support from Skype.
Consider for a moment that Mavericks runs on MacBook Pros and iMacs from 2007 onward, and MacBook Airs from 2008 and onward, though — with Snow Leopard (10.6) support going further back than that. You have to have a pretty old machine to be "stuck" on OS X 10.5.8 and unable to run Skype. That said, it definitely doesn't hurt any less if you're someone who relies on Skype and a Leopard machine.
Source: TUAW
Keeping you up to date with mobile news and analysis since 1989.
That sucks for me cause my only mac I have is a powermac g5 with Mac OS X 10.5.8 Sent from the iMore App

Then disable updates or get a new Mac and get out of 2004 Posted via iMore App

I can't afford a new mac can't update to snow leopard either Sent from the iMore App

What have you been doing all these years? Sent from the iMore App

This crap is what really eats about the internet based realm nowadays. They have to use it to make our boxes "obsolete" and crap. Of course, Skype will run on Windows XP until the 23rd Century, but Macs more than 7 or so years old? Frak that. Bite me, MS. Time to test and see if a version hacked Skype.app works. Many problems can be overcome by editing plist files to lie about version numbers and crap. It's how we used to make things install on "incompatible" versions of OS X back in the heady days of Jaguar. Edit some damn file in the bundle and make it lie. To hell with it! Lie when your lady is waking. Lie when your belly is aching. Lie when the server is authenticating. Lie. Hack plists. And lie.

Chill, it just won't update. You can still use it, like with your WinXP.

I think I'll go right on being irreverent, thank you! It beats taking things seriously. Also, I don't run Windows XP. I don't think you read my post at all now that I think about it.

I am sorry I can't afford a new mac and I work at a company that pays me minimum wage of 8.50 an hour. My credit is crap and have no option Sent from the iMore App

http://wegenermedia.com
https://www.macofalltrades.com These good folks will help you out. Well-maintained and refurbished Macs at fair prices. They're not brand new but you can do quite well if you learn about the models and what OS versions they support.

No good Jimmy James I don't qualify at those sites :( Sent from the iMore App

Quit Skype
Right click Skype
Show Package Contents
Open the folder named Contents
Replace info.plist with this new one
https://dl.dropboxusercontent.com/u/172828/Info.plist
Tada, now you can use your old version of Skype regardless of which version you currently have
Get the best of iMore in in your inbox, every day!
Thank you for signing up to iMore. You will receive a verification email shortly.
There was a problem. Please refresh the page and try again.