Sling TV now recommends shows to watch on Apple TV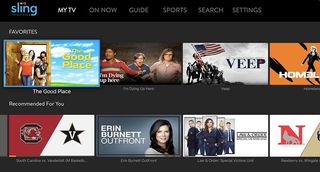 Sling TV has a lot of channels to to choose from, each with its own library of shows and movies. If you find yourself unsure of what to watch when opening the app, a new "Recommended for You" (opens in new tab) feature is rolling out to help you find the perfect title.
Recommended for You can be found on the My TV page on Sling TV, and Sling describes it as follows:
For now, Recommended for You is only available for "select Apple TV users". However, Sling does note that it'll expand to other devices "in the future."
Get a free 7-day trial (opens in new tab)
Get the best of iMore in in your inbox, every day!
When Joe isn't acting as the News Editor for Android Central, he can be found helping out with articles here and there at iMore. He was last spotted at Starbucks surrounded by peppermint mochas. Have a tip? Send an email to joe.maring@mobilenations.com!
Thank you for signing up to iMore. You will receive a verification email shortly.
There was a problem. Please refresh the page and try again.