Digital Offers: Get your Mac running smoothly for the price you want to pay!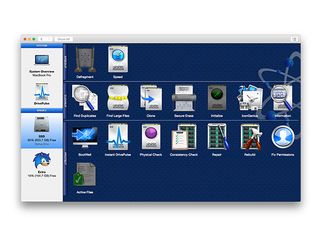 Your Mac computer is already an efficient, productive machine, but sometimes having a bit of reinforcement when it comes to running particular apps and programs can take your Mac from a 10 to an 11.
At times your Mac may seem laggy, so having a program to help repair your hard drive may be something to consider. Maybe your photo editing software is dated, or you're looking for a program that makes seen recording simple. Maybe you need help with working on big financial projects for work, or are just in the market for a reliable VPN – there are always ways to update your Mac!
By using the iMore Digital Offers Pay What You Want program, you can pick up parts of the Award-Winning Mac Bundle for essentially whatever you want to pay, and if you beat the average price, you get to unlock the other products in the bundle and take allllllllllllll of it home.
The entire bundle has a little bit of everything, including:
Drive Genius 4 ($99) – Designed to silently speed up, protect, and keep your Mac clean. If your Mac is super slow and on it's last legs, Drive Genius 4 can even bring it back from the dead.
The Hit List ($50) – Helps keep you organized by making convenient lists while creating smart folders for individual tasks, scheduling bills, and measuring your overall progress with a handy-dandy timer.
DeltaWalker 2 Pro ($60) – When you're working with a ton of files and trying to keep things consistent, DeltaWalker 2 Pro has your back by letting you add, delete, and view text between 3 different files with inline changes, scan documents as your type into the search bar, and so much more.
Nisus Writer Pro ($80) – Designed to make writing on your Mac as seamless as possible, the Nisus Writer Pro is a word processing program that makes customizing tool palettes, assigning keyboard shortcuts, creating RTF formats, and opening and saving Microsoft Word convenient.
Aurora HDR ($39) – Effortlessly edit your photography shots and load your TIFF, JPEG, PNG, or RAW files into Aurora HDR. You can plug into Adobe Photoshop & Lightroom, share your photography directly to social media, and so much more.
WinZip 5 Mac ($30) – If you're looking to send large folders or files, then WinZip 5 has your back. With this program, you can zip and unzip massive files in an instant while protecting your documents with a bank-level AES encryption.
VPN Forever: 3-Yr Subscription ($120) – Protect your online footprint from being scrutinized and monitored with VPN Forever. With this program, you won't have to worry about getting blocked geographically, running out of bandwidth, or leaving browsing data behind so you're tracked 24/7
Project Planning Pro ($70) – Keep your mind and your Mac organized with Project Planning Pro's powerful organizing program by assigning tasks, importing projects from Dropbox, iCloud, Google Drive, etc, and effortlessly integrating other apps to make your work-flow smoother.
Letter Opener for macOS Mail ($40) – Sometimes the Mail app works perfectly, and other times it can get a bit finicky. By using Letter Opener for macOS mail, you can easily convert attachments or appointments from winmail.dat files into a more readable format.
Duplicate Photos Fixer Pro ($19) – There's nothing worse than having your Mac overcrowded with a bajillion duplicate photos, which is why Duplicate Photos Fixer Pro simple works by deleting duplicate videos and photos to keep everything better organized and efficient.
Screen Grabber Pro ($40) – Record and screenshot straight from your desktop without giving yourself a migraine thanks to Screen Grabber Pro! All you have to do is launch, record, edit, and send your screenshot.
eXtra Voice Recorder ($5) – Designed to record high-quality audio with the simple push of a button, the eXtra Voice recorder gives your a crisp, clear sound while syncing recordings between your Mac, Apple devices, and Dropbox, bookmarking important parts of every file for easy navigation, and more!
PhotoStitcher ($20) – Edit and string your photos together into perfect photo memories with PhotoStitcher, which is designed to arrange and overlap photos, crop images, merge multiple photos into a single creative image, and so many more creative options.
For all of these programs, you would normally spend around $672, but with iMore Digital Offers, you're able to pick and choose the price of whichever programs make the most sense with your workload and lifestyle. Plus, if you make it onto the leaderboard at any point during the sale, you instantly gain entry to our exclusive giveaway – and if you reach the top, you get 5 entries!
Keeping your Mac running efficiently doesn't have to be a challenge. With the Award-Winning Mac Bundle, you have the opportunity to save some money, improve your workflow, and take your Mac from a 10 to an 11.
See at iMore Offers
Get more iMore in your inbox!
Our news, reviews, opinions, and easy to follow guides can turn any iPhone owner into an Apple aficionado
Your source for all things Apple