Nest CEO and former iPod boss Tony Fadell appears to own one-off red Mac Pro, gold EarPods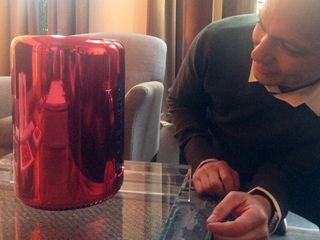 A one-off red Mac Pro and solid gold EarPods designed by Apple VP of design Jony Ive and industrial designer Marc Newson were part of a recent Sotheby's auction to raise money for RED, the AIDS charity headed by U2 front man Bono. It can be inferred that the CEO of "smart thermostat" maker Nest (and former Apple VP) Tony Fadell is the buyer of both items, according to two recent Twitter posts by portrait photographer Kevin Abosch.
Two pictures posted to Abosch's Twitter account show Fadell with the items. The Mac Pro sold at auction for $977,000, while the rose gold EarPods sold for $461,000. In total, the RED auction raised more than $13 million (Bono's own contribution put them over the top), before the Bill and Melinda Gates Foundation - the philanthropic foundation of Microsoft's founder - matched the amount, bringing the total to $26 million.
Fadell is sometimes called "one of the fathers of the iPod." He served as senior VP of the iPod division at Apple from 2006 to 2008. In 2010 he launched Nest. Nest designs and manufactures thermostats and smoke detectors which communicate through Wi-Fi and are programmable using a smartphone.
Source: 9to5Mac
Get the best of iMore in in your inbox, every day!
That is great ! It's good to see former employees still support each other, especially for a great cause. That's awesome! Sent from the iMore App

I wonder if he will actually use the computer, seems like a waste not too. I mean its a $977,000 computer, how often do you get the chance!

no reason not to. It's not like it'll get better with age, tech-wise. Use it till it's obsolete, then display it on a shelf or something.

That's a great photo. It tells two different stories for me.
1st - The reason why these products were purchased.
2nd - I'd be that happy having bought a one-of-kind unreleased Mac Pro too! And yes I would use that bad boy! Sent from the iMore App

Great to see he still love and support Apple products.
And that shiny little red thing! It just looks so awesome! Sent from the iMore App
Thank you for signing up to iMore. You will receive a verification email shortly.
There was a problem. Please refresh the page and try again.