Win the all new Apple TV from iMore!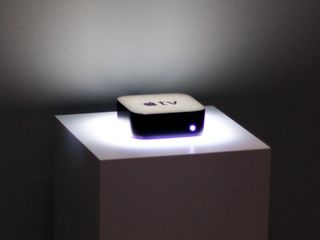 Leave a comment for your chance to win an Apple TV!
I am wicked excited for the new Apple TV. The fourth-generation Apple TV setup box has an all-new Siri Remote, an all new tvOS that runs apps and games, and an all new interface. Sales start today, but of course we're going to give some away! That's right, two lucky people are going to get their very own Apple TV from iMore! And because we're giving away two prizes, we're giving you two chances to enter!
Leave a comment on this article telling us your favorite new feature of the Apple TV.
Leave a comment on this forum post telling us what your first activity with your new Apple TV will be. Are you a serial binge watcher? Are you looking forward to apps and games? Let us know!
That's it! You can enter once per method. Normal contest rules apply. This giveaway is open worldwide so everyone has a shot! We will keep this open a week so you have plenty of time to enter, and announce winners next week here on the blogs. Good luck everyone!
○ Apple TV 4K Review
○ Apple TV buyers guide
○ Apple TV users guide
○ Apple TV news
○ Apple TV discussion
○ Buy at Apple (opens in new tab)
○ Buy at Amazon (opens in new tab)

Get the best of iMore in your inbox, every day!
Universal search!!!!!!!!!! Sent from the iMore App

I like the fact that you will be able to install third party apps.

Love the night time feature! Sent from the iMore App

Clearly apps. My daughter will love the games...and I will too!

Looking forward to the TabloTV and Plex apps!

I love the small remote that will no doubt be lost as soon as it falls in the sofa!

Do you know how many years behind you are on that comment? Sent from the iMore App

You will never win with this comment, LOL!

That's not very up beat :)

Love the new gaming feature!

Looking forward to the new apps.

Looking forward to the new Apps.

Universal search is right up there, BUT, I just love the new UI. The current ATV UI is and has been horrendous for a VERY LONG time now. Can't wait for this thing!!

I have an app idea for ATV. I could use the new box to test it out on.

3rd Party apps, hands down. It's been a long time coming.

All the new features are awesome! I'm really excited about Universal search capabilities.

Really excited for Siri, Universal Search and the potential for a Media Streaming app so I can access my content on my home server!

Love the homekit control and the endless possibility that Apple TV can be for not just entertainment but for the whole ecosystem

The Siri- and trackpad-based interface is amazing.

Pumped about the app store AND the ability to search content across video apps!

I saw this just after ordering my 32GB model from Apple...

App Store and Siri on the remote!

Super excited to see the apps devs come up with on the Apple TV!!! Angry Birds on a 60" screen anyone???

Woohoo.....at long last. Really looking forward to the faster processor. Hopefully no more delays accessing content. Sent from the iMore App

Absolutely apps, that includes plex and games!!

The "what did he say" feature. Would solve so many questions in my house.

I feel like here is a "that's what she said" joke in there somewhere. Sent from the iMore App

universal search has to be the best feature

Without a doubt it's the third party apps. In the UK we have lots of TV catch-up services on web/iOS, because the current ATV is so US-centric in terms of content, hardly any of them feature on ATV. My hope is that those organisations port their current iOS apps over to Apple TV, and it will quadruple its usefulness for our household.

Siri!!! Please please please please! Really. I'm not kidding here ok?

Games for the kids and binge watch Bones!!!

Gaming!! Sent from the iMore App

I'm gonna have an unpopular opinion — Siri is way more important. I have an old Apple TV and lots of movies, and it's a pain to type using current version of remote. I need Siri! :)

So excited for Siri and Universal Search!!!

Third party apps and universal search are my favorite features, also looking forward to turning my TV on with just the apple TV, no need for a separate remote.

I would say Universal Search is going to be very nice but also the ability to install apps :)

The voice control via Siri is a game changer for me. I can't wait to do context-sensitive searching.

My favorite new feature: Apps! :)

I'm so excited for this. I can't wait to see what the future holds for this box.

I really need one to replace my 2nd gen that keep rebooting itself.

Universal search is what I'm looking forward to the most!!

My favorite new feature is the app store -- it is going to be a game changer. Open sourcing the TV environment will revolutionize the living room experience, and I. Can't. Wait. Goodbye channels, hello apps!

I love that apps can be added. It will enhance the AppleTV the same way the App Store enhanced the iPhone.

I'm definitely looking forward to universal search with voice!!! Search is so slow right now on ATV 3.

Best new feature is the ATV App Store! Runner up is new controller.

Live wallpapers........ of course!

universal search. specifically to see how siri will handle anime names across crunchyroll and hulu.
and of course plex.

Apps, Apps and Apps... Sent from the iMore App

Looking forward to the new apps feature. It will be fun to play games together with the family.

1st thing I'd try to do is download Pandora - or see if it's available

Siri, games, the new remote and the new search ability are some of the things I'm most looking forward to on the new Apple TV.

Universal search and apps.

I'm genuinely excited about the app approach to TV with the new Apple TV - and of course the new remote with Siri built-in. Woot!

Definitely the app store. Can't wait for the device to cover more entertainment options.

Siri Universal Search!!!!!

I'm most excited for third party apps. I'm really hoping the NBA app is ready at launch and is better than the Fire TV app (which is terrible).

I'm excited to use universal search to spend more time binge watching and less time trying to remember if the show I'm watching is on Netflix, Hulu, or Amazon.

My favorite new feature of the Apple TV is definitely going to be the App Store! I can't wait to get one and check out all the cool Apple TV exclusive games on there! I seriously hope Apple has a surprise hit gaming console here. Sent from the iMore App

Of course it is the Siri search! Sent from the iMore App

Can't wait for the Plex app to come out for it!

Apps for sure and hopefully a reason to drop satellite in the future.

Siri by far -- my biggest challenge is trying to find something to watch, and narrowing things down through voice commands is going to save a ton of time.

Universal search and App Store are a tie, super excited to get mine!

For me.... I can't wait to see and play with the new remote (and the pad) and see how Siri will work on TV.
I'm streaming so much and love binge-watching... from iTunes or my Mac.

I am so excited for the new Apple TV!!! I am mostly excited to see the apps that will be coming out to incorporate gaming especially with multiplayer gaming that incorporates iOS devices. Party games that use iOS devices for 2nd screens and controllers. The possibilities are exciting. It's the Apple TV that I was hoping for years ago.

I like the fact that you can install 3rd party apps and the new resign remote control.

Siri search, in a heartbeat. No more plinking out one letter at a time when I leave my phone upstairs? Hella yeah!

Since I don't have an Apple TV, and my current "box" is a Roku that lasted eight months before suddenly going nuts and refusing to work correctly, my favorite feature of the new Apple TV is… All of them. I'm most excited about using Siri combined with VoiceOver to search; as a blind person, I've long been left out of TV. Cable boxes, Roku, and all other TV boxes are inaccessible, save the Comcast one (and I don't have Comcast). Apple's offering is fully accessible, which is wonderful.

I love to play games on apple TV.

I'm most excited about the App Store. Looking forward to seeing what developers will come up with that will make the Apple TV even more valuable.

The App Store is going to change the way I munch on tv. Sent from the iMore App

I'm looking forward to the apps, games and Siri. Sent from the iMore App

I would love an Apple TV with all the new cool features. Let me have it!!

I think universal search is the killer feature.

Siri is my favorite new feature.

Apps and hopefully the A8 processor will make for a better experience

I like the universal search!

New Apple TV. It's about time. Can't wait to hear all about it.

I'm very excited about the new gaming opportunities!!

Better support for 3rd party apps.

Universal search is favorite features
Also, I'm looking forward to apps and what developers are up to!!!

Liking all of it, but fairly excited for the new remote and Siri interface. My first activity after an expected few weeks will be watching the new Jessica Jones series on netflix.

The App Store! Who knows what developers will do.

My favorite part is the new App Store fun new games Sent from the iMore App

Looking forward to third party apps! Hello official Plex!

I am also wicked excited! Voice control and Universal search are killer apps!

Siri! Sent from the iMore App

I'm very excited about the App Store (and seeing what app develops come up with) and the ability to search across apps for content using Siri.

Absolutely the App Store!

Siri on this thing will feel like living in the future.

Universal search is very intriguing.

The Apple TV has been my source of entertainment for a couple of years now, and I can't wait for the new updated box. This will be a great upgrade.

My favorito feature is definitely the internal storage, can't wait to download movies and many apps :)

Definitely the app store! The ability to expand the basic functions of the Apple TV is a huge plus point. Apple will make a killing from it.

AppStore , music and easy viewing of pictures on big screen

Definitely Siri! Also universal search!!

Since Siri and I get along famously well... I'm super excited she will be on my  TV!! Sent from the iMore App

The ability to download apps. Winning this would make my wife and by extension me (a happy wife equals a happy life), very happy.

Definitely using that internal storage for entertainment options to be named later.

My favorite feature is that it's actually an updated Apple TV ... Wicked Awesome!

Definitely third party apps. Thats the best thing ever. Think about all the possibilities.

Going to use Siri to fire up some Anthony Bourdain, of course!

I'll definitely download some games to see what it's like, but that feature isn't that important to me. My first task is to command Siri to play a song or play a show/movie; the most intriguing feature to me.

Universal search looks fun

Without a doubt it's the "What did he/she say?" thing where it goes back x seconds and puts subtitles on. Oh, man, that sounds awesome. My girlfriend isn't a native English speaker so she's really excited about it for the odd things she misses (usually when people with strong English accents like mine are talking! ^_^).

Finally having Siri on Apple TV is going to be so fun to use!

Favorite new feature hands down...Siri

Third party apps, multi-app search, and of course, multi-player Crossy Road.

Most definitely apps. Here's hoping Encore, STARZ & Cinemax port theirs iOS apps. Holding out (faint) hopes for Flixster/VUDU and Amazon Video.

My favorite new feature is that third-party apps and the App Store are finally available on the Apple TV.

Finally A Faster Processor!!! Sent from the iMore App

Apps! Sent from the iMore App

My favorite feature of the new Apple TV is tvOS that will enable develops to transform what the new Apple TV can do!

If I had the new Apple TV I would definitely use it for some games and Universal Search sounds fantastic!!!!! Sent from the iMore App

Universal search!! Finally and 3d party apps!!!!!!!!!!!

I'm looking forward to using Universal Search. I also can't wait for a native version of the Plex app.

The apps will be what makes this the go to device in the living room!

Siri remote would be the favorite feature and the first activity I would do - drop DirecTV!

Loving the new remote and Siri.

My favorite feature is having Apple Music in my living room.

It would be UNIVERSAL SEARCH

I'm excited for universal search

Universal search is my favorite (and the best) new feature...

Voice commanded universal search.

I think Siri would be my favorite new feature on the new Apple TV!

My favorite feature is going to be the accessibility of the Apple TV since I am blind. This device and the Nexus Player are the only ones that offer accessibility and I much prefer Apples implementation over Googles. Regards,
Greg Wocher

Two words, UNIVERSAL SEARCH! Sent from the iMore App

Cautiously optimistic about Siri on the Apple TV.

I would host a peace accord between Siri and Alexa. Naw, I would binge watch my Plex server of every Star Wars version for the next month.

I would have to say the universal search using Siri would be an excellent addition to the tv platform. Although game integration for tv would be a close second! Sent from the iMore App

I'm looking forward to see Apple Music on my tv.

Siri "What did they say" to rewind and turn on closed captioning for the last 15 seconds.

Favorite new feature has got the be the Universal Search!

I've never had an Apple TV! I would love to have one! Sent from the iMore App

New Feature: Siri Remote! I've been betting on Apple sorting out how to get Siri working on an TV remote for a couple years now and am happy it is at last here!

Universal search, for sure.

I can't wait to use Siri on the new Apple TV

First thing I'll be doing is checking out the apps

Since Siri won't be available in the Netherlands, the app store would be the most impressive feature for us.
I hope language support is going to be there soon, else you miss a lot of functionality.

Universal search, of course.

First activity: When I have TV gen 4 hooked up I shall... Go check out all the available games!!!

Favorite new feature has to be the cross-app searching.

Apps, Universal search, touch pad remote!

"What did she say?" rewind and replay with subtitles !

Universal search and gaming!

Can't wait for native Plex support and an app store!

Siri and third party apps make it a game changer in my books

I am excited about third party apps.

Definitely Siri integration.

Third-party apps are definitely the biggest one for me.

Universal search for sure! would love to search inside plex!

I've got to say that universal search is the best new feature. The first thing I am going to try out on the new Apple TV is how well Airplay works. I use Airplay quite frequently on my AppleTV Gen 2 and frankly, it can be flaky...really hoping they have sorted it out fully.

Third-party apps, hands down, and hopefully streaming to it via AirPlay will be a lot better than the Apple TV 3....

Universal Search will be a fantastic new feature, along with the App Store.

Universal search is going to be amazing. Thanks for doing these give-aways!

Love the looks and functionality of Siri!

universal search for sure

I love the app store! I expect the Apple TV to be my kids first gaming console! I can't wait to play their favorite iOS games on our TV instead of a small iPad!

Looking forward to an updated ATV. Can't wait to see what apps are available and how it will work with my Apple Watch! I want the 64 gb one. :)

It'd lasted longer than my Google TV.

3rd Party Apps & Gaming! Sent from the iMore App

Clearly want one of the new Apple TV's for apps!! And Siri, and voice search, and... Sent from the iMore App

Can't wait for universal search and Siri assistance when watching! Sent from the iMore App

Apps! without question.. Plex coming to Apple TV is going to be awesome!

I will likely spend a excessive amount of time playing with Siri. I've been waiting for Siri on the Apple TV for a while and hope it works as well as it does on my Apple Watch.

Universal Search! Absolutely, Universal Search!

The first thing I will do with my new Apple TV is to unify all my programming. Hopefully there are enough third-party apps that will fill the gaps by Apple. I am betting Yes.

My Favourite feature has got to be Siri and that the new remote can control your Television so you don't need to worry with any other remote!

The new gaming feature + Siri makes it the best device you can buy for your Tv.

My favorite new feature has to be the app store, so that all my favorite networks and services can finally be in one device. Tempting to finally cut the cord and use this, if it weren't for live sports...

My fav new feature would be the ability to download apps onto Apple TV as well as the new access with Siri. I'd be very excited to get one and use these new features.

3rd party apps and the Siri remote

Siri integration is awesome - hoping that it expands to become fully fledged siri for the home with listening mode etc to take on Amazon Echo.

My favorite new feature is Siri of course! Being able to switch apps, look for content, and even ask for info to Siri is just game changing! Sent from the iMore App

I will watch first my favorite movie " The Dark Knight" then will watch " Inside out" then will love to play games for half an hour then will watch "sherklock Homes" season then movie than games....... I need it.... And who can forget my virtual friend siri on big screen.... Wish I could see her along with voice!!!!!!!

UniversalSearchSiriAppStore!!!

I am excited for the ability to finally have apps developed by anyone, not just apple approved apps. Also the ability to store videos and other content on the device itself. Sent from the iMore App

Universal search. Siri and App Store. Funnnnnnnn

Never had one. It would be get to try it out Sent from the iMore App

I have a 2nd gen Apple TV and it's slow. I want the new Apple TV for
The speed and interface Sent from the iMore App

SIRI has got to be my favourite feature as it simply enables the Apple TV to do so much more.

Now this is a killer Apple TV for me!!!

Get live tv working (hopefully). Otherwise just movies.

Looking forward to using all the exciting new Apple TV apps that iMore will no doubt help us discover with their well written and researched articles!

Looking forward to universal searching.

Universal search is the bee's knees.

Universal search! Siri! Games! What's not to love? Sent from the iMore App

3rd party video apps. Apple TV can't be my "one box" until it has all the services I use.

I'm looking forward to Siri!

Looking forward to Siri on Apple TV!!

I have to admit it: I'm getting older. Had my hearing tested. The audiologist said my hearing is fine, but people's brains begin to process sounds differently when they hit their 40s. So, I'm not deaf -- I'm brain damaged! ;) So, the coolest feature for me is the "What did he/she say?" part of Siri. I can finally leave the captions off so they don't obscure the video, and I can just ask Siri to repeat the last 15 seconds with captions on if I miss something. At least until I'm totally hearing gobbledygook. Until then, though, thanks Apple and Siri! Sign me up to win!

Siri mainly. Really can't wait for Siri.

I love Siri integration and Apple Music Sent from the iMore App

Apps, has to be the apps, it's taken a long time but I really think this is where television should be going in the future!

Universal search! We're cord cutters who use a number of different apps. This will be a life saver!

Favorite new feature has to be the new app store!

Universal search #win Sent from the iMore App

Universal search is the feature I can't wait for so I can binge watch anime/comedy shows (when I'm not studying of course) and gaming might be the second Posted via the iMore App for Android

omg universal search... and Siri ... apple just made finding stuff for my kids to watch infinitely easier ❤️ oh apple how I love thee ... let me count the ways Sent from the iMore App

i am excited about universale search and siri!!! i would love to have one! :)

Universal search with/and Siri Sent from the iMore App

Games, games and more games!

My favorite feature is the brand new remote and Siri! I'm going to play around, drooling all over it and then I'm going to talk to Siri for hours :3

The best feature to me is, .... is finally got updated.

I'm looking forward to using the remote and an app called Explain Everything. Sent from the iMore App

Hard to pick just one, universal search, apps, the new remote. Plus I've got an old Apple TV that's on it's way out, need a new one bad.

Games and the new Siri remote. Sent from the iMore App

Universal search will be great. "Hey Siri, play season 2 of Agents of Shield." Now if they would let us change the name of Siri, maybe Hal would work.

I am looking forward to the improved remote. Better (i.e. touch) controls and voice integration will be a huge improvement.

pretty much everything. I never had the pleasure to experience an apple TV before. hopefully i'll be luck enough :-)

Universal Search without a doubt. This will make me and my wife's lives so easier since we will be able to quickly find our daughter's preferences.

Hands down, it's universal search with Siri. Get it?? Hands down ;)

I'm hoping for good family games on this new AppleTV; I find iPad games are a bit too solitary for my kids, and would like to transform playing digital games into a family-bonding experience.
So, that and Netflix! Really looking forward to that new Daredevil season, no kids allowed! :)

Apps are my most anticipated feature!!!! I also hope that Apple can implement a function in Settings that allows us to enter our TV provider login information once and give any app that needs it access to it. It would be a great addition!

I'm really interested in the universal search. Also I'm hoping there will be a plex app.

So many reasons to get this! Universal search, Siri, the fact that I can ask what was said and it tells me with captions and playback, so many awesome things! Love it! Sent from the iMore App

My favorite new feature is apps. Specifically, most excited for game apps!

Without a doubt, the inclusion of the App Store is my favorite new feature. I have been wanting this since the second gen box came out in late 2010.

Use Siri to binge watch! Sent from the iMore App

While I have many "favorite" parts of the ATV4, the App Store has to be at the tippy top, so I can download Plex!

My favorite new feature for the Apple TV is definitely the Siri integration. Controlling playback easily, looking up movie information, and universal search! Whats not to love?!

I can;t wait to play a multiplayer game on the TV. :)

I cannot wait for Universal Search! Sent from the iMore App

The new remote and Siri! Can't wait to talk to her on my TV!

Siri and universal search

The one favorite feature of the new Apple TV is everything!

First thing to try Siri integration.

The remote and apps. These are things that I have long awaited.

Hey now! Siri all the way!

Siri remote would be awesome.

I am excited for the Siri remote and voice action!

Can't wait for universal search and games.

Most definitely the ability to install apps. Love to use Infuse to be able to play old time stuff I've got lying around on the NAS. Finally being able to replace the ATV2 I'm using for this purpose.

Using Universal Search with Siri. First order would be to try out some new games with the family.

I can't wait for "what did he say?" I have two teenage boys who have impeccable timing with noisy mayhem.

I love the idea of playing games on my TV in the context of an Apple-designed living room experience! ☺️ Sent from the iMore App

Universal search has to be my favorite, but interested in how 3rd party apps will bring a few cable channels down the line.

I'm excited by the Siri remote!

The App store, going to be awsome!

The first thing I'm going to do is search for all James Bond movies across all providers - hello Universal Search!

I take joy in some of the smaller refinements, so I'm really looking forward to the included touch sensitive remote!

The remote and voice command is what I'm looking forward to I'm always asking what did they say so it's nice to know I'm not the only one lol so "repeat that" option is an exciting feature. I never won anything in my life this would be exciting.

It (probably) doesn't crash as often as my second-generation Apple TV!

Definitely universal search!

I like the fact that the remote is user friendly, fewer clicks. I like that it has more storage too.

Well this will be my first AppleTV. So this will eventually replace our existing Roku 2 HD (once all the apps come out we use on the Roku; Plex, Amazon and Netflix. Not sure if they will be available at launch). But I think the features most look forward to by myself is Airplay, Universal search and the rewind feature when you ask "what did they say?".

Definitely excited for the new remote and Siri integration as well.

Siri! Sent from the iMore App

not my buggy, slow, Apple TV 3!

The ability to run applications and games through a relatively cheap TV appliance is a game changer. I know that Google is already doing it, but Apple has a much more robust game experience and if they can keep the smooth experience of the iPhone and iPad and translate that to the Apple TV then it will be an amazing experience!

My fav new feature is Siri. Now, when I scream at the TV, it might talk back.

I looking forward to Siri and apps!!

Hum.....yeah. Of course, I want and need this little beasty :)

Universal search should be quite helpful.

First thing I'd play with Siri and the fancy new remote!

I would love to get a new Apple TV!

Using Siri for Universal search., repeat those last 15 seconds you missed., say whaaaat....will be great.

I love the new design! Sent from the iMore App

Love the new remote and apps!

I can't wait to try the voice + universal search function.

Siri, for sure! Hey girl, hey!

I love that you can add apps to it! that is fabulous!

Was too quick on the submit. Why do I 'need' this? I need to replace a 1st gen AppleTV with the kiddies. As for the best feature, well, universal search is dang nice, but I really am looking forward to the touch remote due to the fact that I think Apple looks to have really outdone themselves on the new design. My kids are absolutely craving to use it to get rid of their Wii. That's the second point, games! I/we plan on making this our main game console, PS4 is there for high-end stuff,though, but the kids are drooling over games announced already. Plus, it's time to make AppleTV our main interface for music services in the home and Apple looks to have gotten a great start.

For me I love everything that I could do with the new  tv
Like install 3rd party apps the universal search and most the siri remote I think is going to be a new experience with this  tv Sent from the iMore App

Man, I really would like one of these! The Siri voice control is going to be great!

Siri integration is the coolest feature!

I think, like everyone, universal search and fuzzy search ("show me something funny") are going to be my favourite features.

I can't wait to use Siri and the new remote!

Sweet! Giving away the 32 or 64? I guess it doesn't matter, I'll bite.

Voice search looks amazing and I'm really interested to see what iOS games can be game changers on the Apple TV!

Universal search and searching IMDb mid movies Sent from the iMore App

I think Siri integration is going to be my favorite new feature, especially the "What did they say . . ." feature . The new Apple TV is going to change the TV experience for a lot of us! If I win an Apple TV I'm going to take an extended weekend, grab some tasty snacks and binge watch Mad Men! Best of luck to everyone!

Thank heavens my Fav thing is the new UI because I'll just probably end up watching my twin 2yr binge watch Doc McStuffins and Octonauts. LOL.

Apps! The app store for tvOS has the potential of making AppleTV the best entertainment platform bar none.

Using Siri on my TV to find out all the latest and greatest films/tv

I love that we can load 3rd party apps.

My favorite feature of the new  TV is definitely the App Store!

Beyond streaming and music currently, Games/Apps will be a great add-on!!!

My favorite feature has got to be the app store so there will be a lot more things to do with the Apple TV

Universal search! Also "What did he say?" feature is exciting!

Touch control.
App Store. Sent from the iMore App

While the interface looks great, I'm very excited about the remote. Sent from the iMore App

Third party apps and siri are the most important things for me.

I really love Siri Integration and Universal Search. Two killer features. The App store looks like it will either be a paradigm shift for the device, or end up just a gimmick. Only time will tell, I suppose!

I can't wait for both universal search and Siri so I don't have to type my searches in like a neanderthal!

I like that you can play games

Am I the only one who wants all that glorious extra memory? My current 3rd gen sometimes stutters and unlinks the audio/visuals on large (9-12 Gb) HD content from my iTunes library (and no, it's not my network, it's all gigabit, and I routinely get 90-100 Mbps between my server and Macbook), so I'm confident it's choking on the buffer...

Looking forward to installing some apps

No more old Apple TV! Please! :)

My favorite feature has to be the universal search across the device.
My first activity will be Siri. I am definitely a binge watcher

First, I'll check out the apps. Then I'll binge watch, locating the series via universal search.

Siri, Universal Search, Games, and 3rd Party apps, and still being able to "Netflix and Chill." - Sweet, now if they can just pry me away from the couch and TV.

I can't wait for the new siri and remote!

Siri, for sure... I can't wait to talk to my TV!

Siri is a great new feature!

Looking forward to Universal Search. Having to look inside each application for certain movies or shows has been irritating. This will be a huge time saver.

1. Siri, new remote + search
2. Nice holiday toy for multiuser gaming with friends sitting on the couch

Universal Search with Siri!

I love SIRI in the new Apple TV. It will make is so much easier!

I can't wait for the new Apple TV!

Da apps! Sent from the iMore App

The first thing will talking to Siri & see how the remote works. I can hardly wait to say "what was that" & see the quick rewind & subtitles.

Universal search support for 3rd-party apps!!!

Using Siri to control what I'm watching while I'm just laying in bed *insert emoji with heart eyes*

Siri! Sent from the iMore App

My favorite part is that its open to third party developers, specifically for games.

Top of the list - universal search.

Favorite new feature: games.

My favorite feature is the ability to search for something across all services.

Universal Search and Games are the reasons I'm upgrading!

Third Party Apps. Hopeful that SlingTV will create an app and I can finally kick DirecTV to the curb.

App Store...finally I might have access to my ultraviolet movies on my Apple TV!

Without a doubt it will be universal search and Siri.

Looking forward to using the new remote!

Third party apps so I can have Plex running alongside games.

New remote Sent from the iMore App

I would love me some Apple TV!

The first thing I would do is grab my Siri remote and search Serenity Caldwell and watch some videos and maybe play some games.

I love the new remote! Sent from the iMore App

Love that you can scrub back while watching a show to repeat what was said, and if you do it a second time it also has captions...I watch TV with a lot of folks who talk and ask me, "What did they say??" Sent from the iMore App

Looking forward to playing some video games with the new Apple TV.

New remote wit my Siri search

Looking forward to the fitness studio and classroom. I am also looking forward to the accessibility features for the visually impaired and blind.

Universal search finally! Sent from the iMore App

Finally having an App Store for sure

As silly as this may seem, it's all about the apps… especially the multiplayer gaming apps.

Would be my first Apple TV, bring it! Sent from the iMore App

The app store and the ability to finally have Plex on Apple TV.

Even though th MLB season is coming to an end, the new MLB.tv app looks great! The demo at the September even got me excited for the next baseball season.

Excited about Siri!! It will be a blast to use the games as well with the littles!

I love the new size. I want my streaming devices to have some bulk.

My favorite new feature is the best one yet..that the Apple TV exist!! :)

Definitely the app store -- been waiting years for it!

This is sad but I like the wallpapers. Sent from the iMore App

Set up a connection to my Bluetooth headphones to watch Mad Max as loud as I want

3rd Party Apps with a dedicated sdk will hopefully lead to a new design era for streaming boxes.

Frankly, I'm looking forward to the remote control, finally a functional one

Siri to search and binge watch on Netflix!

"What did he/she say?" feature. Siri too! Love it!

Universal search with Siri! Sent from the iMore App

I'm hoping the channel apps will all be brought over from IOS, like Syfy and such.

i'm most excited for universal search & apps... but really, just about everything!

Has to be the new remote and universal search and apps and siri. Oh I guess everything. :)

Siri can be used to search via voice for movies and TV shows on iTunes, Netflix, HBO, Hulu, and Showtime...this is my best feature for me. Sent from the iMore App

Put off buying till now .
What I want from the new version
Ability to view my old movie catalog then all my photos and slides plus who knows what else yet Sent from the iMore App

Bought an Apple TV for my little brother going to college and immediately became jealous so it'd be awesome to have one of my own lol but most exciting feature is Apple Music (huge music head here) and obviously apps! Can't wait to see what developers put out there! Sent from the iMore App

TV Apps are the next big thing!

The ability to install apps from the App Store

Scrolling with the finger! Having to go through the menu and stuff with a little click remote gets annoying

Apps! Apps! Apps!! Games, Plex, Spotify, Spotlight search, Siri!! All of it!!

Looking forward for the 3rd party apps, games, and Apple Music Sent from the iMore App

Siri on the TV to search across apps should be awesome

I'm looking forward to using third party apps and universal search with Siri.

This would be an awesome prize. Sent from the iMore App

Favorite new feature: APPS APPS APPS!!!!
First thing I would do with new Apple TV: Give a whole new meaning to the terms "binge" and "watch."

Count me in! I'm excited for the improved search and remote! Sent from the iMore App

My new favorite feature is definitely Siri and the ability to tell it to rewind back a few seconds and repeat something you may have missed. Sent from the iMore App

My favorite new feature is universal search.

My favorite new feature for the Apple TV is Siri integration and Universal Search. The first thing im gonna do is put the Apple TV in the living room instead of my XOne. That way ill get my game machine back.... Right now it's my girlfriends streaming machine :P

Talking to Siri on my TV will be awesome!!

1. new remote! 2. stream video in 1080p will be nice

Siri, the ability to search by voice and ask what did they say

New apps store and new remote

Siri! Universal search! and the remote.

the new remote. i have the first gen 1 and that remote sucks

My favorite new feature is voice search with Siri (especially the fact that her searches are contextual and can be drilled down).

My favorite new feature would be the apps :)

Looking forward to Apps and Bluetooth headphone capabilities.

Universal search and DLNA content playback

Looking forward to the apps, and the new remote.

Universal search! Cracked it? Lots hope so! Sent from the iMore App

Hey, I've never owned an apple tv, but have used it on my friend's & family's homes, and the new one seems amazing!!! hope I win

Universal search long time coming. Roku had it years ago. Great feature.

It's hard to pick just one favorite feature. I'd have to go with Siri integration and third party apps/games as the two I'm most looking forward to. Sent from the iMore App

Universal search is going to be excellent for getting to your content quickly.

Need to try out some apps! Sent from the iMore App

Siri is my favorite. I can't wait to see if she will tell me any smart-ass TV answers!

App store is the first thing ill check out!!!

My favorite new feature is the App Store for  TV. I can't wait to download games to play with my daughter! Sent from the iMore App

App Store! Sent from the iMore App

seriously making the move to cut the cord from Center Ice and Directv before it makes me hurt someone and this would be a great way to do it. Sign up for Game Center Live and be done with the craziness

Universal search has been a dream for years! Sent from the iMore App

Third party apps and MFi controller support are my favorite features with Siri talking close behind. Sent from the iMore App

Third party apps and MFi controller support are my favorite features with Siri talking close behind. Sent from the iMore App

Mainly the new remote, and of course Siri integration. Having a hands free method to access my fave programs and apps would be brills, and if the remote is half as good as it should be from Apple, it might actually make it worthwhile using! No remotes that ship with stuff tend to be any good, so I have high hopes! Sent from the iMore App

I am looking forward to the apps that will be available.. I am especially interested in an app from PLEX so I can see my photos and videos on the TV much more easily.

Favorite new feature: SIRI! First thing gonna do: Binge clone wars in preparation for Dec 18th

I am really exited about Siri on the aTV it will help a lot with my RSI. I can't wait to try 3rd party apps. And yes I am a seria bienge watcher.

I am happy too see now to have app's which mean vpn express and watch TV Universal
hopefully also the Universal search is a big winner for me.

looking in the new app Store

My favourite feature is Siri, especially the 'what did he/she say'

All of it! Just all of it! Lol

The new remote, and Siri! Sent from the iMore App

Love tvOS and the Siri integration.

The new remote control is my personal look-forward-to-using feature of the AppleTV4.

Would probably binge watch the new Jessica Jones series on Netflix and watch movies with my kids.

I am going to like the fact that Siri is on the new  tv.

I'm really looking forward to Universal Search! Thanks, iMore!

I'm looking forward to the new remote, universal search and apps. Sent from the iMore App

My favorite feature is universal search using Siri. It's going to make searching for content so much easier. That and I love the idea of saying to Siri "What did he/she say?" I am forever asking my wife that question. I can't wait for it to just rewind and turn on the closed captioning for that small clip. Sent from the iMore App

Voice search & 3rd party Apps!

Siri is the winner with this one!

So excited for Siri and universal search!

Siri Sent from the iMore App

The feature I am looking forward to is the universal search function.

Looking forward to the Siri-based remote with track pad.

Definitely most excited about Siri!

Searching across apps and instant playback.

Universal search sounds great.

Siri commands and first thing will do is to try them out. Sent from the iMore App

3rd party apps. Looking forward to many of the other updates including Siri and universal search, but the 3rd party apps are what will move this platform forward the most.

Universal Search, Apple Music and Official Plex App is what I am most excited about!

i havent had a apple tv and always wanted one ,...i always believed that apple tv would be the next set box/xbox

siri on my tv is all i want.

I'm excited for universal search with Siri!

I am most excited for new touchpad on the remote. Using my (Smart?) TV is mushy and unresponsive so I cannot wait to have the smooth navigation and interaction I am sure Apple will bring.

My favorite feature is definetely Siri Integration. Of course I am going to ask everything I can to Siri once I get one.

Inclusion of App Store is the best feature of the new Apple TV.

My favourite new feature of the Apple TV is Siri

Apps, and binge watching are the very first thing I'll be doing. In addition to using it for AirPlay.

Bluetooth Headphones with the new Apple TV. I have a toddler and have been using bluetooth headphones with my Dish DVR (90% of time it worked perfectly as well) however I'm cancelling my TV service if I get my hands on this. Currently I either have to use bluetooth with Dish or use closed captioning with volume really low and this was the final issue I had with Apple Tv 3.

Siri with universal search is my favorite new feature

Voice control through Siri and casual gaming for my kids.

Looking forward to Siri search + maybe controlling Hue lights from the TV :) Medium term - looking forward to a Plex App.
1st thing I'll do is setup iMore in Podcasts (brown nosing), then Netflix and Chill

I'm looking forward to third party apps

The New Remote !! I can wait to use it.

I'm thinking 3rd party apps are what will be my favorite new feature

It has to be full Siri for m :)

Siri commands and trying it out. Sent from the iMore App

No doubt best feature, Siri integration!!! Sent from the iMore App

I'm not a big gamer, and yet I am anxious to see what develops game wise

My favorite feature is Siri. The first thing I will use is, while playing a movie or show, I will ask "what did he say?"

By far the Siri Integration that allows to search for content across several sources.

App store! App store! App store!

I can't wait to use Siri, & the universal search feature!

To try it out. Posted via the iMore App for Android

Apps!! Sent from the iMore App

Favorite new feature is apps and Siri and the first thing I want to do is try out the apps and games with the new controller....

I can't wait to use the new App Store for the apple tv!

Siri voice control on the Apple TV does it for me!

At least for me the big win here is apps and games with universal search as a close second.

I like that it now supports apps.

Favorite has to be the new remote and Siri!!!

Siri, new remote and apps! Sent from the iMore App

Hey Siri. Show me the moneeeeyyyyy!!!

Can't wait to try apps and games with new remote. Sent from the iMore App

3rd party apps are what I'm most excited about, by far. Though I wouldn't be surprised if the souped up Siri is the feature that steals the show.

Siri!!!!! going to love being more lazy lol

The "what did they say?" feature, that automatically rewinds the scene and turns on the closed captions will be a boon, with my rugrats running around while I'm watching a show!

3rd party apps by far will be welcoming especially for us in Canada. Sent from the iMore App

Siri, touch remote, universal search, app's... I can't decide!

The App Store, the Bluetooth Remote with Siri and the gesture control.

I am looking forward to the Siri integration.
I hope this new TV is the first step to "cutting the cable".

Siri, the App Store and games. I also hope Apple Music is added to music. Sent from the iMore App

Favorite feature....Siri!!!! Sent from the iMore App

This one would be my first if I won. Sent from the iMore App

Siri and App Store. Games.

Glad they updated to the new interface!

I'm looking forward to all the new features but mostly the Apps!

I'm excited for a few things, in particular the universal search to find what I want to watch. It saves the huge annoyance of going in and out of each app to find the show/movie you want. I also am excited to see what will come of the gaming. I'm not a crazy graphics gamer, but love good, fun time wasters, so it'll be interesting to see what comes of it.

Can't wait to use Airplay and Siri on the new Apple TV!

My first activity with the new ATV will be searching the new App store.

I would love to win a new Apple TV! Thanks imore!

My favorite new feature is that 3rd party app developers can now create apps for the Apple TV. The possibilities are endless for what is to come. Sent from the iMore App

I'm most excited about the gaming possibilities.

I want Siri, universal search & ESP the "what did he/she say" feature!

Siri and the track pad!!!! Posted via the iMore App for Android

Siri! Sent from the iMore App

The new remote! Sent from the iMore App

App store and 3rd party apps :-)

Apps! Apps! And more Apps!

The "what did he say?" feature. I am constantly backing things up because I missed something!

I've only had the experience of owning a MacBook Pro and iPhone, so if I won the tv, I would take advantage of enjoying a new side of Apple that I wasn't aware of... Sent from the iMore App

Installable apps! Hopefully, a web browser will be one of them if not already included in TVOS.

Looking forward to apps, and Siri.

Third party apps...loving it!! :)

Siri remote! The current Apple TV remotes sucks.

Talking to my TV! Its just doesn't get better! "Hey Siri.. Play that episode from How I meet your mother, where they drink ALOT of Mountain Dew!"

Game apps perhaps! let Siri be the remote control ( voice activated command) and integrate " iMessage" if i asking too much?

Siri remote!! Sent from the iMore App

This! "Watch Power Rangers Dino Charge"... My 4 year old boy wants to watch this show all the time and I swear Netflix makes an effort to continually hide it from us. The fact that we can now quickly find whatever it is he wants to watch without typing with a remote to search it down is going to be legit. Also, homekit integration

Apps! Let the flood gates open and turn this "Apple Hobby" into "Wow, how did I live without this before?"

Looking forward to using Siri and cutting the cable. Fun fun fun!!!

Another Contest? i must be dreaming! is it holidays already? This has definitely brought a big smile to my face! My favourite new feature is that i can use Siri to search for movies and TV shows from sitting on the couch :)
but a close 2nd would be a new remote control with a touchpad. Lovely apple swag.. Would be a fantastic privilege to win this :D Crossing all the fingers.

3rd party app support is my favorite feature.

Playing games will be the killer feature

Universal seach hands down my favorite new feature Sent from the iMore App

Checkout the new remote control and the appstore

3rd party apps like games

Native apps for Apple tv!

I really like the siri integration, and the fact we can now have apps!

I am so excited about unified search.

Want to play crossy road on the tv with my son.

Third party apps and binge watching.

Using Plex app will be perplexing!

Siri on the TV is my favorite new feature Sent from the iMore App

Third party apps for sure Sent from the iMore App

My favorite new feature is easily Universal Search.

Siri Sent from the iMore App

Third party apps for sure. Can't wait for new multiplayer iOS games games.

Love it all! A huge step up from the Third generation. Nothing's changed except for everything. Sent from the iMore App

Tired of Google, and moving all in on iOS. This will replace my Chromecast. An  a day to keep the Google away. Sent from the iMore App

My favorite new feature is the new remote functionality. Being able to swipe in the menu will be much cooler than using the arrows.

Surf and chill Sent from the iMore App

I would have to say the feature I'm looking forward to using most is universal search.

Siri search feature!!!! Sent from the iMore App

Siri!!!!!!!! Sent from the iMore App

Looking forward to the apps!

My favorite new feature is that it will be faster. Old Apple TV is feeling a little slow these days.

I love the fact that it has apps and games. Also Siri is amazing Sent from the iMore App

The one thing I love about the new Apple TV is that it will now have any app that I have on my iPhone or iPad. I can't wait to watch The Flash on the Apple TV CW app.

My favorite new feature is the REMOTE (with Siri integrated, of course). IT CAN TURN THE TV ON AND AUTOMATICALLY FIND THE RIGHT INPUT! It can also control my TV's volume. Additionally, the remote no longer requires a direct line of sight or reflected line of sight. My current setup requires I point to a certain spot on the ceiling to reach the Apple TV in a holder on the back of the television. This is especially handy considering it will be used with games (without a sensor like the old Wii's sitting out). The new remote brings access to all the things I need and is my favorite feature.

3rd Party Apps of course. Playing Angry Birds on the home TV :).

My favorite new feature: APPS BABY!!!!!!!!!!!

Most of all having PLEX and other 3rd party apps!

I'm looking forward to the CPU upgrade the most. Trying to view photo streams is painful right now, so hopefully this will help with that. Otherwise, I think the new Siri controller is a huge upgrade as well.

play a game will be first thing i do

The new remote looks pretty sweet :) and the new interface!

Definitely has to be the Siri remote!

I want to play games and have my daughter use siri to pick movies for movie night

If I don't win I'm still going to buy one. Save me some extra $$! Sent from the iMore App

universal search & new apps

Siri search. Yesss!!!! Sent from the iMore App

I use it to Watch stuff on my iPhone on my big screen TV from my iPhone Sent from the iMore App

Woo! On demand shows and movies!

I'd get the 64GB version if it's going to mean more on-board storage. A question for me is will there be a successful space saving process like Photos has brought to both OS X and iOS? If so, then I may not need the extra memory. I'll likely avoid it by not being an early adopter, and the question should be evident a few months down the road.

Favorite NEW feature(s): tvOS, rechargeable remote, A8.... I could go on!

One word EVERYTHING!!!!!!!!!!!!!!!!!!!

The new remote and interface. Sent from the iMore App

Universal Search is going to be the biggest upgrade for me! I am hoping that all the app makers will get on board and make it usable across the entire platform.

Favorite feature on the new Apple TV.... the remote!!! The old remote has more than worn out its welcome!

3rd party apps, leads to binge watching!

Siri. So tired of trying to search for things using the remote and slowly picking out the letters. Those days will be over!

Can't wait to try out this new hardware. Living room games should be fun

The feature where you can say "what did he just say?" and it will skip back 15 seconds and turn on subtitles. So simple and clever!

I think the best feature on the new Apple TV is downloading apps from the new App Store.

I'm looking forward to the Siri integration and upgraded networking.

Search is by far my favorite feature of the new device!

My favorite feature about the new Apple TV is being able to play games. Here is where the software and hardware performs technological incest. For example, I can play Disney Infinity 3.0 which is a videogame with intellectual property from a corporation where Apple's former leader Steve Jobs family has ownership in on a product that comes from a company he built. Sent from the iMore App

Siri and universal search

Would love a new Apple TV! Favorite new feature has to be the "what did he say?" feature for the automatic playback. Happens all the time! Thanks iMore for running the giveaway.

I hope that I could throw out those nasty fire TV sticks. One Box to rule them all!

Looking forward to the Siri integration!

Well, I would love one of these for 2 reasons:
1. My mother has poor eyesight, so she would love to use it with Siri. Much easier for her too.
2. I would love to program for it, creating a Trakt calendar like app integrated with universal search and other apps. Thanks!

I lıke that you can search with your voice and even ask who is starring in a movie while watching it.

Siri integration for sure- but more specifically how you can ask Siri who stars in a movie or what the score on the game is without having to stop the movie!

I am so ready to try out a new Apple TV. Wahoo!!

I can't wait to try the new Siri on it. I'm also wondering what apps and games are on it. Sent from the iMore App

Apps, Siri and Universal search

Anxious to see if Siri actually works! She still stinks on my phone...

If nothing else, a snappier UI and hopefully apps that don't keep forgetting my account settings.

Love the idea of Universal Search via Siri - hopefully NZ will get that soon! (Secretly can't wait for the live wallpapers too - they look gorgeous!)

Really looking forward to Siri and universal search

Love the voice integration! Sent from the iMore App

I look forward to streaming and apps! Sent from the iMore App

Very interested in the 3rd party apps including new games!

I just ordered one in Australia. I am a die hard Apple fan but Apple is now just gouging Australian customers. $199 in the US and $349 in Australia. Exchange is currently $0.73......that's more than a 27% difference. It better be good or it's going back to Apple and I have never done that before but I am running out of goodwill. Sent from the iMore App

My first thought is everything but if I am limited to one Siri. Sent from the iMore App

My favorite feature is Siri integration.

Finally a sane minimalist remote - As opposed to the Sony "everything under the sun/impossible to use" remote or the Logitech "need a degree in engineering" remote or the old Apple " stick of gum/ does next to nothing" remote!

As an apple devolper I think that tv OS is a huge step in the world of proggraming. This by far is definetly is the best feature and will have a ENOURMOUS affect on developers like me. Unfortunately as a apple fanboy and a developer, I am hoping to win this. As I don't have the expenses to buy an Apple TV.
All in all tv OS i s the best feature, becuase soon we will be seeing games, apps, and more! This was worth the wait for years and I am finally glad that Apple has taken a huge step in the right direction.

Can't wait to use Siri on my new Apple TV I just won from iMore!! Sent from the iMore App

Favorite feature has to be the app store!

Time to cut the cord! Finally

My favorite new feature will be Siri of course!

I think the Siri integration is prett freakin sweet Sent from the iMore App

The best feature on this besides the new user interface has got to be Siri. Gonna be awesome using her to find favorite episodes, movies, and just about everything.

My Favorite feature is Siri "What did they just say".. My wife has me rewind multiple times on movies we watch to hear what she just missed and this feature is going to be awesome. Lets button clicks and much easier.

Apps and Siri! Bring it on...

Using Siri to search and figure out "What did she say?"

The first thing that I'm going to do after hooking it up is download Asphalt and get my race on and see how well the remote actually responds to the game. Can't wait!

i'm hoping to develop a couple of killer apps. I'm also looking forward to new remote and Siri search.

I love love love the siri integration with the new apple TV!!! hands down the best feature for me.

All features are new to me since I haven't jumped on the Apple TV bandwagon *yet*. But the one I am most looking forward to is Siri integration.

Best feature would have to be the Apple TV App Store.

Gaming! I knew this is where they were going. They are going after the big boys soon enough and I can't wait to start playing! Please send me one :) Sent from the iMore App

Although I am very excited to check out the gaming potential, I am most excited about the universal search functionality.

thanks for another great contest, imore! i am excited about the new universal search with siri!

Hopefully some new apps for more options for cord cutters.

Can't wait to try the new remote.

The first thing I will do is test the new remote with a game!

Love the new remote and voice activated features. Excited to use those most. Sent from the iMore App

I'm ready to try it all without no sleep until I have explored it all ! Movies , games , nfl network; bring it APPLE . I need the Apple TV like right now please. Sent from the iMore App

Can't wait to try out the new remote!!!

Universal Search is like IMDB at your fingertips!

App Store and new remote are the big ones for me... Sent from the iMore App

Definitely universal search... And the 3rd party apps are promising.

Universal search. Also the new remote being bluetooth.

APPS!! Sent from the iMore App

Universal search and the new remotes are truly the killer Apps of the Apple TV 4. (See what I did there?)

Looking forward to apps from 3rd parties (especially Plex) Sent from the iMore App

I would love a new app tv for my family. It works as a game Consul for my kids, and a place to watch movies with my wife. Also, Siri seems really convenient! Sent from the iMore App

Yeahhhh!!! :) Sent from the iMore App

Siri...I want to tell Siri to play Fraggle Rock over and over again.

The ability to run apps on it. My whole family woudl enjoy that.

I'm really looking forward to the improved scrubbing more than anything else. Fast forwarding and rewinding are pretty bad on the previous generation. Universal search and the app store will also be a welcome additions.

Universal search - no doubt!! Sent from the iMore App

The App Store will be huge! Hopefully BBC and the like will now finally bring their channels to the Apple TV in the UK. Universal search will be awesome as well.

Being able to search across multiple streaming services will be AMAZING!

I love the fact you can play games on it!!!! Sent from the iMore App

It's all about the apps. Looking forward to the new Apple TV.

My favorite new feature is the App Store.

Better search functions, interface and apps

Finally apps on the Apple TV! I'm excited for the "killer" interface to TV and hoping for new features to AirPlay! =D

I think that the coolest feature will be the apps of course, however, I wonder whether the apps will include a full browser. That would be really great!

My first activity would be frantically trying to decide which feature to try out first on the Apple TV! I'd probably jump straight into gaming! I've never had the chance to own one, so I'd be ecstatic to dive in and check out all the cool features Apple has built into the Apple TV!

Please pick me. My kids and I would be so excited!!!

"What did she say?" Oh man, I'd use that feature all the time! Sent from the iMore App

My kids and I are looking forward to the Siri feature. The first thing we will do is get caught up on Star Wars prior to the new movie!

I love the "What did he say?" feature. Sent from the iMore App

Universal Search, for sure.

For the apps and games! Sent from the iMore App

Love the new remote and apps!

Fav feature will definitely be 3rd party apps! Looking forward to an official Plex app on AppleTV!

The "What did he just say?" feature is very cool.

Universal voice search. Definitely!

I'm excited to see what develops come up with!

Siri motion-controlled remote!

Come on, that Siri integration is the future today! Siri all the things!!!! Sent from the iMore App

APP STORE FINALLY!!!!!!!!!!!!!

Ohh yes please just what I need Specially now that we can install apps Sent from the iMore App

What can I say...Siri has me sold.

I'm ready to use Siri instead of having to type everything through the remote!!!! Sent from the iMore App

The first step to replace XBOX and PLAYSTATION.
i also like Apple allowing third party, SIRI, new type of remote. Sent from the iMore App

I love the fact that the apple TV now has an app store, I'm definitely going to use siri to binge watch TV shows

Apps and Universal Search!! :D

My favorite new feature is the "touch screen" remote!

Games games games and binge watch Jessica jones on Netflix Sent from the iMore App

3rd party apps , search ! so much my nerd is showing !!!

Best feature? The ability to ask Siri "What did she say?" and have the movie rewind and subtitles turned on.

Universal search, by far!

I love Siri support. Sent from the iMore App

Apps all day baby, third party apps, new apps, App Store, apps everywhere Sent from the iMore App

Looking forward to having apps on the new Apple TV, and the new remote. Tapping a bunch of times to enter in a password or email address gets really old really quick.

Looking forward for Siri on Apple TV and ready to play some awesome games!

Siri control will help me the most as I have limited use of my hands. Sent from the iMore App

I'm super excited for universal search, I think this will be game changing esp compared to the last gen apple tv

Definitely the new App Store. I'm hoping Qobuz, a French service that streams CD-quality music from its large catalog, will be making an app.

Everything!!! I've never used one but everyone I know who has one looooves it. So yeah, just owning one would be awesome.

I have the original Apple TV and my wife is not a believer. I would use the new Apple TV to convert my wife to believe. With all of the amazing features there is no way she can dislike the new one. Games and the Siri function to find content could be the answer.

Having a dedicated App Store will be awesome!

I like the new Siri integration. It's more easy to use and search movies, tv shows, etc. I'm looking forward for games, live screen images, etc. Can't wait to have it :) hope I win!

The new remote and 3rd party apps!

Its an Apple Product, what more reason does anyone need??!?!! However I would love to actually load my content quicker, and not be stuck in "loading" seeing my favorite message, your movie will be ready in 5 minutes........30 minutes..............2 hours...................11 hours 45 minutes. Then reset, restart, and magically, it loads just fine, please help to put these days behind me.

Apps, Games and the improved remote.

Enjoying movie nights with my family!

Definatle exited about the app store for  tv. This will completely replace my need for a smart tv as  tv will have better functionality, tv will just be used as a monitor. Sent from the iMore App

Without a doubt, it's gotta be Universal Search. BTW - Go the All Blacks!!

HDMI CEC #mynewuniversalremote Sent from the iMore App

Can't wait to browse the App Store!! Third party apps!

My favorite thing about the new Apple TV is 3rd party apps. Sent from the iMore App

Hope roku 3rd party app WowTV comes to Apple TV hardware of Apple TV looks very promising just sad no 4K but then again how many ppl own 4K when cable only broadcasts 1080i in most places can't wait for one of these

Like Apple said: It's all about the apps! Can't wait to see what's cooked up by devs.

Siri!!! The ability to ask Siri, "What did they say?", and have her be able to go back and set closed captioning, is a game changer!! Sent from the iMore App

I am massively excited about the Siri voice control!! Sent from the iMore App

Universal search for all my viewing pleasure!!

Siri to tell me what I didn't hear.

My favorite new feature of the new Apple TV is universal search with Siri.

I'm looking forward to the new remote, and the speed of the A-8 Processor.

Looking forward to the Siri universal search!!! Sent from the iMore App

I like having games, 3rd party apps with new AppleTV.

I kinda like the Siri feature on this. Thanks iMore

Definitely the app store, games without lag! Sent from the iMore App

Siri search is going to be very cool.

the ability to quickly bounce between apps (multitasking)

I can't wait for this, first thing I will be trying is Siri!

It's all about the videos and apps!

All the new features are nice, but the most intriguing for me is the new Siri remote control. I have a 3rd-gen ATV already, but would love to win one of these babies!

My favorite feature is the App Store!

Favourite feature....... Probably wheedling the new remote like a lightsaber pretending to be Darth Maul!!
That and making a screensaver of all the sexy iMore people! #allthehats

Definitely the apps!!!! Sent from the iMore App

Rewind with sub titles. Nifty idea. Sent from the iMore App

Having a remote where I press right and it moves right, not down!

Super excited for the universal search and the new remote!

Looking forward to the remote. Hated the old one!

I love the "what did she say?" feature.

Looking forward to the app store and whatever devs come up with!

I like the new feat --SIRI, and the firt thing i will do is connect netflix.

Apps baby yeah! Transforms the Apple TV unit into the hub it was always meant to be. Sent from the iMore App

Universal Search with Siri!

It really looks interesting, but the third party apps may really change things in a big way.

My favorite new feature of the Apple TV is the App Store. I've been waiting years for this! The remote control looks awesome too.

Favorite feature will be asking Siri "what did she say" and having it repeat with subtitles! That should win a Nobel Prize! Sent from the iMore App

3rd Party Apps, New Remote, Seri, Seri, and Seri

Looking forward to the games

The siri voice control!!! Sent from the iMore App

The new Siri remote is bad ass! Sent from the iMore App

I am very excited about the Siri features associated with the new ATV.

The possibilities that come with 3rd party apps is the killer feature for me. Sent from the iMore App

Absolutely looking forward to universal search!

Another popular iMore giveaway. For me the future and super cool feature I most look forward to is "Siri what did she just say". Then getting the last 15 seconds with captions turned on. It makes going deaf just a little nicer.

For sure it's Siri and universal search! Also, the fact that it (hopefully) won't be buggy and always rebooting on me like my two g2 Apple tvs.

Hey imore. My favorite new feature is the gaming!!!!

Really excited about Siri and universal search Sent from the iMore App

What did he/she say? This is my favorite feature. Posted via the iMore App for Android

Siri. Was waiting for a refresh before making a decision to purchase. Sent from the iMore App

Siri - I so want to talk back to my TV. A dream come true : )

The big beautiful screen......... I mean SIRI, BABY!!!

I really want to use this with siri! I can't wait!

Favorite feature: Siri. PPM Sent from the iMore App

Apps and Siri are a tie for me, as being my favorite things about the new Apple TV, with a slight preference to apps.

Siri and universal search are the best. Sent from the iMore App

Definitely 3rd party apps. First thing to do on it is install Neflix, Hulu and Spotify ;)

First activity: Try out lots of voice commands. PPM Sent from the iMore App

Looking forward to using Siri on the new Apple TV. Sent from the iMore App

Thx iMore u ROCK ! and so does the new Apple TV !

Have to be unoriginal here, but the universal search is the "killer app" on this one!

I'm going to have long conversations with Siri to make sure we become good friends so that she will fulfill my every command to help control my multi-media experience. It will be awesome!

It's my first Apple TV,so i want to try everything.

Universal search all the way!

Love the new Siri interface to find shows, and control the playing.

Love that new remote! Sent from the iMore App

Touch gestures of course!!

Clearly it's all about the games. Can't wait to check it out.

Watch out Nintendo- mmmm that Siri Remote!

I'm most excited for universal search using natural language with Siri. Sent from the iMore App

My favorite new feature: Bluetooth 4.0 wireless technology (rather than the InfraRed) -- this will significantly improve my interaction between my new Apple TV (if I win--Hope-Hope-Hope : )!) and my HDTV! Sent from the iMore App

Siri search.
Watch netflix.

My new feature on the new Apple TV is Siri. The first thing I'm going to do with my new Apple TV is look for some third party apps to download. But I need to win an new Apple TV from you in order to do this. Thanks!

I'm ready for the one item that has yet to be announced, the true ability to cut cords when Apple releases their own TV service. The new specs and OS point towards pure and utter dominance! Sent from the iMore App

Playing video games and watching Netflix for Daredevil show

Looking forward to the apps.

Pick me pick me! I love the Universal Search feature. I have Netflix, Amazon Prime, iTunes, and Disney anywhere. I want all of them in one search! Sent from the iMore App

HDMI-CEC.
Siri, a close second. Sent from the iMore App

Game Apps downloading for my Son.

I really like the new remote :)

Looking forward to using the cross-platform search function.

Like many, the universal search feature is what has my cheeks hanging out in that smiling position.

I am excited for the Apple TV to try out the TvOS, to see the App Store and also the Siri funtion and the remote

The App Store for sure! The ability to have 3rd party apps and games is a big plus for the TV!

Can't wait for apps and universal search!

Still have an atv2. Can't wait to upgrade.

Siri and Apps/Games!!! My kid would probably take over the Apple TV if Minecraft is released for it.

Apple TV Siri Search + Games

Looking forward to trying Siri on ATV. It differentiates this box from the other ways I watch TV.

I'm really looking forward to using Siri on the new AppleTV.

First and foremost, really looking foward to dramatic speed improvement in the UI; Second, voice control [Siri]; And last but not least, games. Can hardly wait ... Did I win ... [wait wait wait] ... okay how 'bout now, did I win yet? ... Now? Love you guys, kisses and hugs and oodles of love ... - - - - Okay, now?

Always used ATV since ATV 1. I WANT IT !!!!!! Thx iMore

Clearly Siri and the touch remote !!

Universal search and games! Sent from the iMore App

The new tvOS! Ton of features in there : )

My favorite new feature is definitely the Siri integration!

I'm excited for a larger storage option! The benefit? Who knows? But I'm excited! It's sort of like a party ending at '???.' The fun may never end!

I'm glad they gave two storage size options. I went with the 64gb. Sent from the iMore App

Siri!!! Sent from the iMore App

Universal search! Apps! Siri! So much to choose from. I guess for me universal search tops the list. Sent from the iMore App

Games!!!!!!! I can't wait! Sent from the iMore App

The hability to run all kinds of apps and airplayed content from my computer or ios devices has nearly limitless opportunities. Sent from the iMore App

Favorite new feature. Integrated Siri into Apple tv

I like the 3rd party apps

Third party apps. All the way. Sent from the iMore App

Omg the remote for sure. The previous remit was possibly the worst product Apple ever designed. The new one will rock compared to the old one Sent from the iMore App

Universal such is going to be a game changer for me!!!!! Sent from the iMore App

Well I can't afford to buy one and never could. Still rocking the iPhone 4 but would love to have this. Very excited for the App Store and Universal search. Only way I can watch Netflix right now is on crappy Samsung tv and believe me it's not a good experience. I can't get closed Caption on it.

Using Siri to speed up my life (home and work).

Siri replay when you missed a line will be great!! Hoping that Airplay will be more consistent than Gen.3. Also hoping for more app choices from different cable channels!!

My favorite feature of the new Apple TV is being able to install third party apps.

Siri! Siri! Siri! Sent from the iMore App

So excited to be able to use Siri and better search functions.

tvOS, Siri, apps, improved functionality -- what's not to like?

Need for speed NO LIMIT Sent from the iMore App

Siri's temporary caption enablement. That's sweet!

Swipable remote with siri integration

Siri Sent from the iMore App

Really happy to see integrated and cross app search. That is a killer feature when kids want to watch a show.

I am loving the Siri feature, it'll make everything easier! I also love that it has an App Store now, it will be awesome to play Crossy Road on the big screen!

I do love the universal search in combination with Siri it makes it more fun and a new way of interactive with the product. Also the opportunity to add apps is great too. Sent from the iMore App

Universal search is the best and is the main reason I want an Apple TV. Sent from the iMore App

Wedge is very easy to reach what you want

TOUCH TO SLIDE !!! Sent from the iMore App

TOUCH TO SLIDE Sent from the iMore App

Yum Sent from the iMore App

Really excited for 3rd party apps!

The new remote! Sent from the iMore App

My favorite additions to the Apple TV are the updated interface and the Bluetooth headphone capability (followed closely by the new remote).
Pick me!!!.

Finally, an App Store for  TV

Bluetooth headphone support!!!

Cannotwaitto get it Sent from the iMore App

Love the new Siri search features on the new Apple TV! Sent from the iMore App

Looking forward on both Siri control and universal search on the new Apple TV Sent from the iMore App

Binge watch HBO GO and check out the games with that cool new remote.

Been waiting for those apps!

I will use this show off my tech prowess

I can't wait to use the new controller. Sent from the iMore App

Native applications - No longer need to do a workaround to get Plex running on the ATV.

Love the remote facility.... now even i can be a bigger couch potato.... sit back home and enjoy.. The big bang theory all day long.

Definitely Siri! Can't wait to find out what I missed with the last 15 seconds played back with CC!

I can't wait to try out Siri and the new remote with 3rd party apps! I'm a serious Hulu, Netflix, and Plex addict. Can't wait to check out Plex on the new Apple TV!

I want to win! I'm awesome! I promise! Sent from the iMore App

Apps, apps, apps! Sent from the iMore App

The touch pad has my attention. I like the idea of easier navigation on any set top box.

I'd be grateful to get it. I'd connect it to my 5s and watch videos and try games Sent from the iMore App

Open to developers! Can't wait to see the new use cases the SDK enables devs to think up.

I've never had an Apple TV but it will definitely be getting it now. I can't wait to search for specific shows with Siri and not have to search through multiple sources manually, which takes forever. Sent from the iMore App

I be downloadin' games, becuz I can.

My new favorite feature is "Plex".

Siri Sent from the iMore App

The fact that I can get Plex to run on it! with universal search a close 2nd or tie...

Favorite new feature of the new Apple TV is the new remote.

games, Siri, app store and plex

Siri definitely my favorite new feature can't wait to get mine and win one here

Unfortunately, I'll probably end up watching a bunch of Kidz Bop videos

Universal search is very attractive.

App Store! App Store!! APP STORE!!!

Everything is an update from my 1st gen ATV. Can't wait. Sent from the iMore App

Universal search and Siri!! It's a tie for me! Sent from the iMore App

Siri and universal search are so exciting Sent from the iMore App

In it for the apps! I don't have an Apple TV. Have the phone and Mac book but n Apple TV would be awesome!!! Especially with all its new features. Sent from the iMore App

Thanks iMore! I love that there are third party apps! Sent from the iMore App

App Store, finally. Sent from the iMore App

I think the games for me and the kiddos to enjoy is what I look forward to the most Sent from the iMore App

Really excited for games and 3rd party apps!

I am looking forward to the new remote and all it's features, the big plus is the expanded concept we have all been waiting for...the App Store.

Has to be the Siri interface!

3rd party apps FINALLY!!! This is what is going to make this device great!!!

Siri! Sent from the iMore App

I'm excited about a faster smoother interface.

Cool! I'd love to win a new Apple TV

The new remote looks cool. Sent from the iMore App

I want it bad. APP STORE!

I would say Siri is my fav feature, but it won't be available for Mexico for now, so I say 3rd party apps! games!! hope they accept MFI controllers soon.

I am most excited for universal search!

Looking forward to the apps!

Siri navigation and talking to siri to see the score on a game.

Siri for HomeKit integration and gaming Sent from the iMore App

Local storage is needed. I have a rather unreliable internet provider and when it goes down, so do my kid's favorite movies. Makes for very long rainy days. Storage will resolve that. I want it. I want it. :)

My favorite new Apple TV feature would be 3rd party apps and games. First activity would be talking to siri and finding out the things she can do just by my voice commands. And i would stream lot of TV shows and movies... The new Apple TV is stunning and awesome.

The multi touch display rocks! Can't wait to win!

I love that the new Apple TV will have real apps now and do more than just streaming :-) I don't have a gaming console at the moment, so a little light "gaming" on the side would be fun!

The Siri control. I honestly was amazed at the "what did they say" command. Rewind 10 seconds AND turn on subtitles? Yes please!

My children will LOVE it!

This is the closest thing to the future yet, by apple. Just ask Siri to take you to the right spot, that's all. Universal search, is my favorite aspect of the new apple TV. The first thing I'd do would be to sit, back and ask siri to find me the flash, so I can continue binge watching every episode with the Wife, this time with no time at all lost with fiddling through apps!

As a voiceover user the upgraded processor and RAM means that I will no longer have to deal with the lag the older units suffer and returns me to a speedy experience just like on my iPhone 6. Thank you for the opportunity to win. Sent from the iMore App

Bluetooth connection to headphones.

For me it's the 64gb of storage Sent from the iMore App

The app store and possibility to install apps (plex by example).

Best new feature has to be universal search. Sent from the iMore App

I really like that Siri is now available on the new apple TV.
I think the really first thing i wanna do with the apple TV is to watch the new live wallpapers

Third party apps are what i'm looking forward to most but universal search with Siri is a very close second. :) Sent from the iMore App

I look forward to third-party apps! Sent from the iMore App

Universal search in third party apps. Now I can search for
Seaseme street and start it playing for the rowdy toddlers really quick, well I would be able to if I won the Apple TV

My favourite feature of the new Apple TV is Siri integration. Being able to ask Siri questions about what I'll be watching will be great. The 'ask Siri "what did they say" feature' will come in extremely useful. Using Siri to search across multiple services will be very productive when finding something to watch :)

I'm excited most for Siri and that new remote!!!

Universal search, better accessibility, apps, Siri (when it comes to Norway...) Sent from the iMore App

Universal search with Siri

3rd party apps are the stand-out for me. Hopefully devs will come up with some imaginative use cases, and of course, fun games :)

Apps, Apps and more Apps! Gonna be gaming on my new Apple TV!

Seriously? Oh well, Apps & Games :D

Apps , Siri and faster processor. I want this thing badly. Sent from the iMore App

Universal search! Sent from the iMore App

Universal Search would be the best feature! Sent from the iMore App

Looking forward to the all new siri remote :-)