Apple Online Store goes down ahead of Apple Watch pre-orders and 12-inch MacBook launch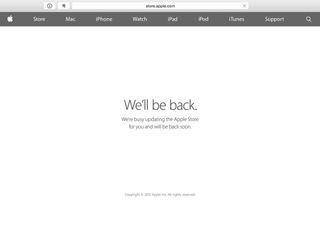 Apple typically shuts its online store down to prepare for the launch of new hardware, which in this case is the Apple Watch and the 12-inch MacBook. Pre-orders for the Apple Watch will begin at 12:01AM PDT/3:01AM EDT/8:01AM BST, with the device available in three editions: the aluminum Apple Watch Sport, which starts at $349; the stainless steel Apple Watch for $549, and the gold Apple Watch Edition, a limited-edition piece that is offered from $10,000.
Be sure to check out our in-depth coverage for everything you need to know about Apple's latest offering:
How to pre-order the Apple Watch
The new 12-inch Retina MacBook — announced during the Spring Forward event — is expected to go on sale from today, with prices starting at $1,299.
Hands-on with the 12-inch Retina MacBook
The clumsiest man in tech.
Omg I'm up right now waiting for the preorder to open. So hyped for my apple watch Sent from the iMore App

OMG... I'm going to sleep.. Posted via the Android iMore App!

Sweet.. now we have nada..

Yes! It is getting so close. Good luck to everyone.

Got one. Woohoo Sent from the iMore App
Thank you for signing up to iMore. You will receive a verification email shortly.
There was a problem. Please refresh the page and try again.